International Internships
International Internships
The International Internship Course, (WCOB 320V) allows you to earn up to 3 hours of upper-level credit, while gaining invaluable work experience and insight into the unique challenges of doing business abroad. You will have the opportunity to immerse yourself in another culture through day to day living and working.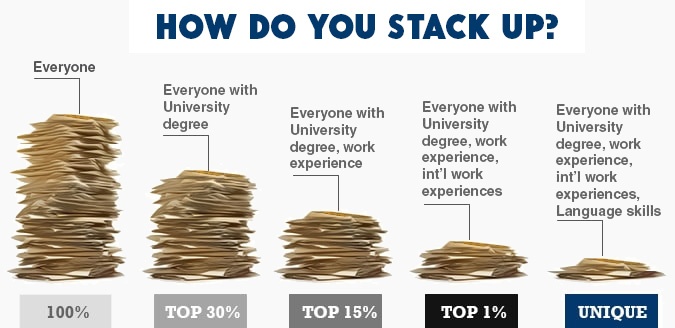 From Start to Finish: Your International Internship
1. Research Your Internship Opportunities. Where can I go?
Independent Internships: Students regularly secure internships through their job/company connections, family connections, job postings, etc. Students can decide if they would like to earn academic credit for the experience. Enrollment will typically record the internship/country on UA's transcript and also allows students to receive scholarships/funding if awarded.
Brazil: Arranged through FUCAPE Business School in Vitoria, Brazil. It requires 8 weeks of full-time work, minimum. English speaking placements, some Spanish background is helpful, but not required as Portuguese is spoken in Brazil. FUCAPE will secure work placement and assist with housing/visa, etc.
Panama: Arranged through partner companies. Requires 8 weeks of full-time work and minimum enrollment in WCOB 320V. English or Spanish speaking placements. Students stay at the City of Knowledge and transportation is typically provided to and from work.
UofA External Partners: Many approved external partners for study abroad are adding service-learning and internship opportunities. Check out https://studyabroad.uark.edu and search for an internship program and/or by country as not all internship programs are listed separately.
2. Secure an Internship: The Letter of Offer
You are responsible for securing the internship. This includes finding a position, applying, and receiving an offer.
4. Wait
After you apply, Walton Career Services will process the application, and will review and verify the letter of offer.
5. Get Your Travel Details Sorted Out
6. During Your Internship
After beginning the internship, you will have two weeks to complete and submit your Training Agreement, which includes input from your onsite internship supervisor, to Walton Career Services. As your internship nears completion, you must complete the Student Work Report, a survey of your experiences.
7. Assignments
Before the end of the academic period, you must complete and submit the following items to Walton Career Services:
Scholarships and Cost
Walton College is committed to helping students intern abroad, and offers scholarships to help lessen the cost of participation. Walton awards funding to students for international internships and Walton Honors students can receive the George and Charlene Edwards Honors College International Experience Endowment Scholarship for this experience.
Students must be eligible and apply through the Walton College Study Abroad Funding application process. (Note: Students must be enrolled at least 1 hour of credit to be eligible to receive funding.)
Due to visa issues, most international internships are unpaid. The costs to participate are mainly living expenses, airfare, and typically 1 to 3 hours of tuition. Total costs depend on where you intern and for how many weeks.
The Application
Application Deadline:
March 15th
WCOB 320V Application
Complete and submit the 320V International Internship Application to Walton Career Services after you have researched and secured an internship offer.
Requirements
You must have a 3.0 minimum GPA, have finished the pre-business core and 60 credit hours, and have secured an internship relating to your major.
1 hour = 4 weeks full time work
2 hours = 6 weeks of full time work
3 hours = 8 weeks of full time work.
Top 10 Reasons to Intern Abroad
A Great Resume Builder
Gain New Business Perspectives
Earn College Credit
Learn/Practice Another Language
Develop a Global Network
Show Future Employers Your Enterprising Ambition
Hone Soft Skills
Explore a New Part of the World
Discover Yourself
Have an Experience That You Won't Forget!