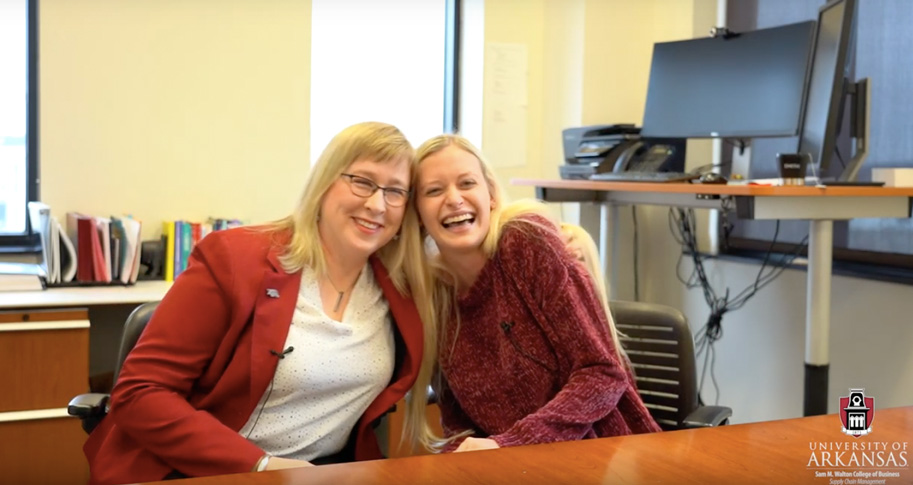 Episode Transcript
00:00 Caroline Mukhar: Once I got into the intro-class I was like, "Oh my gosh, I love this." The inventory, getting things from place A to B as fast as you can, just efficiency. That's completely how my brain works. And so I loved learning more about that.
[music]
00:29 Stephanie Thomas: Today we're here with Caroline Mukhar, who is getting ready to graduate in May.
00:33 Caroline Mukhar: Yes.
00:33 Stephanie Thomas: And so, Caroline why don't tell us a little bit about what you've studied while you've been here in Walton College.
00:38 Caroline Mukhar: Okay, so I came in as a supply chain management major, and then throughout my classes I realized I wanted to go with more of the retail side compared to the transportation and logistic side, so I changed that once I got going, and then I started out with a business analytics minor and information systems, and then I decided I wanted to learn more about that as well, so I added that into a major as well, and then I... During my internship this past summer with Academy Sports + Outdoors, I learned that I had an interest in marketing and so I actually added a marketing minor that I'm finishing up this semester.
01:21 Stephanie Thomas: I know through our interactions that you've been very involved, especially on campus while you've been here and beyond outside of even the supply chain program, but can you tell me a little bit about your involvement in the Arkansas Supply Chain Association as well as Women Impacting Supply Chain Excellent?
01:36 Caroline Mukhar: Yes. So we actually worked together to create Arkansas Supply Chain Association here, and so that's been so amazing to see it grow. I've been able to have two different officer roles in it and just seeing how students have gotten so many opportunities out of it and me included through the networking breakfast, all the meetings and events and then for WISE when I joined it wasn't really anything that was going on, and so I joined with Taylor Hunt and she became president and I was, I believe, membership. And so getting to just work in that and actually change it to something and now it has so much funding and all these people from Northwest Arkansas wanna support it as a woman's organization so that's super cool to be a part of that and see how that's grown.
02:30 Stephanie Thomas: And you mentioned earlier, Academy Sports + Outdoors.
02:33 Caroline Mukhar: Yes.
02:33 Stephanie Thomas: Which I know you interned with last summer. Could you tell us a little bit about that experience?
02:38 Caroline Mukhar: So I worked as an assistant buying intern, but a lot of what I was doing was kind of collaborating with the e-commerce department. So I was working to kind of figure out how they can increase sales through the website, and I did a lot of comp shopping on the competitor's websites, as well as in their stores and seeing what they had the academy didn't have and that was vital that we needed to get it to help increase sales. And so I'm actually going back this summer to intern in their e-commerce and omnichannel department, so I'm really excited for that.
03:13 Stephanie Thomas: What was your favorite class or favorite professor, that you had?
03:16 Caroline Mukhar: So I actually really enjoyed the Retail Supply Chain class and it was taught by Joel Tyler. And it's just basically a giant project which I know group projects are kind of scary sometimes, but I actually got to work with ArcBest, we actually got to work with their HR department, and so that was really interesting to me because I've only taken I think two management classes my time here 'cause it's not my major. And so getting to see the hiring process from a different view and helping them, the whole goal of the project was how they could improve their hiring process.
03:51 Stephanie Thomas: Well, Caroline I know I've enjoyed having the opportunity to work with you through ASC and WISE while you've been here and I'm excited to see what happens for you in the future, and thank you so much for talking with me today.
04:04 Caroline Mukhar: Thank you and thank you for everything that you've done for me throughout my time here, it's been amazing to get to know you and have you as a mentor for me.
04:12 Stephanie Thomas: Yes, thank you.