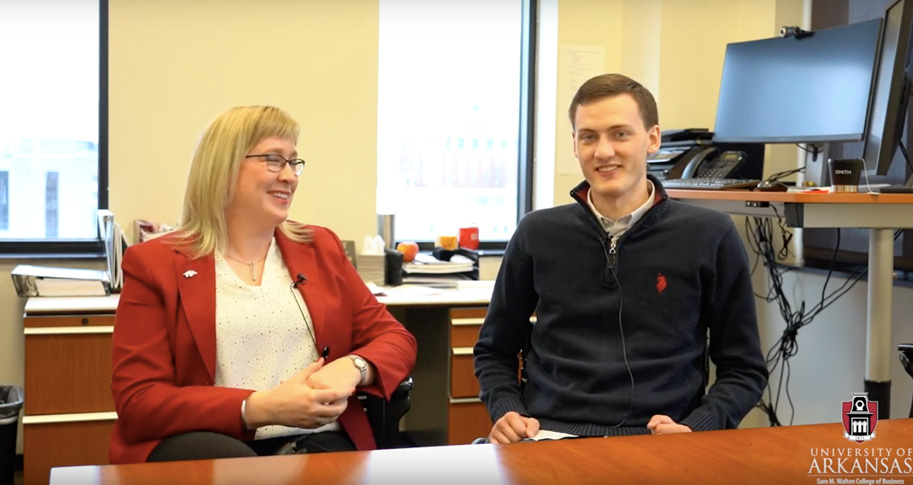 Episode Transcript
00:00 Derek Gray: From the supply management, it's kind of building that overall picture of the supply chain, but this leadership one, it's interacting with industry. We have the executives come in and we get to talk with them and we get that one-on-one time with them and just kinda build that comfort level.
[music]
00:31 Stephanie Thomas: Today, I'm excited to be here with Derek Gray and he is soon to be a graduate of the Walton College of Business and I wanna hear a little bit about his experience during his time here. So, Derek, can you kind of tell everybody what you been studying here in Walton College?
00:48 Derek Gray: Some supply chain management and business analytics.
00:52 Stephanie Thomas: How did you get into supply chain?
00:54 Derek Gray: I didn't know exactly what it was to start with and then I guess I took that intro class and figured out, "Oh this is the name of it." And that kinda just drew me in and it's like, "Oh okay." This is the area that I... Kind of things that I like and it just pulled me in more from there.
01:14 Stephanie Thomas: When you say things that you like, what was it about it that interested you?
01:19 Derek Gray: You can be a part of anywhere in a process, or a product. You can be anywhere in that, from the very beginning to the very end. You can be a part of the whole thing, you can be part of it.
01:33 Stephanie Thomas: So, Derek, I know you did an internship last summer with the US Army Corps of Engineers. Can you kinda tell me a little bit about that experience?
01:40 Derek Gray: And so I got connected with them through the supply chain networking breakfast that we had. I didn't know it at the time, but the person I was talking to was the chief of the district, so she was over the whole Kansas City contracting up there. So a little while later after that that I got the call and said, "Hey, can you come up?" and so I said, "Yeah," and I went up there. And so the contracting, it's mainly contracting of services so all of your... Think of a dam and some of the parks and things like that, or some military bases. They do some work on those or even just some of the waterways, just maintaining those. So it's the services to get the construction work to do all of those.
02:34 Stephanie Thomas: I know you came here as part of a Walton transfer program. Can you kinda tell us a little bit more about that?
02:39 Derek Gray: Yeah, so I came from NWACC, NorthWest Arkansas Community College. They have a transfer program that's specific to Walton so you can do your... The first two years, you do at the community college, and then transfer in and then you're ready to go straight into all year. For me, it was supply chain so I got right into that and that's where it kind of took off from the hardcore supply chain and up there, it was the basics. And you can kind of pick whatever you want from there.
03:11 Stephanie Thomas: Perfect! So now, since you've been here, what's been your favorite Supply Chain class?
03:16 Derek Gray: I think with Dr. Van Hoek, Supply Management, was pretty good. I liked that one. And then also this one with Dr. Williams, the Leadership one. I think they're calling it Supply Chain Leadership so that one, it's... Both of them, they're completely different, but from the supply and management it's kind of building that overall picture of the supply chain. With this Leadership one, it's interacting with industry. We have the executives come in and we get to talk with them and we get that one-on-one time with them and just kinda build that comfort level of where as a student, you're kinda like... It can be scary at times, to be with those people at high levels, and then but you get this time and just build that comfort with them and just helps with overall interaction.
04:11 Stephanie Thomas: I know you've had an interest in process improvement and Lean Six Sigma so you actually had a chance to get some certification and training on that. Can you tell me a little bit about that experience?
04:22 Derek Gray: So, again, that's one of those things. I didn't know the specific name to it. I just knew that my mindset, I always kinda liked figuring out ways just to do things better. And then again, I think it was in that Intro to Supply Chain class, but I heard a little bit about Lean Six Sigma, and I was like, "Oh that's what this is." And as I was here, and then I saw it, I think it was on LinkedIn, I saw an ad with the Walton Executive Education and that's where I met Dr. Fewkit from, 'cause I just heard people in the hallway talking about supply chain things. I thought, "Oh, well, maybe these people will know." And so I went up and asked him, and I just kinda got connected with it through there, and then was able to get in. It was a little bit different from class perspective 'cause it was these peers I was in there with. They were all industry professionals, so people that were in a job setting and this was like a week from their regular job to come get this training. And here I am a student in there.
05:35 Stephanie Thomas: So now that you're getting ready to graduate, and if you take a step back and look at how you've gotten to this point, do you have any advice you would give to someone as they're starting their educational career in college?
05:52 Derek Gray: Really, you obviously wanna pay attention, but to come with that, paying attention, just ask questions. Don't be afraid to ask questions, 'cause one, you're gonna learn more from that but then also through asking questions, it shows a level of interest. So whoever you're asking the questions to, you're gonna know that you're interested and that you want to learn more. So, that's really probably one of the biggest things, to just pay attention and then ask questions.
06:00 Stephanie Thomas: Well, that's exactly how you got the opportunity with the Lean Six Sigma training. So you lived that advice as well. So thank you so much for taking the time to come in and sit down with me today. I wish you the best here.
06:00 Derek Gray: Alright. Well, thank you.