International Business Cultural Association
International Business Cultural Association
Hello, Bonjour, Habari, Ciao, etc.
International Business Cultural Association
"These are just a few of the greetings becoming the norm within the business world. As our world becomes more global, we must become global with it. Having an understanding of business is not enough. We must also comprehend how to conduct said business in differing cultures. Without a doubt, understanding different cultures is essential to doing international business." -Nelly Muyia, President 2013-2014
Mission Statement:
It shall be the mission of IBCA to provide opportunities for exposure and interaction in international business, to offer cultural aspects of business, and to enable the members to view International Business in action through speakers, events, and networking opportunities.
Faculty Sponsors:
Faculty Advisor: Dr. Bill Currington
Staff Advisor: Susan E. Anders
Event Descriptions
Walton College Block Party: The first opportunity of the year to learn about IBCA!
Coffee Hour: An opportunity to meet Walton College's current exchange students who are here from our partner schools and/or learn more about business in a particular country.
International Business Lecture Series: Designed to give insight and inspiration for the Bachelor of Science in International Business (BSIB) degree program. Faculty members and professionals from the various concentrations will share about international business experiences in their specific field.
Walton College Study Abroad Fair: Learn about all the Walton College faculty-led study abroad programs and the college's semester and year long exchange programs. Meet the faculty leaders, UA students who have been on the programs as well as international exchange students from partner institutions.
General Meetings: Held once a month to discuss upcoming IBCA events.
Where in the World is Walton? Photo Contest: Held in the Fall, submit your study abroad photos and winners will have their photos displayed inside Walton College!
Mentorship Program: Brings together students and faculty with international experience with IBCA members who want to learn more about a specific country.
Contact IBCA
Visit the IBCA information table at:
Walton College Block Party
Shollmier Plaza
Email: ibca@uark.edu
Or contact the Global Engagement Office
WCOB Room 117
Phone: (479) 575-4765
Email: global@walton.uark.edu
IBCA Officers
President – Yulia Batalina
Vice President – Paulina Moya
Treasurer – Tucker Hill
Secretary – (vacant)
Events Committee Chair – Gabrielle Muscari
Events Committee Vice Chair – Alejandra Perea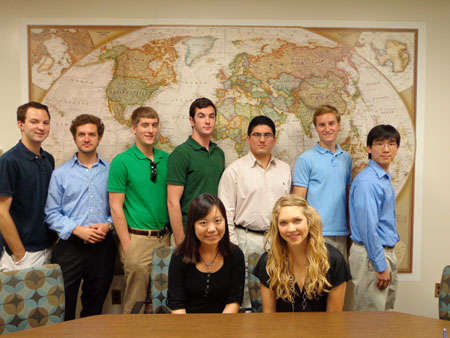 Bachelor of Science in International Business (BSIB) Degree Program
The BSIB is an interdisciplinary degree that combines the following areas of study:
International business (15 hrs.)
Upper division business language (6 hrs.)
An area studies requirement (9 hrs.)
A business concentration from one of the following: accounting, business economics, information systems, finance, general business, management, marketing, retail, or transportation and logistics (15 – 21 hrs.)
An international experience, typically a study abroad opportunity
International Business Minor
The International Business Minor for business students is considered an interdisciplinary minor.
Intermediate Foreign Language (6 hrs.)
International Business (15hrs)
Choose from a list of ten international courses offered
Can choose 3 hours of study abroad led by Walton College Faculty
Other—Department Chair approval needed