FBC 2015 Profile
FBC Profile
Elizabeth Kyle, Ryan Taylor
WHP 2015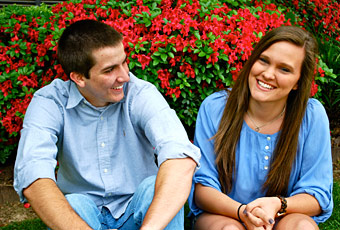 Honors Freshman Business Connections is undoubtedly one of the best parts of the first semester at the University of Arkansas. Elizabeth and Ryan both really enjoyed being in a block schedule which included Business Law, Honors Public Speaking, and Honors FBC.
"Being together in these classes is a great opportunity to meet people and a way to feel like at least one part of your schedule is consistent each week."
"Getting to know the people in my Honors FBC class made the transition into the Walton Honors Program really enjoyable. I met one of my best friends in this class and many great friends as well. I know that the relationships I made in Honors FBC will last far beyond the end of college."
"I also really enjoyed having my honors academic advisor as my FBC instructor so that I would know what to expect from the Walton Honors Program. It was great to be able to talk to my advisor weekly during my first semester and gain insight into the Honors Program and the many opportunities available in the Walton College."
Elizabeth and Ryan's class met bright and early on Thursday mornings at 8:00 a.m. but this did not stop them from being social and all becoming good friends. "We formed study groups for classes and even started a breakfast club. Every Thursday morning before class, we would meet to eat breakfast and help each other make it to class on time!"
FBC gives you the opportunity to form great relationships with your peers and many people that you may not have come in contact with otherwise. "Without Honors FBC, I'm not sure I would have been near as comfortable on campus my freshman year." The FBC class is definitely a great way to get to know everyone that you will be in classes with for the rest of your college career.