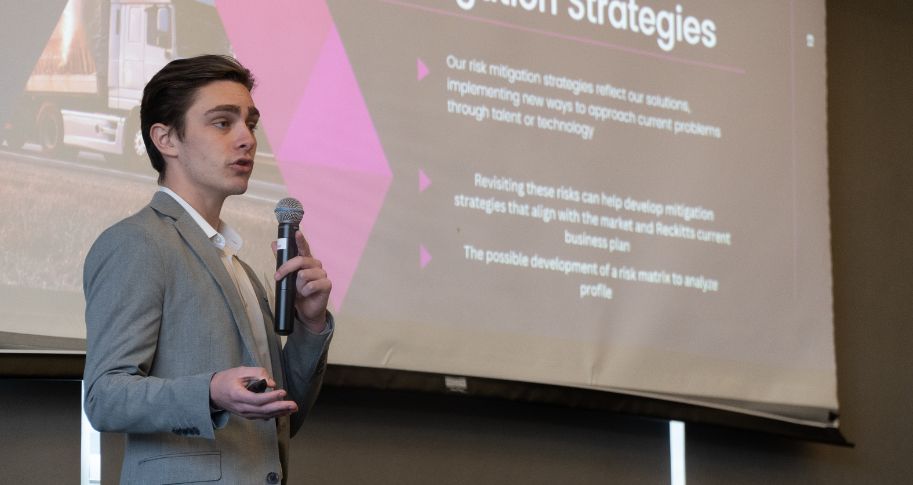 Traditionally, the SCMRC concludes every semester with the SCM Student Showcase: a half day event featuring final presentations from the students within the Project Management Courses within the Walton Supply Chain Program.

This course is a hallmark of the practice based learning that is embedded into the Walton SCM curriculum as well as the SCMRC L.E.A.D. mission of engaging leading industry organizations in the classroom. Within this course, students tackle real world supply chain challenges, ideating, researching, and ultimately proposing solutions to the sponsoring company.

The event - formerly known as Demo Day - featured poster project presentations as well as three student panel discussion showcasing the value of integrated industry within our program.
The three formal student presentations were:
Team 1: Kellogg's
Overview: Create a clear process map of how Kellogg's services Walmart from order creation to delivery. The outcome of the project will be clearly identified areas of opportunity and the most impactful solutions that Kellogg's could implement to improve On-Time & In-Full.
Team Members: Bari Derkowski, Vivian Strange, Thayne Shook, Danielle Gloy
Team 2: Reckitt
Overview: Optimize end-to-end flow of Walmart orders in the Health & Nutrition category, specifically through analyzing lead time opportunities.
Team Members: Ella Knee, Luke Lucido, Ryan Rizzo-Kubat, Noa Smith, Alden Young-Pagoaga
Team 3: Unilever
Overview: Challenge to eliminate or reduce overages and accessorial charges. Means to address include training, policies, procedures, and technology.
Team Members: Brenna Dickson, Talyn Ellenbarger, Megan Harrison
Watch video recap here.

Event Details are as follows:

EVENT: SCM Student Showcase
DATE: Friday, December 2, 2022
TIME: 9:00am – 1:00pm
LOCATION: The Alumni House | Fayetteville, AR
INVITE: Event exclusive for SCMRC members.