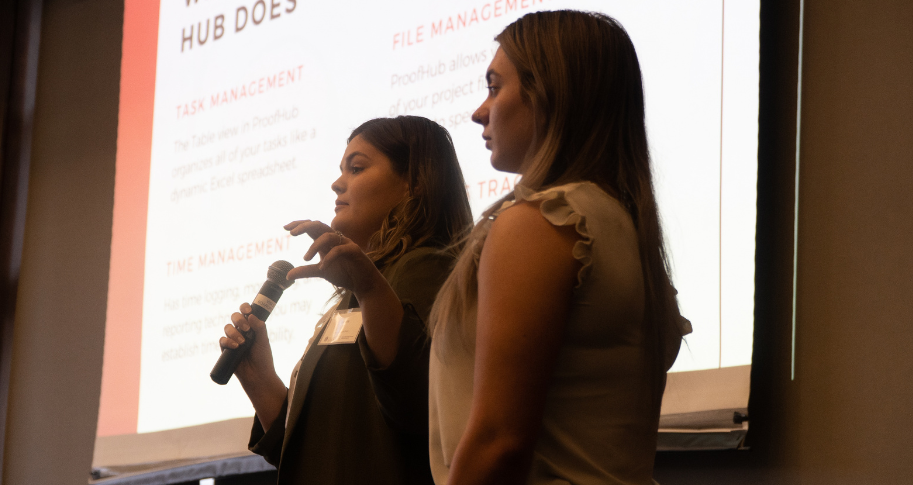 The SCMRC concludes every semester with the SCM Student Showcase: a half day event featuring final presentations from the students in the Project Management Courses within the Walton Supply Chain Program.
This course is a hallmark of the practice based learning that is embedded into the Walton SCM curriculum as well as the SCMRC L.E.A.D. mission of engaging leading industry organizations in the classroom. Within this course, students tackle real world supply chain challenges, ideating, researching, and ultimately proposing solutions to the sponsoring company.

The event - formerly known as Demo Day - features poster project presentations as well as a select number of student panel discussion showcasing the value of integrated industry within our program.
Watch video recap of the Fall '22 event here.
Team Presentations:
Team 1: Unilever
Overview: To review OTIF (historical and current data) and identify losses by bucket and uncover root cause then provide recommendations (Sam's)
Team Members: Jason Espinoza, Erika Haase, James Hunt, Keerthi Vimalraj
Team 2: Tyson
Overview: Turnover reduction warehousing / distribution operations, reduction of transportation accidents at distribution facilities
Team Members: Becca Acuff, Henry Arnold, Logan Hucklebridge, Jassie McDaniel, Braydon Stone
Team 3: J.B. Hunt
Overview: Transportation mode analysis. With what's happening in the spot market and entering a recession for them to learn how to justify those decisions.
Team Members: William Kennedy, Shelby Steplock, Sada Stone, Jamie VandeSteeg
Team 4: International Logistics Class
Overview: Create a domestic and international supply chain with suppliers, manufacturers, and transportation intermediaries that would provide our innovative product with the lowest costs and highest revenues.
Team Members: Nathan Peck, Jordan Clark, Zachary Gebhard, Allison Strathman
Event Details are as follows:
EVENT: SCM Student Showcase
DATE: Friday, April 28, 2023
TIME: 9:00am – 1:00pm
LOCATION: Arkansas Union, Verizon Ballroom | Fayetteville, AR
INVITE: Event exclusive for SCMRC members.