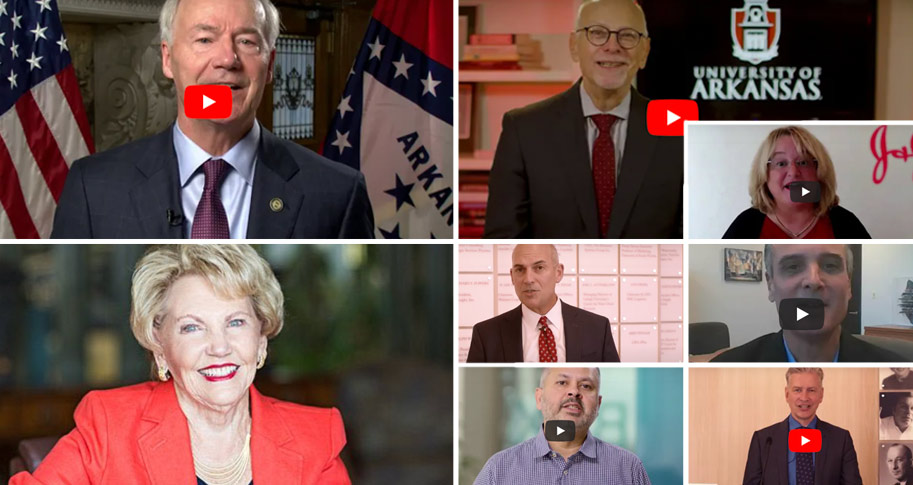 The Supply Chain Hall of Fame held it's Grand Opening on October 8, 2020.
Videos and remarks from contributors to the grand opening of the CSCMP Supply Chain Hall of Fame included:
Arkansas Gov. Asa Hutchinson
University of Arkansas Chancellor Joe Steinmetz
Johnelle Hunt, co-founder of J.B. Hunt Transport Inc.
Matt Waller, dean of the Sam M. Walton College of Business
Rick Blasgen, chief executive officer of CSCMP
Kathy Wengel, executive vice president and chief global supply chain officer for Johnson & Johnson
Girish Rishi, chief executive officer of Blue Yonder
Remko van Hoek, professor of practice in the Walton College Department of Supply Chain Management
Complete Video
Remarks: Arkansas Governor Asa Hutchinson
Remarks: Johnelle Hunt
Remarks: Rick Blasgen
Remarks: Chancellor Steinmetz
Remarks: Kathy Wengel
Remarks: Matt Waller
Remarks: Girish Rishi
Remarks: Remko Van Hoek
The hall of fame will feature space devoted to rotating exhibits about the CSCMP Hall of Fame Award inductees, an award that recognizes and celebrates the significant achievements of practitioners and academics that have created, innovated and mastered the discipline of supply chain management.
The space also will be used for lectures, roundtable meetings and functions for as many as 100 attendees. Construction of the hall of fame was announced at the council's annual conference in September 2019.
The virtual grand opening event was sponsored by Blue Yonder, a leading digital supply chain platform provider.
The hall of fame was made possible thanks to the generous support of Johnelle Hunt, along with the support of Gus Blass III, general partner of Capital Properties LLC and a member of the board of 10 other companies, and Alex Blass, a partner in Sage Partners LLC. Both Gus Blass and Alex Blass are alumni of the Walton College.