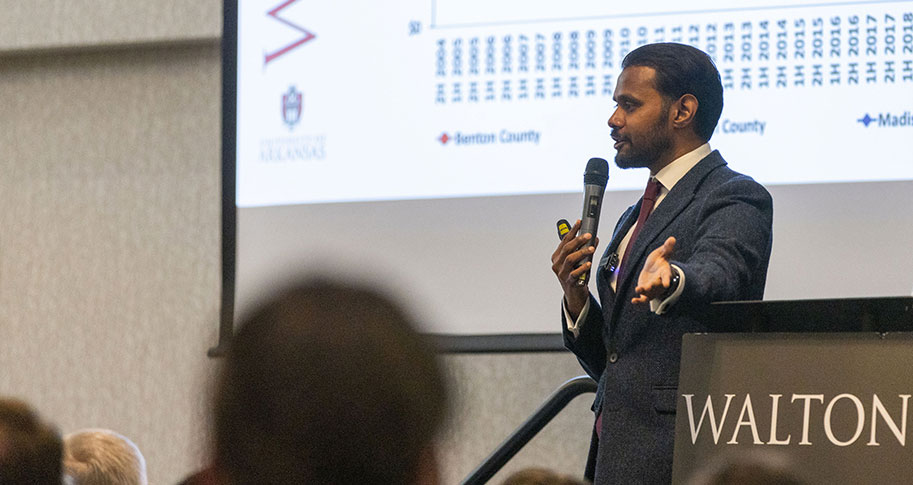 A panel of three distinguished economists will speak Friday, Jan. 27, 2023, on the regional, national and international outlook for the coming year at the 29th annual Business Forecast luncheon.
The luncheon, hosted by the Center for Business and Economic Research at the Sam M. Walton College of Business, will be held from 11:30 a.m. to 1:30 p.m. on Jan. 27 at the Rogers Convention Center in the World Trade Center District in Rogers. Register now.
"I look forward to these forecasts for the coming year," said Matt Waller, dean of the Walton College. "Each economist looks at current global and domestic events and shares how these will affect our economic lives and our business strategies. It is vital for planning ahead."
All luncheon ticket holders are welcome to participate in a networking event with fellow attendees and speakers from 10:45 a.m. to 11:20 a.m. in the Rogers Convention Center.
Panelists are:
Moderator: Todd Simmons, chief executive officer and co-vice chair, Simmons Foods.
Global Forecaster: Julia Coronado, founder of the economic research firm MacroPolicy Perspectives and a clinical associate professor at the McCombs School of Business.
Domestic Forecaster: John List, Kenneth C. Griffin distinguished service professor in economics at the University of Chicago, and chief economist at Walmart.
State and Regional Forecaster: Mervin Jebaraj, director of the Center for Business and Economic Research.
"The region's business and community leaders get the opportunity to hear from economists about the path of the economy in the face of so much uncertainty. The state and the region can use that information to make their organizations stronger," Jebaraj said. "I am gratified each year at the interest and level of participation in the Business Forecast Luncheon."
Sponsors to date for the 2023 Business Forecast luncheon include:
Walton Presenting Partners – Walmart and Sam's Club
Walton Academic Partners – Devereaux Real Estate Investments; Drake Farms; Greenwood Gearhart Inc.; RMP LLP – Attorneys at Law; Rose Law Firm; Simmons Foods, Inc.
Walton Corporate Partners – Arkansas, Blue Cross and Blue Shield; Conner & Winters, LLP; Cox Communications, Kutak Rock LLP; Regions Bank; Cushman & Wakefield and Sage Partners; Whisinvest Realty; Wright, Lindsey & Jennings LLP
Walton Business Partners – American Electric Power Foundation; Centennial Bank; Colliers International; Entergy Arkansas; Focus Commercial Real Estate; Hogan Taylor LLP; J.B. Hunt Transport Services; Landmark CPAs; Mitchell Williams; Nabholz Construction; Quattlebaum, Grooms & Tull PLLC
For more information on sponsorships or reservations for the 2023 Business Forecast luncheon, contact the Center for Business and Economic Research at 479-575-4151, fax 479-575-7687 or e-mail at cber@walton.uark.edu.
THE BUSINESS FORECAST PANELISTS
Todd Simmons is the chief executive officer and co-vice chair of Simmons Foods. He is currently serving, or has served, in the following positions: vice chairman of the National Chicken Council, executive committee and board of the Pet Food Institute, Arkansas Executive Forum at the University of Arkansas, U.S. Poultry and Egg Association board, American Heart Association of NWA, Walton Arts Foundation, Signature Bank of Arkansas, Work Matters, Big Brothers Big Sisters, Ozark Natural Science Center; and the Poultry Federation board of directors. Simmons has also been named to Arkansas Business' 40 Under 40. He attended Georgetown University where he earned a Bachelor of Science degree in business management. He joined Simmons in 1990.
Julia Coronado is founder of the economic research firm MacroPolicy Perspectives and a clinical associate professor at the McCombs School of Business. Julia received her Ph.D. in economics from the University of Texas then served as an economist at the Federal Reserve Board of Governors for eight years forecasting the U.S. economy and publishing scholarly articles on pension finances and market valuations, retirement saving, and digital currency and monetary policy. She is vice president of the National Association of Business Economists and serves on the board of directors of Robert Half International and Dynex Capital, the advisory boards of the Bureau of Economic Analysis, the Pension Research Council at the Wharton School and the Cleveland Fed's Center for Inflation Research.
John List is the Kenneth C. Griffin Distinguished Service Professor in Economics at the University of Chicago and chief economist at Walmart. His research focuses on combining field experiments with economic theory to deepen our understanding of the economic science. In the early 1990s, List pioneered field experiments as a methodology for testing behavioral theories and learning about behavioral principles that are shared across different domains. To obtain data for his field experiments, List has made use of several different markets, including charitable fundraising activities, the sports trading card industry, the ride-share industry, and the education sector, to highlight a few. This collective research has led to collaborative work with several different schools and charities, as well as firms including Lyft, Uber, United Airlines, Virgin Airlines, Humana, Sears, Kmart, Facebook, Google, General Motors, Tinder, Citadel, Walmart and several non-profits. His research includes over 200 peer-reviewed journal articles and several published textbooks. He co-authored the international best seller, The Why Axis, in 2013, and is author to a new best seller, The Voltage Effect. List was elected a Member of the American Academy of Arts and Sciences in 2011, and a Fellow of the Econometric Society in 2015. List received the 2010 Kenneth Galbraith Award, the 2008 Arrow Prize for Senior Economists for his research in behavioral economics in the field and was the 2012 Yrjo Jahnsson Lecture Prize recipient. He is a current editor of the Journal of Political Economy.
Mervin Jebaraj is the director of the Center for Business and Economic Research. During his time at the center, he has been instrumental in creating and executing economic studies for clients such as the Arkansas Economic Development Commission, the Northwest Arkansas Council, the Walton Family Foundation, Arvest Bank, the University of Arkansas and many others. His work has been noted by the state's business media. Arkansas Business and the Northwest Arkansas Business Journal recognized Mervin in their 40 Under 40 lists and on the Arkansas 250 list. He is an exceptional source of business and economics-related expertise that journalists and business people alike rely on to understand how national and regional issues impact Northwest Arkansas and Arkansas as a whole. He makes presentations that share the center's expertise directly to over 5,000 individuals annually and tens of thousands more hear and see his economic analysis and commentary through television, radio and print media. Jebaraj serves on the Community Development Advisory Council of the Federal Reserve Bank of St. Louis, the Board of Directors of the National Association for Business Economics, the Board of Directors of the Northwest Arkansas National Airport, and on the Board of Directors of the Walton Arts Center.
About Center for Business and Economic Research: The Center for Business and Economic Research is a public service, outreach organization whose mission is to serve its constituents with the highest quality research support, basic and applied business and economic analysis, timely relevant business, economic and related public policy information, and other outreach activities. In addition to supporting research within the college, the center supports economic development by providing economic and demographic data and analysis to business, government and individuals. The center also actively works with the economic development community of the state to build Arkansas' capacity to create high-wage, high-skill employment.
About the University of Arkansas: As Arkansas' flagship institution, the U of A provides an internationally competitive education in more than 200 academic programs. Founded in 1871, the U of A contributes more than $2.2 billion to Arkansas' economy through the teaching of new knowledge and skills, entrepreneurship and job development, discovery through research and creative activity while also providing training for professional disciplines. The Carnegie Foundation classifies the U of A among the few U.S. colleges and universities with the highest level of research activity. U.S. News & World Report ranks the U of A among the top public universities in the nation. See how the U of A works to build a better world at Arkansas Research News.