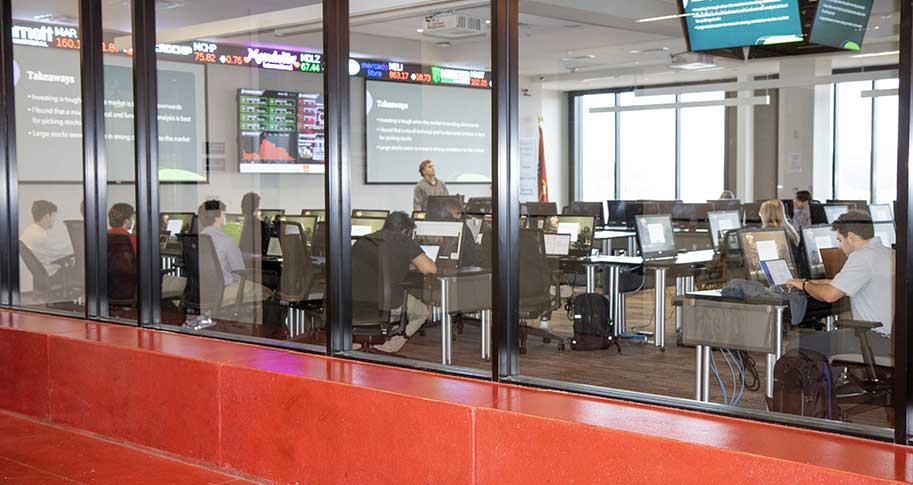 The Technical Analysis and Trading finance honors colloquium class at the Sam M. Walton College of Business received high honors in the 2022 Chartered Market Technician (CMT) Association, Inc. Investment Challenge, an international investment competition.

Competing against more than 1,000 participants from 47 countries at the university level, the University of Arkansas finance class achieved:
First place in the "highest risk-adjusted return" category (top category).
First place in the "lowest maximum drawdown" category.
Second place in the "highest absolute return" category.
"Unlike other stock market competitions, the CMT Association Investment Challenge required the participants not only to research companies and manage a portfolio but also to provide the rationale for every trade plus a target price and a stop-loss," said Sergio Santamaria, investment analyst and senior research associate at Walton College. "My Finance Honors Colloquium students deserve a special recognition because, among 1,000+ participants from 45 universities and 47 countries, they achieved as a team the highest risk-adjusted return (top category) and the lowest maximum drawdown. These accomplishments are particularly impressive given the treacherous equity markets during the 8 weeks of the competition."

During the competition, teams conduct research, plan investments, track markets and build successful portfolios over an 8-week period, just as professional investment managers do. Students apply the concepts learned in class to the competition.
The class (FINN 4003H) focuses on behavioral finance and technical analysis of finance markets. Students learn:
how and why psychology affects our investment decisions,
how to overcome and profit from the psychological biases that inhibit solid investment decisions, and
Chartered Market Technician skills to prepare for the level 1 CMT exam.
The CMT Association is the world's foremost credentialing and advocacy body for financial technical analysis. It engages with regulators, employers, academic institutions and media houses worldwide to advance the discipline and its value to the financial services industry.