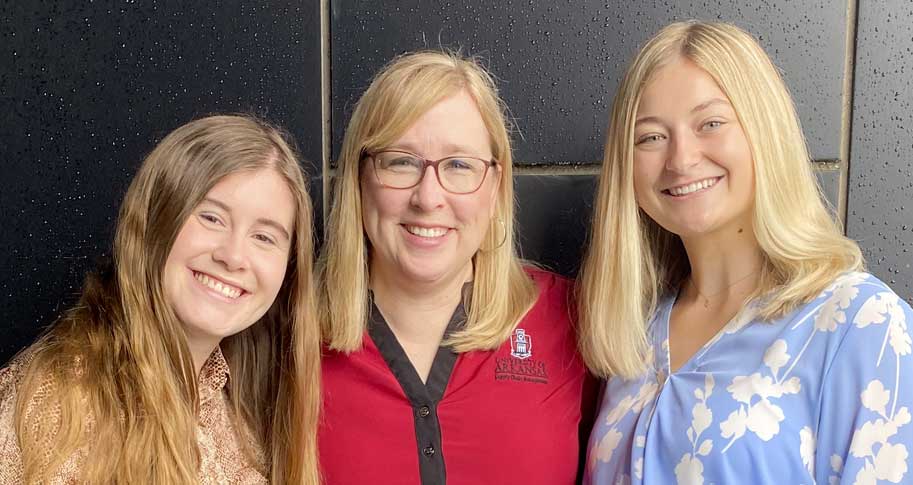 Achieving Women's Excellence in Supply Chain Operations, Management and Education (AWESOME) – a national nonprofit which advances and transforms the future of supply chain leadership – selected Sam M. Walton College of Business students Reagan White, an honors supply chain management and international economics senior, and Megan Formwalt, also an honors supply chain management and economics senior, as AWESOME 2022 Excellence in Education Scholars.
"I am so excited for Megan and Reagan. They represent the very best in the Walton Supply Chain program," said Stephanie Thomas, associate professor of practice in supply chain management and executive director of Women Impacting Supply Chain Excellence. "They are intelligent and driven leaders who desire to make a meaningful, lasting impact in their future careers. I can't wait to see the connections they make in this program with their fellow AWESOME Scholars as well as the successful AWESOME members."
Twenty scholarship recipients, including White and Formwalt, will attend the Council of Supply Chain Management Professionals conference in September 2022 and the AWESOME Symposium in May 2023. They receive a $5,000 financial scholarship for tuition and will have mentorship and networking opportunities with supply chain professionals.
"University of Arkansas students have been selected for the past 5 years for this national award. AWESOME founder Ann Drake, CEO Michelle Dilley and the rest of the AWESOME team have done a great job with this program. It is a tremendous opportunity for the recipients and the benefits go far beyond the financial reward," Thomas said.
Both White and Formwalt plan to graduate from Walton College in May 2023.
White serves as the vice president of communications for Women Impacting Supply Chain Excellence (WISE) student organization and previously as a member of the WISE Connections Advisory Board. She was a University of Arkansas delegate for National Model United Nations in 2021. Currently, she is interning in logistics at Hilti North America, a construction technology and tool company in Plano, Texas. She is minoring in Spanish and studied abroad in Seville, Spain, in the spring of 2022.
Formwalt serves as the president of WISE and previously served as the vice president of operations. She is working at McDonald's as a global strategic sourcing intern this summer in Chicago. Formwalt was named a Presidential Scholar by the University of Arkansas and is a member of Sigma Chi Mu Tau Honor Society and Beta Gamma Sigma.