Classroom Labs
View a listing of all University of Arkansas open labs.
All Business students have access to the restricted lab in WCOB 112. All software required for business degrees is in this lab.
Business Honors students have access to WCOB 114. All software required for business degrees is in this lab.
Business ISYS students have access to JBHT 222. All software required for ISYS degrees is in this lab.
Card Access to Computer Labs
The computer labs in the Walton College are available to business students 24 hours a day, 7 days a week. The general access lab, WCOB 112, is available to all students Monday through Thursday from 8:00am - 9:00pm, Friday from 8:00am - 5:00pm, and Sunday afternoon.
To gain access to these labs at other times, business students will need to use their ID to gain entry.
The following labs are card access only, at all times:
JBHT 222 - ISYS majors only
If you are a business student, and your card is not granting you access to the appropriate rooms, or to the WCOB building, please email the following information to cardaccess@walton.uark.edu.
Please note your UA ID card is NOT a Radio Frequency (RF) proxy card and cannot be simply waved in front of the device like those installed in the dorms and parking garage. It must be inserted into the device, as shown in the photo below: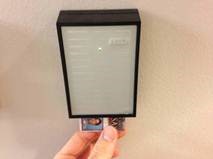 Computing Codes and Policies
All computing labs and classrooms strictly follow the university computing policies. Click here to go through the University Policies.
Downloading copyrighted software, music and movie is ILLEGAL by law. It is also a severe violation to use university's resource or property to download illegal contents. See the university of arkansas' policy on Illegal downloading.
Food and Drinks
Food and drinks are not allowed in the classrooms and labs. Please leave drinks on the floor near the door if you wish to bring them to class/lab. Computer classes are full and it's important for all computers to be working, not damaged by spilled drinks or crumbs.
Network Connections and Use of Personal Laptops
Students who bring their own laptops to class may use the wireless internet connections available in the room. Click here for directions on connecting to the network. If help is needed to setup a connection to it, you may bring your laptop to the Technology Center in WCOB 246 between the hours of 8:00am - 5:00pm.
If for some reason you are unable to connect to the wireless internet, please sit at the "empty" desks at the ends of the rows where there are no computers. There should be a network cord on the back of the desk that personal laptops can be plugged into.
If there are no free connections, or students are unable to see from the ends of the rows, students may sit at a classroom computer and use the cable connection from it to plug into their personal computers. STUDENTS MUST PLUG THIS CONNECTION BACK INTO THE CLASSROOM MACHINE AT THE END OF CLASS. If the connection is not restored to the classroom machine, this privilege may be taken away.
If power is needed for your laptop, please plug it into one of the outlets on the left or right side of the room.
General Access Lab Printing
The Walton College strictly adheres to the University of Arkansas printing policy. For general printing policy click here.
The University uses a printing quota system, called PrintSmart. All students receive a free quota of printing at the beginning of each semester equivalent of 600 single-sided black toner pages, or a value of $30 in any combination of the following:
Laser printer, black, single-sided, $.05 per page
Laser printer, black, double-sided, $.08 per page
Color printer, single-sided, $.20 per page
When you print in a public or academic lab, your remaining PrintSmart quota will be displayed at the print release station located near the printers.
If you have exceeded your quota, the cost required to print will be displayed, and you must swipe your University ID card at the release station to pay from your Razorbucks account or use a copy card. If you need to add money to your Razorbuck card, it can be done here.
Students can also check AVAILABLE PRINT QUOTA online using their GACL login. Printing is for academic purposes only and not for personal use.
Wireless Printing
Students may use their personal laptops to print pages on the printers installed at certain locations in WCOB and Walker Hall. In order to print, be sure to follow the following steps:
Connect your system to UA Wireless network. (How to connect to UA wireless?)
Click Start->Run (on a Windows XP machine)
Click Start->Search programs and files (on a Windows 7 machine)
Delete any text on the textbox and type \\printsmart.uark.edu
On a personal computer, you might be asked to login. Please type GACL\yourusername and your university password.
It might take some time before you see an explorer window showing a list of available printers across the University network. All printers are named in a specific format (Building where the printer is physically located along with the nearest room number.)
Double click on the printer to connect your computer to it.