Arkansas Business Hall of Fame
Arkansas Business Hall of Fame
The Sam M. Walton College of Business established the Arkansas Business Hall of Fame to recognize Arkansans - by birth or by choice - who have been successful business leaders. The Arkansas Business Hall of Fame is designed to honor, preserve and perpetuate the names and outstanding accomplishments of business leaders who have brought lasting fame to Arkansas.
Now Accepting Nominations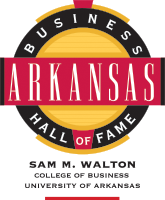 Thank you to all who supported the 2022 Arkansas Business Hall of Fame induction event, especially our event sponsors!
We need your help to identify the next class of inductees. Nominations are now being accepted for the 2023 class of the Arkansas Business Hall of Fame. Please see below for selection criteria and a nominations form. For consideration for the 2023 class, nominations are due no later than August 15. Please contact abhf@walton.uark.edu or (479) 575-6146 with any questions.
---
Selection Criteria
Nomination Form
2022 Sponsors
Platinum
Arvest Bank
Bank OZK
Eaton Vance
Morgan Stanley
The Family of Lisenne Rockefeller and Winrock Farms
Stephens Inc.
Silver
Arkansas Blue Cross and Blue Shield
Arkansas Economic Development Commission
Robert and Cynthia East
First Security Bank/Crews & Associates
FIS
Ginger and Baker
Johnelle Hunt
Kutak Rock LLP
Lexicon/Schueck Family
McLarty Companies
PwC
Tyson Foods
UA William Dillard Department of Accounting
University of Arkansas Fay Jones School of Architecture + Design
Ross and Mary Whipple
Bronze
Bailey Construction
Con-Real, LP
Claiborne and Elaine Deming
Dyke Industries
Entergy
FAB&T
Friday, Eldredge & Clark
Polk Stanley Wilcox Architects & CDI
Ranch Properties Inc.
University of Arkansas Libraries/School of Law
UAMS