Our Facilities: Built for Business
The exceptional facilities you'll find at the Sam M. Walton College of Business are the result of decades of planning, dedication, and key financial support from our alumni and supporters.
Four-Building Business Campus
Anchored by Linda Sue Shollmier Plaza, a four-building business campus hosts all activities of the Sam M. Walton College of Business. These buildings include:

Willard J. Walker Hall
Walker Hall houses the Graduate School of Business, Career Services, and many other Walton outreach centers.

Business Building (WCOB)
All academic departments are located in the Business Building along with the Dean's Office, Accounting Center, Technology Center and associate deans.

Donald W. Reynolds Center for Enterprise Development
The 41,000-square-foot Reynolds Center, funded by a grant from the Donald W. Reynolds Foundation in 1996, offers cutting edge technology in its meeting spaces and 300-seat auditorium. Home to the Arkansas Business Hall of Fame, it is ideal for conferences, workshops, board meetings, executive retreats, guest speakers and special events.

J.B. Hunt Transport Services Center for Academic Excellence
This building houses interdisciplinary programs including several departments—business, spatial technology, science—and general-purpose classrooms.
Walton Conference Hub
Our facilities are the ideal setting for your next business meeting, conference or seminar. The Walton College Conference Hub provides meeting and event space in the Donald W. Reynold's Center and Willard J. Walker Hall. There are 10 meeting rooms including two board rooms overlooking downtown Fayetteville, four multi-purpose meeting rooms, and an auditorium with state of the art technology that seats up to 300 guests.
Conference Hub
Classroom and Lab Reservations
University of Arkansas students, faculty, and staff can submit room requests to reserve classrooms, computer labs, and special departmental rooms.
R25 Room Reservation System
Panoramic Tour
Get a 360-degree perspective from Shollmier Plaza, surrounded by all four buildings of the Walton College's business campus.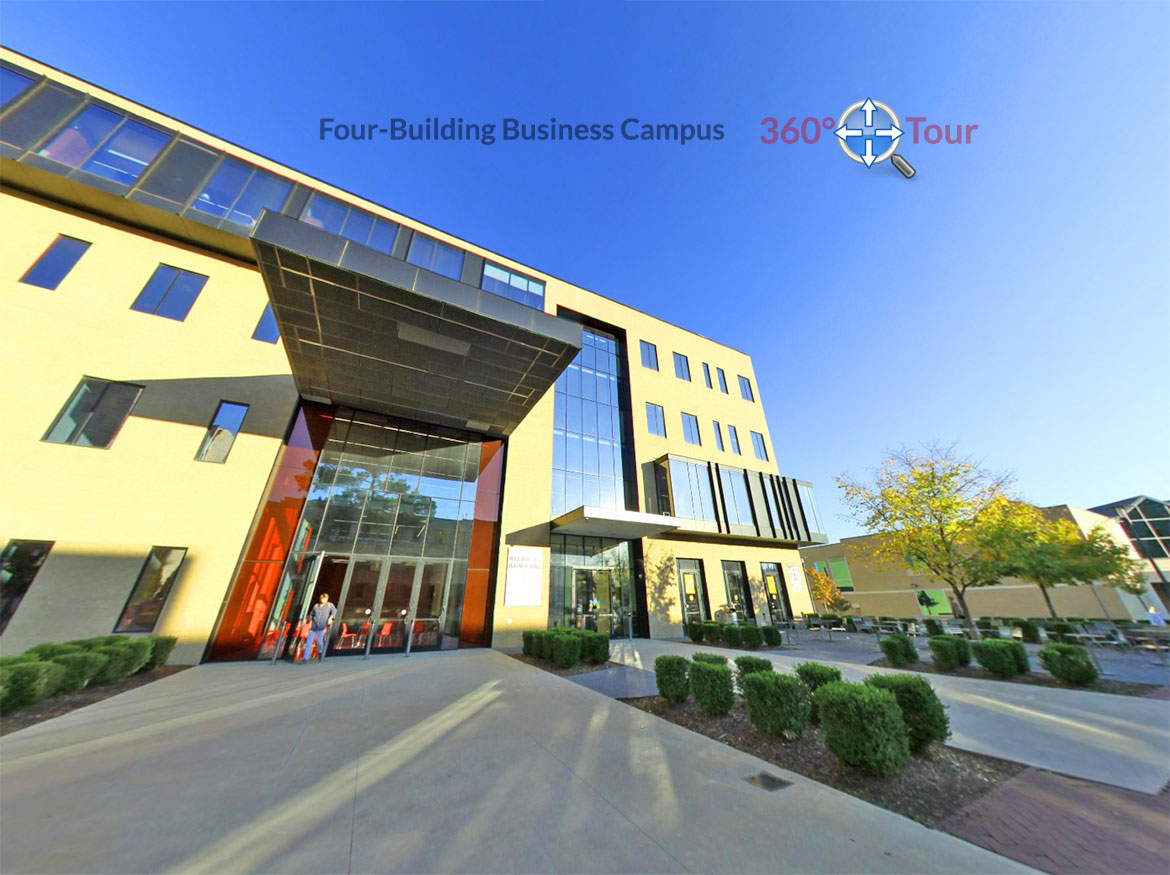 Atrium Legacy Display
The Sam Walton Legacy Display spans the three floors of the central stairway atrium of the Business Building on the University of Arkansas campus.
The display and atrium renovations were funded by a combined $1 million gift from Walmart and the Walton Family Charitable Support Foundation, with each organization donating $500,000. The Walmart Visitor Center contributed artifacts and design assistance.
Learn More