Commencement Ceremony
The Sam M. Walton College of Business Spring 2018 Commencement program will take place Saturday, May 12th at 1:00pm in Bud Walton Arena. All friends and family are encouraged to attend.
Commencement Speaker: To be Announced
Watch the Ceremony Online
Do you know someone who is unable to attend commencement? We're pleased to make a live video stream available for those who wish to watch it online.
Photographs
A professional photographer will be taking pictures during the awarding of diplomas and he will contact you later to arrange for prints. We invite family and friends to feel free to use cameras.
Instructions for Students
Find information and reminders about regalia, guests, arrival times, and parking.
View Instructions for Students
Bud Walton Arena

Bud Walton Arena (also known as the Basketball Palace of Mid-America) is the home to the Razorback men's and women's basketball teams. It is located on campus and has a seating capacity of 19,368.
Parking
Free parking is available in any unrestricted parking lot on campus. Download a map of all parking areas.
Persons with Mobility Impairments
Guests with mobility impairment may be DROPPED OFF at the south entrance of Bud Walton Arena with disabled parking available in lot 60. Please review the disabled parking map for more details. We recommend that guests with mobility impairment arrive no later than 12:30 p.m. Spaces will be limited due to the fact that the All University Commencement will be ending at the time that Walton College guests will be arriving. Ushers will be available inside the arena to assist them in locating the elevator and seating. The handicapped seating will be available on the concourse level of the arena. Due to limited number of disabled seats, only two additional guests may accompany those utilizing the disabled seating. We are sorry, but no seating will be available on the arena floor due to the limitation of space.
Graduates who will require accommodations during the ceremony (i.e. require an interpreter, wheelchair access, etc.) should advise Walton College via e-mail at lhughes@walton.uark.edu in advance of May 1, so that necessary arrangements can be made.
Please contact (479) 575-6135 if you have questions, concerns, or suggestions. For information on University Commencement, visit https://registrar.uark.edu/graduation/commencement/spring-commencement.php.
Framed Diplomas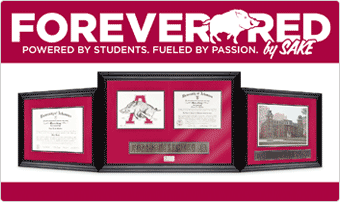 For University of Arkansas graduates:
Framed diplomas and sidewalk rubbings...