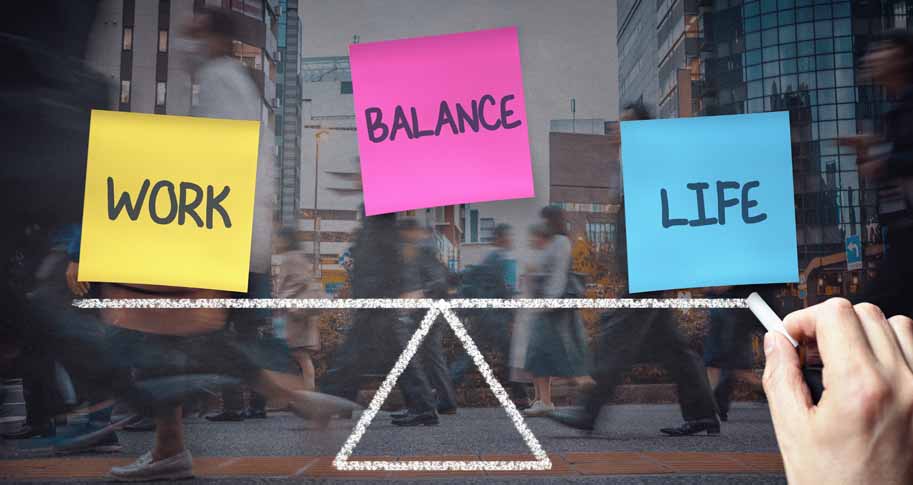 Employees aren't just employees. They're caregivers, they're partners, they're people who have identities and interior lives that expand beyond work. They're people who live in a world where pandemics and natural disasters and financial instability offer constant disruptions. Businesses must increasingly contend with the overlap that exists between work and home life, especially as remote and hybrid work continue to gain popularity.
The number one thing that both Millennials and Gen Z want their employers to prioritize is mental health and wellbeing. And employees deserve to work in spaces where their employers take their wellness seriously. Allison S. Gabriel, with numerous contributing authors, including the University of Arkansas's Maira Ezerins, Rebecca MacGowan, Christopher Rosen, and Lauren Simon, reviews Human Resource Management research to emphasize the importance of expanding research in employee wellbeing. In "Building Thriving Workforces from the Top Down: A Call and Research Agenda for Human Resources Management to Proactively Support Employee Well-Being," the researchers articulate and advocate for management practices that acknowledge the importance of wellness in different areas of work. The paper covers a range of topics including women's health and coping with socio-environmental jolts. Researchers from the University of Arkansas detailed recovery at work, support for employees with concealable stigmas, and support for employees who are caregivers, but the paper also covers women's health and coping with socio-environmental jolts.
People are Burned Out
People often spend the majority of their days doing their jobs — jobs that take substantial mental and physical resources — which can lead to burnout from work or other kinds of work-related unwellness. And then employees often must figure out how to recover from work at work. The researchers note that much attention has been given to how employees can facilitate their own recovery, but MacGowan asks a more incisive question: who should actually be responsible for recovery at work?
Individuals can take some action to recover from work, but these efforts are often undercut by the organizations themselves. The researchers suggest practices that organizations can adopt to increase supervisor support for recovery (SSR). Increasing SSR gives employees more formal permission to engage in recovery at work while making an intentional effort to avoid actively conflicting with recovery efforts. They suggest that organizations should enforce work boundaries by creating a "right to disconnect" from work after the workday, creating designated spaces in the workplace where employees can take "microbreaks" during the day, and by formalizing flexible working hours or adopting a four-day work week. Together, these practices can create organizational support for recovery at work and at home.
People are Multifaceted
Do you really know your coworkers? Your employees? In other words, how much do they engage in identity management at work? While most people curate how they present themselves at work to create advantageous connections, the stakes are particularly high for folks with concealable stigmas — stigmatized identities that aren't immediately apparent in normal interactions, like LBTQ+ status, criminal history, autism, and social class. People with concealable stigmas often engage in identity management to offset consequences that might accompany "when, how, and to whom they disclose their stigma." For them, identity management and image curation are even riskier.
The threat of discrimination and harassment that could come from disclosing these stigmas often outweighs the potential benefits of disclosure, like accommodation and support. People with stigmatized identities must constantly question whether they're making the right choices about how to manage their identities. Obligation to conceal stigmas from potentially judgmental people while disclosing them when appropriate creates immense additional social and psychological pressure that people with stigmatized identities have to endure at work.
Ezerins and Simon ask how organizations can lift some of the burden of identity management from their "unseen" employees. The researchers recommend specific practices to accommodate different stigmas, but their recommendations do share some similarities across the board. They suggest that organizations work to remove biases from their hiring processes and benefits coverage, engage in diversity and advocacy programs, create trusting and cooperative environments, and instill inclusive norms within team cultures. Most importantly, organizations need to actively facilitate these programs and environments; it's not enough to simply say the company values inclusivity, their day-to-day actions and policies should reflect it.
People are Caregivers
Approximately 20% to 45% of adults are caregivers to either children or elderly or disabled family members, according to the researchers. People who are both employees and caregivers experience exacting pressures in both roles. Rosen explores how organizations can help equip caregivers successfully navigate the sometimes conflicting demands of each role.
Organizations are beginning to address some caregiving concerns. Companies have instituted flexible work schedules for people with extreme caregiving demands, educational and wellness programs related to caregiving challenges, the ability to shift swap, and some even offer subsidies for childcare or eldercare. However, these programs still have room for improvement and need to become more readily accessible to more kinds of employees.
Rosen and his coauthors advocate for practices that address the needs of caregivers across the full spectrum of caregiving demands, from its unpredictability to its intensity. Their recommendations include formalizing flexible work arrangements, creating programs that make it easier for employees to exit and reenter the workforce as needed, offering part time work or jobsharing that includes benefits, upgraded shiftswapping software, providing emergency care services, and subsidizing or helping with other forms of household labor.
Businesses Need People to Thrive
People are quitting their jobs at alarming rates, citing burnout, anxiety, and a desire for flexibility. Organizations need to be thinking about how they can retain their best people during this time of mass exodus, and one of the keys could be addressing employee wellness. This paper projects what the future of wellness at work could look like: an inclusive space where employees are able to perform because they have the resources and support they need. The researchers conclude that "without thriving people, there is no thriving business." Businesses that better address employee wellness can differentiate themselves and become employers of choice that not only retain excellent employees but attract them as well.