Students in Strategy, Entrepreneurship, and Venture Innovation Get Practical Real World Experience at Walton College
Students in Strategy, Entrepreneurship, and Venture Innovation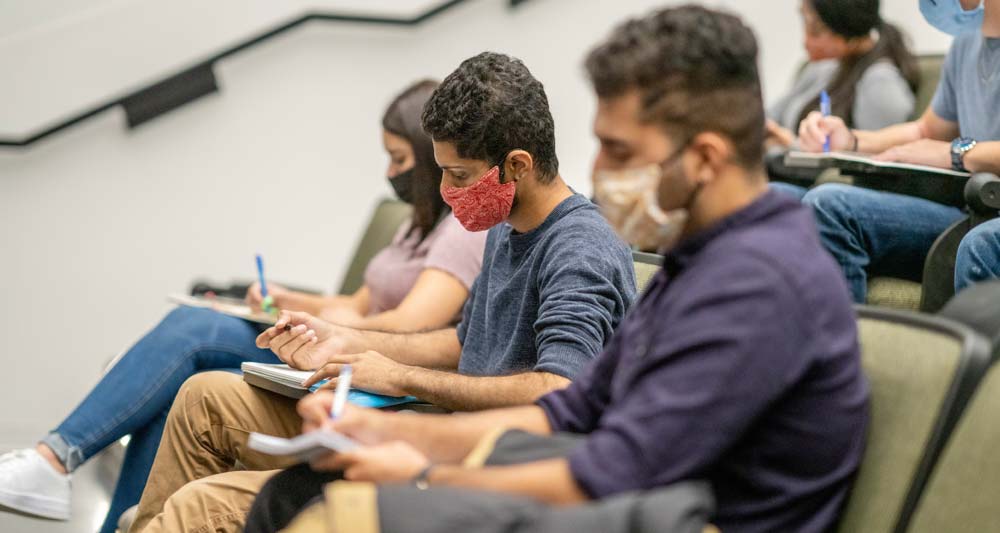 May 14, 2021
|
By Mark Zweig
Who says business education today isn't practical? That certainly isn't the case at the Sam M. Walton College of Business! Our program is not only practical, but it can provide some potentially life-changing experiences for our students.
In just one example, over the past 17 years those who have taken my Small Enterprise Management class (SEVI 4433) at the Walton College have done a consulting project with an actual small business in what I would consider a capstone course. I say it's a capstone because most of those who take the class are in their last semester of their undergraduate degree program, whether that be a business degree from the Walton College or a degree program in any other college at the University of Arkansas. It gives students a chance to apply every bit of their theoretical and practical knowledge and insight gained from their education here.
This past spring semester more than 100 students worked on a consulting project, either alone or with a partner of their choice. The simple goal of of the project is to make recommendations that will increase the business' revenue, profits and value and reduce risk for its owners. Students are required to find a small business, either locally or elsewhere, that is for-profit, privately-held and doing less than $10 million a year in annual revenue.
As a part of the project, students are required to undertake a study of the business using any number of investigatory efforts of their choosing, including, but not limited to:
client interviews,
employee interviews and surveys,
client/customer interviews and surveys,
secondary research on the specific business, competitors, and overall industry,
financial benchmarking (when solid financials and industry data are available!), and
much, much more.
In some cases -- probably 20 percent or more -- students actually work in the business itself for a period of time.
After completing their study, students write a report and make a presentation to their class peers on:
the business they studied,
the process they went through to study it,
the specific issues they uncovered that need to be addressed,
their recommendations to increase revenue, profits, and enterprise value and reduce risk for its owners, and
what happened when they made their recommendations to the business owners.
Many times, the small business owners want the student(s) they are working with to have a narrow focus on one problem or issue they are grappling with, such as employee turnover or fixing their website, but we don't let that happen. The business owner MUST agree to allow the student to perform their wide-ranging diagnostic efforts with an open mind and also must agree to full financial disclosure or the student has to find a different business to work with. In some cases the name of the actual business is used in class presentations. In other cases it is blinded and only known to myself and the students who studied it.
Students are told that while they cannot control the reaction of their clients to their recommendations, those recommendations are much more likely to be well-received and implemented IF they do the necessary homework to build their case with lots of supporting information that justifies those recommendations. Occasionally, students are able to see the results of the recommendations they make implemented, and that is always the best scenario to test their newfound skills.
In one such case, Noah Master, a student from Rockwall, Texas, in his final semester of his degree in marketing here at the Walton College, was able to perform a study and make recommendations that had a direct impact on the business he was working with.
"Impact has been my primary goal with the Small Enterprise Management consulting project from the beginning," Master said. "At the onset of the assignment, I decided that working directly with my chosen business would provide the most interesting route – along with incentivizing me to push for higher results. As the spring semester began, I had the privilege of starting work with the company Raasta LLC, in the role of e-commerce optimization lead."
Based in Texas, Raasta is an e-commerce centric business focused on the reselling of top-rated consumer electronic items. The business originally launched as an online eBay store and has since branched out into other channels.
"Over the course of the semester (Q1 of 2021), I've been able to reduce risk for Raasta's owners by uncovering and addressing numerous challenges the company faces," Master said. "We enacted changes to their supply chain, seller channels, brand presentation and more. I've been able to build value for the business through end-to-end documentation of our policies and processes, along with crafting a fresh company image through new branding elements including logos, banners and type. This has resulted in a consistent company image across our seller platforms which gives customers confidence in purchasing."
"With regards to increased sales and profitability, I launched our first promotional campaigns on eBay to great effect. Over the months of January to March 2021, these new campaigns have resulted in increased first quarter revenue by more than $53,000, along with garnering over 20.5 million new impressions for the store. While Raasta's revenue in 2020 amounted to $430,000, the firm is now on track to do $650,000 in 2021, which is nearly 50% growth. In addition to these increased sales, the store is journeying into new territory with the launch of platforms on Facebook, Amazon and Shopify, none of which existed prior to my doing the project. Working with this business has been a terrific outlet to experiment with marketing, online stores and hone my strategic thinking overall."
It's important to note that Master, who graduated this semester, is going to work full-time remotely from Austin, Texas, for Fayetteville-based Faytown Designs LLC, a high-growth, online customizable product retail business founded by another student — Dylan Trichell — who took SEVI4433 (formerly MGMT4433) last year.
The class and project are just a small part of a wide-ranging set of course offerings that have expanded widely since the creation of our new 28-person Department of Strategy, Entrepreneurship and Venture Innovation, headed up by Walton College Professor of Sustainability Dr. Jon Johnson. Our new department with its diverse faculty and continuously-evolving curriculum is completely unique in the higher education world today and one of many reasons that the Walton College is considered a top choice for business and non-business majors alike who think they may want to be in their own business someday.
For more information on SEVI4433, contact me at mzweig@uark.edu or our academic advising in our undergraduate programs office at https://walton.uark.edu/advising/.