All too often, the research and expertise generated by Walton faculty and other stakeholders didn't reach the audience it deserved.
Time was the culprit. No matter who you might be - an expert, a student, a businessperson, or someone just interested in the topic – you did not and still do not have the time to read or learn everything.
That's the problem Walton Insights was created to solve.
Walton Insights takes research and expertise of Walton faculty and other Walton stakeholders and tells you what it means and how you can use it.
Give us ten minutes a week and we bet you will learn something new. We are firm believers that just because you're too busy to know everything doesn't mean you can't learn something.
Meet Our Editors
Ryan Sheets
Ryan Sheets serves as the Director of the Business Communication Lab at the University of Arkansas' Sam M. Walton College of Business and is the Editor-in-Chief of Walton Insights. He also teaches business communication classes to undergraduate and graduate students at the Walton College.
He previously served as the Assistant Director of the Judith R. Frank Business Communication Center at the University of Iowa's Tippie College of Business. He worked in the oil and gas industry and insurance industries prior to returning to graduate school.
He received his B.A. and M.A. from the University of Alabama at Birmingham, and his Ph.D. from the University of Illinois at Urbana-Champaign.
Sarah Luhtanen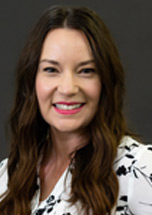 Sarah Luhtanen serves as the Lead Editorial Assistant for Walton Insights. Following a fourteen-year career in public education, she continues to focus on teaching, public service, and advocacy by advising local political campaigns. Through this work, she hopes to increase political participation and civic engagement among women and underrepresented communities.
Sarah received her B.A. in journalism and English and M.A.T. from the University of Arkansas. She is also a member of the fourth cohort of the LBJ Women's Campaign School at the University of Texas at Austin.





Explore the Walton Insights Archive