Arkansas Still Reaping What Jack Stephens Sowed During His Hall of Fame Career
February 18, 2021
|
By Stephen Caldwell
This is one of a series of stories looking back on the life and legacy of the leaders inducted into the Arkansas Business Hall of Fame in its first class in 1999.
Jackson T. Stephens once told a reporter that there were two pleasures associated with money – "making it and giving it away." His ability to do the former and willingness to do the later explain how he became one of the all-time great business leaders and philanthropists in Arkansas history.
Stephens (1923-2005) was one of the four inaugural inductees into the Arkansas Business Hall of Fame when it opened in 1999, but he grew up working on the family farm near Prattsville, about 45 miles south of Little Rock.
"The rules in my family were: Make the best grades in school, hoe the cleanest row of cotton and take pride in everything you do," said Stephens, who was the youngest of six children in the family.
Witt Stephens, his older brother, was successful enough selling Bibles and belt buckles to help pay for Jack to finish high school at Columbia Military Academy. After spending two years at the University of Arkansas, he went to the United States Naval Academy and graduated in 1947 in a class that included future President Jimmy Carter.
Poor eyesight kept Stephens from active duty in the Navy. And instead of pursuing a career on Wall Street, he returned to Arkansas, where Witt Stephens had founded a company that traded municipal bonds during the Great Depression. The brothers became partners on a handshake and Stephens Inc. was born. The company began as "a bucket-shop bond house," as an article in Fortune once described it but grew into one of the most successful private equity and financial services firms in the country.

When Witt became president and chairman of Arkansas Louisiana Gas Company in 1956, Jack took over as president and chief executive officer of Stephens Inc. and shepherded the company's incredible growth over the next 30 years.
The list of companies Stephens started, invested in, advised, or took public form an all-star corporate roster – Tyson Foods, Dillard's, Federal Express and Alltel, to name a few. He partnered with his brother to invest in the oil in gas industry, owned the Union Life Insurance Company and started Systematics, a technology company that became an innovator and national leader in the bank data processing industry.
It also was Stephens Inc. that underwrote the bonds used to build the Superdome in New Orleans and handled the initial public offering of Walmart when Sam Walton took his fledgling retailer public in 1970.
"Sam really valued Jack's counsel," said David Glass, former president and chief executive officer of Walmart. "Jack was an extremely brilliant individual who had a vision for where this country was going. Sam began to rely on Jack as to what Walmart should do. And they all agreed the only way to raise the capital that they needed was to do a public offering."
Stephens would serve on Walmart's board for 15 years.
He also successfully transitioned the business to the next generation – his son, Warren Stephens, continued to expand the company's influence and success and was inducted into the Arkansas Business Hall of Fame in 2019.
Jack Stephens' accomplishments in business were just one part of a legacy that made him an obvious choice in the first class for the Arkansas Business Hall of Fame. He also quietly and consistently invested in causes all around him. For instance, he and Witt sold their interests in the Riverside Cable Television company in 1985 and used the proceeds to establish The City Education Trust, which still hands out thousands of dollars annually in scholarships to students and cash awards to worthy instructors.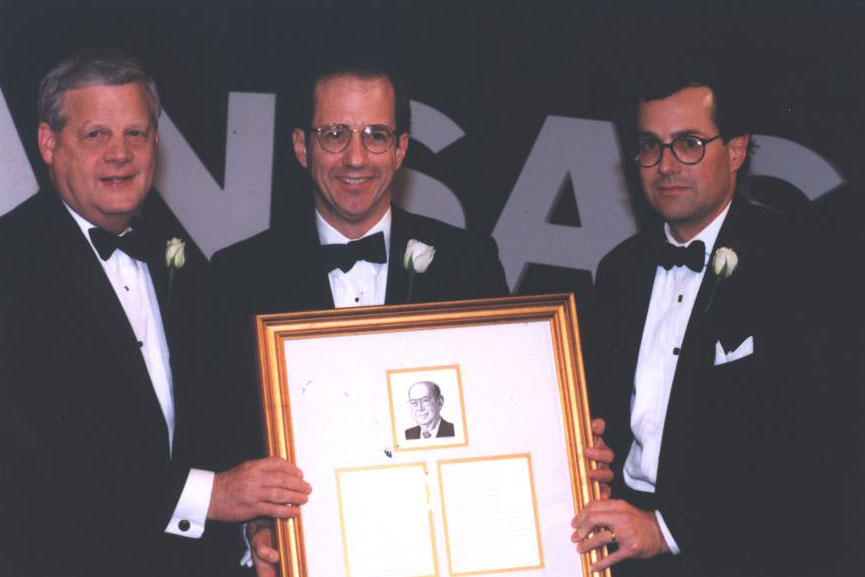 Pictured above: (Left to Right) B. Alan Sugg, Jackson T. (Steve) Stephens Jr., Warren Stephens at the 1999 Arkansas Business Hall of Fame.
His more well-known financial gifts included a $48 million donation to build the Jackson T. Stephens Spine and Neurosciences Institute at UAMS, which has become a world-class comprehensive research, education and clinical care facility with 30 fellowship-trained surgeons and physicians.
Stephens also donated a $20 million endowment for the Episcopal Collegiate School in Little Rock; $20.4 million for UALR's Stephens Arena; a $5 million endowment to Harding University, and $22 million to the U.S. Naval Academy. The football field at Navy-Marine Corps Memorial Stadium at the naval academy is named "Jack Stephens Field" in his honor.
He helped establish the Fulbright College of Arts and Sciences at the University of Arkansas, the Bill and Skeeter Dickey Scholarship at the U of A and the Delta Project, a program that educates underprivileged children. And he served on the boards of the University of Arkansas, the Little Rock Boys Club and the Quapaw Council of the Boy Scouts of America.
Stephens' love for sports, especially football, quail hunting and golf, is evident in his legacy. Stephens, who was inducted into the Arkansas Sports Hall of Fame in 2000 and the Arkansas State Golf Association Hall of Fame in 1998, became a member of the famed Augusta National Golf Club in 1962 and was its chairman from 1991 to 1998. He donated $5 million to help start the First Tee youth golf program in Arkansas. And a national collegiate golf tournament, the Jackson T. Stephens Cup, was created to honor his contributions to the sport. Its inaugural event is scheduled for 2021 at The Alotian Club in Roland.
Author:
Stephen Caldwell is Chief Word Architect for WordBuilders, Inc., where he spends most of his time helping clients discover, craft, and share the messages of their hearts. In addition to writing and editing for newspapers, magazines, and on numerous book projects, he has developed leadership and functional training for Fortune 500 companies. He lives in Fayetteville, Arkansas.