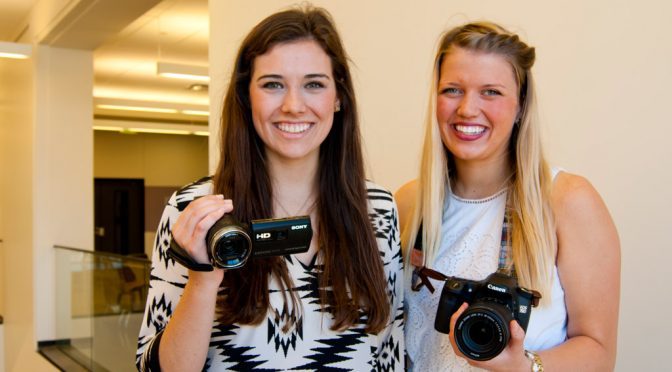 Brittany Brunson and Bailey Hart initially thought they would send University of Arkansas souvenirs and letters to a group of teens to encourage them to pursue a higher education.
Their former Kappa Kappa Gamma sorority sister Quinn Ranahan requested the items so she could present them to her classroom through her Teach for America job at C.E. Murray High School in Greeleyville, South Carolina.
But then Bailey and Brittany started brainstorming.
"Like, the next day, we had all of these ideas," Brittany says. "We can make something awesome."
The winning idea? A video encouraging students to further their education. Brittany was already filming family vacations for fun and had editing skills as well. The two decided to go with the idea but kept it secret from Ranahan.
They reached out to faculty, staff and students at the Sam M. Walton College of Business and across the U of A campus. "We just asked how college has impacted their lives," Brittany says.
"It's cool to hear all the different perspectives," Bailey says.
The recurring perspective they heard was that college opens up doors to all kinds of opportunities. Many interviewed said they changed their majors – some as many as four times – because they were previously unaware of all of the disciplines available to them, Brittany says.
The two also included footage of the fun aspects of higher education, such as pep rallies and home football games. "There's so much good stuff," Bailey says.
But their video's emphasis on education isn't focused solely on colleges and universities. It includes vocational education as an option as well. The goal is simple: to get the high school student to enroll, they say. "If the video encourages one student to apply, then it's all worth it," Brittany says.
Spending hours of recording and editing their footage, they came up with a 4-minute video that was recently presented to Ranahan's class. "She was so surprised and loved it so much," Brittany says, adding that her next project is a video montage to be presented at a vigil remembering civil rights leader Dr. Martin Luther King Jr.
Bailey, a junior from Little Rock, is majoring in supply chain management at Walton. She says she hopes to use her degree in a nonprofit role after she graduates. Brittany, also a junior at the Walton College, hails from Richardson, Texas, and is majoring in both marketing and supply chain management. Brittany says she plans to do an internship before graduation. After that, she's considering pursuing an M.B.A.
Carole Shook, a Walton College supply chain management instructor, has Brittany and Bailey in her Principles of Transportation online class. She visited with them in person after learning of their project. "To meet them and see how caring they were was even more special," she says.
Shook says Walton students should care about each other, and Brittany and Bailey exemplify that. "They're doing something that's within their power to do," Shook says.