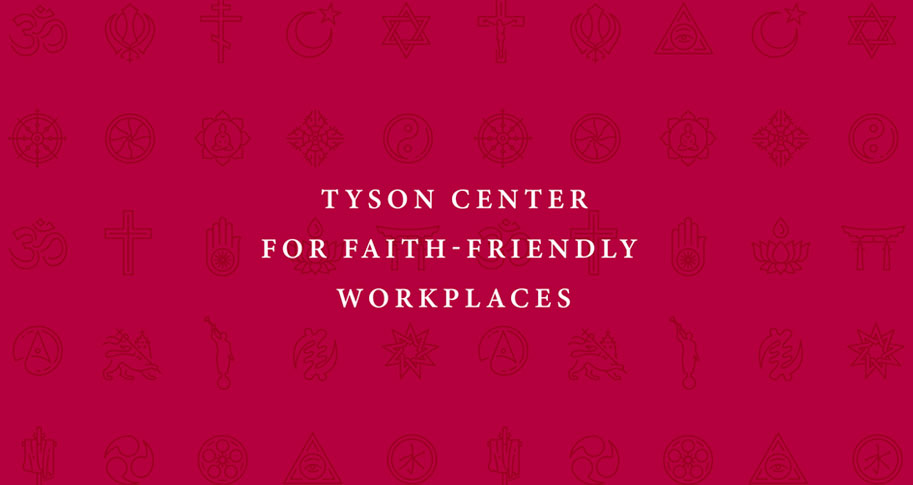 The Tyson Center for Faith and Spirituality in the Workplace at the Sam M. Walton College of Business at the University of Arkansas has announced that it will now be known as the Tyson Center for Faith-Friendly Workplaces.
"This name change reflects our desire to better align the center's name with its core mission, which is to make the workplace of tomorrow more faith-friendly by providing current and future business leaders with relevant learning experiences, knowledge and opportunities for leadership and connection," said Denise Breaux Soignet, associate professor of management and director of the Tyson Center for Faith-Friendly Workplaces.
"The name Tyson Center for Faith-Friendly Workplaces perfectly reflects the mission of the organization – to make workplaces around the country more inclusive with regard to diverse cultures and faiths," said John H. Tyson, chairman of the board for Tyson Foods. "I am proud to be associated with both the center and everything it stands for, as is Tyson Foods."
Faith-friendly workplaces are those that embrace employee religious differences as an integral part of diversity and inclusion efforts. The Tyson Center provides opportunities for University of Arkansas students, faculty and staff – as well as local community members and organizations – to engage with faith diversity and build skills that foster more widespread religious inclusion in the workplace.
"Our work centers around providing opportunities for people from diverse religious backgrounds to come together, connect with and learn more about one another," said Breaux Soignet. "If we better understand one another, then we can all feel more comfortable being who we are while also respecting the differences in our beliefs."
In the past two decades, Tyson Foods has popularized the term "faith-friendly" through its comprehensive company-wide chaplaincy program, which currently employs more than 100 full- and part-time chaplains from a variety of religious and spiritual backgrounds.
"We believe an organization is faith-friendly when its employees can bring their whole selves to work with confidence – this includes what they believe and value," said Kevin Scherer, director of Chaplain Services for Tyson Foods. "Our company respects and celebrates the diverse beliefs of our 140,000 team members who come from more than 80 countries through the compassionate, interfaith care and services we provide at more than 140 of our facilities across 24 states. It's our hope the name change brings overdue attention to the positive impact that faith-friendly values can have on businesses and their workforce."
A generous gift from Tyson Foods and the Tyson Family Foundation helped to establish the center more than 10 years ago.
The Tyson Center for Faith-Friendly Workplaces encourages the members of the diverse faith communities on campus to reach out to the center by emailing dbreaux@uark.edu to learn the ways the center can support your communities, registered student organizations, events, and research.