Information Systems Ph.D
In addition to preparing students to be world-class researchers, the Information Systems PhD program seeks to prepare students to teach effectively in an information systems curriculum.
Key Strengths
Doctoral students in the Information Systems program are actively involved in collaborative research projects with faculty members and also conduct independent research.
Students have worked on field research projects that have led to publications in premier journals, such as MIS Quarterly and Information Systems Research, and premier conferences, such as the International Conference on Information Systems and Academy of Management Conference.
In addition to connections to IT organizations within leading businesses, students have access to world-class enterprise systems infrastructure, including SAP R/3 and related SAP products, several data mining tools (Teradata Miner, SAS Enterprise Miner, IBM Intelligent Miner, and SAP BW), as well as process analysis tools such as EPC diagrams, SAP Solution Manager, and IBM Web Sphere Business Integration Modeler.
---
No. 1 For Publications in Premier Journals
The Sam M. Walton College of Business is reaping the benefits of having distinguished faculty members whose publication performance is recognized globally.
Students often assume that a professor's only task is to teach in the classroom, but a faculty member's scholarly activity is an important measure of an institution's academic quality.
Faculty publications that generate a large number of citations make a big impact on the reputation of departments and universities. Last year, faculty in the Department of Information Systems had the most publications in two premier research journals.
---
---
Director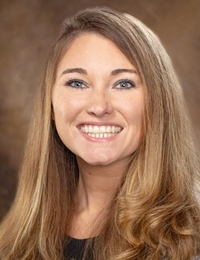 Amber Grace Young
Director of Ph.D. Program and Assistant Professor
Information Systems Department
ayoung@walton.uark.edu
Current PhD Students
View a listing of our current Information Systems Ph.D. students.
Requirements for the PhD in Business Administration with emphasis in Information Systems include core courses and elective courses in the area as well as research tools and courses in supporting fields.
In addition to a dissertation (18 hours), the degree program generally consists of the following coursework (43 hours): research tools (9 hours); ISYS core courses (21 hours); and supporting field courses (13 hours). In addition to the 61-hours post-Master's hours, there is an additional requirement that the student satisfactorily complete a one-hour Graduate Colloquium during the fall and spring semesters of each of the first two years, or as long as the student is attending classes on campus in pursuit of the degree.
After completion of the required coursework for the first year, requirements for the degree include successful completion of a Qualifying Examination focused in Research Tools. Final requirements for the degree include successful completion of a Comprehensive Examination, successful defense of a Dissertation Proposal, and successful defense of the Dissertation.
To view detailed descriptions of the following Walton College courses, visit the Graduate School Catalog.
---
Program Outline
Research Tools
Information Systems Courses
Supporting Fields
In addition to BADM 6111 Teaching Seminar, courses for this requirement will be determined in consultation with the student's Departmental Graduate Advisory Committee. All courses taken for this requirement must be graduate level and/or taken for graduate credit. These courses are normally taken outside the ISYS Department.
Comprehensive Exams
A. Written exam, research tools and IS (at the end of all coursework)
B. Research proposal: 1 week take-home response to call for proposals
C. Oral exam
Dissertation Requirements
Successful defense of Dissertation Proposal
Successful defense of Dissertation
Summer Research Requirements
---
Applicants who wish to apply for the doctoral program with an emphasis in Information Systems must submit their application to the Graduate School of Business by January 15th.
Applicants are expected to have knowledge (undergraduate or graduate credit) of business information systems, a programming language (COBOL suggested), systems analysis, design, development, and database processing.
Applicants are expected to have an MBA, masters of information systems, or another appropriate master's degree. Acceptance of the applicant's previous academic work, including an assessment of currency, is at the sole discretion of the ISYS department. Prior coursework in accounting, economics, business law, finance, marketing, management, math, business statistics, and business computing is expected. Applicants who are deficient in any of these areas may remove these deficiencies by satisfactorily completing the appropriate courses after their enrollment in the University. The IS doctoral advisor will determine the additional courses.
Satisfactory GMAT or GRE scores, GPA and previous academic record, letters of recommendation, statement of career objectives, and personal interview are required.
Applicants whose native language is not English must present satisfactory scores on the Test of English as a Foreign Language (TOEFL). The TOEFL is required. A spoken English test score is required of all international PhD applicants and the internet-based TOEFL is our recommended test. You may take the IELTS Academic or the PTE-A as an alternative.