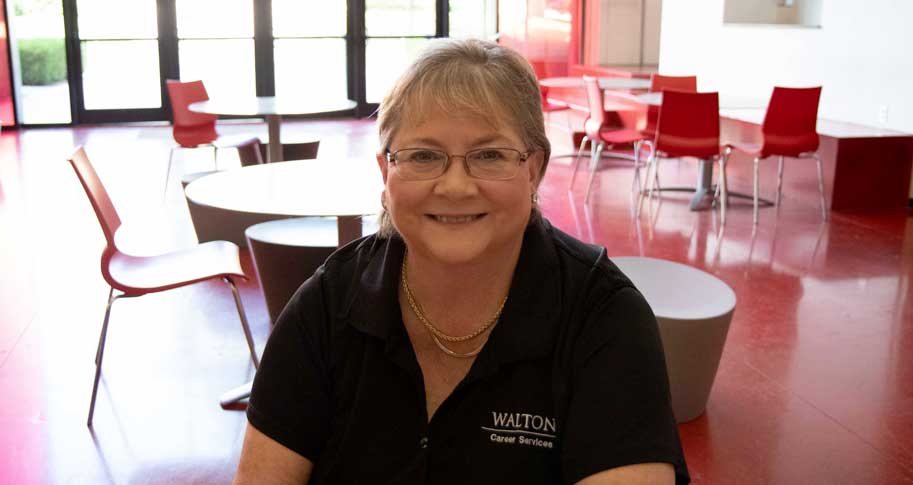 Get a job.
That sentiment has led Renee Clay, director for career services and student programs in Walton Career Services, to assist students at the Sam M. Walton College of Business prepare for and nab that elusive job after graduation. So much so, that Clay even wears a T-shirt with that message!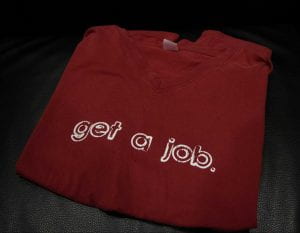 On June 30, Clay will do the exact opposite and will retire.
For years she has been the champion of career readiness. She and her team have taught students business dinner etiquette, reviewed resumes, hosted career fairs, pursued employers and more! So, what does the queen of careers do when it is time to retire?
Clay, her husband Donald and miniature dachshund Roxie are downsizing their Fayetteville home. They plan to purchase a smaller home in Fayetteville and a condo on the beach in Florida and will divide their time between the two.
"We fell in love with the town," Clay said referring to St. Augustine, Florida, the oldest city in the United States. She and her family have vacationed in the St. Augustine area for years, exploring its historic venues and enjoying its beaches. In retirement, they may look further south for a second home.
30 Year Tenure
While Clay serves as the director for Walton Career Services, she hasn't always been in this role. She began her career at Walton College with the Small Business Development Center as a training coordinator in 1997. Previously she worked in the medical field as a pathology technologist at UAMS in Little Rock for five years.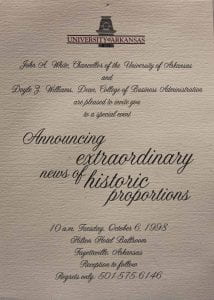 After her stint at the Small Business Development Center, she began her tenure with the Walton College Career Development Center in 2002 as the cooperative education coordinator, managing the administration, marketing and student applications for internships and permanent jobs. She was promoted to the assistant director, then interim managing director, to managing director. She was named the director for career services and student programs, her current role, in 2018.
"Renee's history in the college has been critical to the success of our partnerships with employers and ultimately, job opportunities for our students," said Karen Boston, senior assistant dean for student success and chief student officer at Walton College. "Her legacy has impacted the lives of thousands of students over the years, and we are fortunate to have had her in Walton."
Best Memory
Clay has seen many changes during her time at Walton College. When she began, the college was named the College of Business Administration, fondly known as the BA.
One of her favorite memories occurred on Oct. 6, 1998, at 10 a.m.
All college faculty and staff had received invitations for an announcement at a hotel, now known as the Graduate Hotel, in downtown Fayetteville. On the day of the announcement, faculty and staff were welcomed to work with a Sam's Choice cola on their desk. Attached to the can was a reminder of the time and location of the event. With the cola on their desk and through the buzz at work, people knew the announcement had something to do with the Waltons and they knew it was big news.
Upon arriving, Clay saw that Chancellor White was there, along with Dean Doyle Williams and Helen Walton. There was an audible gasp when White announced a $50 million gift from the Walton Family Charitable Support Foundation, the largest gift to a business college at that time.
"It changed Walton forever," Clay said. "It put Walton College on an upward trajectory. The gift created the career center and upgraded the technology. It made Walton what it is now."
At the time, the college was housed in one facility, the BA Building. The present-day Linda Shollmier Plaza, which connects the current business campus buildings, was a parking lot. Clay saw the campus completely transform with the addition of the Reynolds Center for Enterprise Development (1998), Willard J. Walker Hall (2007) and the J.B. Hunt Transport Services for Academic Excellence (2007) buildings.
"It's been fun to be part of all of that growth," Clay says. "It's pretty amazing!"
While the college grew, so did the career center and the career readiness program. The first career fairs were held in the atrium of the current Walton College Honors Lounge on the first floor of the BA Building and served about 200 students. Over the years, the career fair was moved to the atrium of the Reynolds Center (RCED) to the 2nd floor atrium of Walker Hall (WJWH). Its present-day location is in Bud Walton Arena where they serve more than 2,600 students. Clay has been involved in 57 of these career fairs, helping students launch their careers.
"I'm grateful for the opportunity to have worked with Renee through the years and to have built not only a strong professional partnership but a friendship as well," said Tanya Hammock, senior human resource manager at Cintas. "Renee's passion for developing students into future leaders is unmatched and will be greatly missed at the WCOB career center."
During her tenure, Clay has seen the student population more than triple. The constant theme throughout this growth has been a Walton College family feeling.
"Renee has served as my mentor, my friend, my business partner in recruiting and in service to the students of U of A. Her heart for the students, alumni and staff is what stands out to me. She has a pure heart of service," said Ebony Wyatt, customer vice president for General Mills. "She has made the Career Services Center better, stronger and more agile. Her imprint is deep, and she will be missed by all of us – alumni and students alike!"
Looking Forward
When faced with challenges, Clay and her team approached solutions with innovation and critical thinking. To engage students, they created games that required students to plan for the unexpected and prepare for adversity.
Under Clay's leadership, her team created a board game called "In the Red" – loosely based on Clue – to help students develop critical thinking skills and career readiness competencies. As student teams advanced around the board, they were required to deal with setbacks and create business solutions.
"I'll miss embracing those challenges," Clay said. "Finding ways to innovate – that was fun."
Challenges in higher education will continue and how Walton College addresses it is vital, she adds.
"Embrace those challenges with our (EPIC) values in mind and with a positive mindset," Clay says. "A positive mindset is vital."
Until We Meet Again
In retirement, Renee plans to enjoy her family – husband Donald and son John, along with his fiancé Madi – and to dabble in her longtime hobby of photography, sell antiques and collectibles and manage a vacation home rental. She'll manage these activities with her new white BMW convertible with red interior she named Tusk.
Don't say goodbye just yet.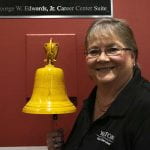 You will still see Renee on campus from time to time. She is teaching "From Books to Boardrooms" to Walton students to help them navigate through the first 100 days in their first post college job. She covers how to create agendas, manage meetings and other skill sets needed for new business graduates.
Clay says the thing she'll miss the most are the people. So, stop by and share a memory or two with Renee on Thursday, June 30, 2:00 – 4:00 p.m. in the Walton Career Center, located on the second floor of Willard J. Walker Hall.
And if so inclined, wear a T-shirt with "Get a job" or "Keep Calm and Interview On" inscribed across the front. You will be warmly welcomed.