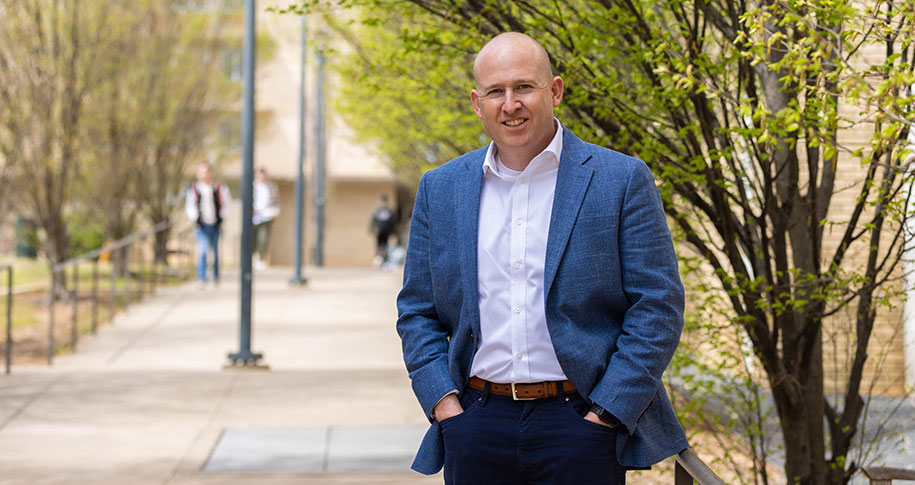 On August 14, Brent D. Williams will switch roles and begin to serve the Sam M. Walton College of Business as the interim dean. While this is a new position for Williams, it is a natural next step.
Williams, the senior associate dean and the Garrison Endowed Chair in Supply Chain Management, understands what it is like as a student at the Walton College as he earned his master's degree and Ph.D. at Walton. He understands the role of faculty, department chairs, administrators and outreach centers because he has held these positions or overseen these groups as well.
I see representing Walton College to all of our stakeholders as one of the most important roles of the dean," Williams said. "I love the Walton College and the University of Arkansas – it has been transformative in my life, and I am excited to tell its story."
Williams replaces Dean Matthew A. Waller, who is returning to the classroom to teach supply chain management. Waller held the dean's position from 2016 to present.
As Williams reflects on the role as dean, he plans to oversee the strategy and vision, continue to grow industry engagement, focus on enhancing the brand and reputation, and serve as a collaborator across campus on behalf of Walton College. His previous roles as Walton College's senior associate dean, faculty member, chair of the supply chain management department and head of the executive education office help to prepare him for his new role. In addition, he led the college's most recent AACSB reaccreditation effort and developed the college's strategic plan.
Arkansan Through and Through
Williams hails from rural Newport, Arkansas, which is the county seat of Jackson County located in the northeast corner of the state.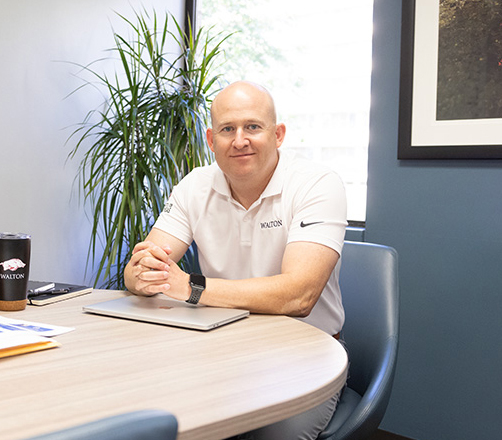 "I loved growing up in Newport," Williams said. "The community was tight-knit. It has natural beauty that you can only see in the Delta … and sports!"

Playing sports was a big deal for Williams. He was drawn to baseball and, as a youngster, dreamed of playing in the big leagues.

"Becoming an MLB player was my dream as a kid … even without the talent to do it," Williams laughed.

After high school, the Newport native set off for college, where economics piqued his interest. Williams was surrounded by freshmen who focused on pre-med or pre-law, but economics classes pulled him in.
"Economics is a way to look at how people make decisions and how they interact one with another," he said.

After graduating with a bachelor's degree in economics, Williams went to work for a small construction company selling and managing projects for several years. During that time, he discovered he lacked the knowledge to properly manage the company's inventory and its supply chain. To remedy that, Williams considered a specialized master's program and discovered Walton College's transportation and logistics management program, which at the time was led by Matt Waller.

Waller began to mentor Williams right off the bat. Through that program, Williams had the opportunity to work with industry and dive into research.

He was hooked.

The rewarding experience diverted his career into academia. He earned a Master of Transportation and Logistics Management and immediately set out to pursue his Ph.D. in logistics.
After completing his Ph.D., Williams joined the faculty at TCU in Fort Worth as an assistant professor of supply chain management and then transitioned to Auburn University for a couple of years before returning to the University of Arkansas.

"There is no better place in the world for faculty in supply chain management than here," Williams said. He could engage with industry through his research and teaching. Over the years, his view of Walton College has not changed.

"Our biggest competitive advantage as a business school is our engagement with companies and business leaders throughout the state and the region," Williams added. "I love the people here – I love the faculty, staff and students. Walton College has had a big impact on me, and I want to facilitate that impact for others.
Family Focus
Brent met his wife Jennifer in college, and they married 23 years ago. On weekends and evenings, often the couple is attending a sporting event supporting one of their daughters. Brent and Jennifer have two daughters Hadley (17) and Elyse (12) who possess the same competitive spirit as their dad. Both play basketball and volleyball. The family of four recently discovered pickleball, which has become a fun weekend activity.

When not attending his daughters' sporting events, Brent can be found biking on Northwest Arkansas trails. He enjoys Karst Loop at Hobbs State Park, the Slaughter Pen system in Bentonville and the Razorback Greenway. Often, he rides the Greenway to the Bentonville Square and meets his family for coffee and breakfast tacos, his personal favorite on weekend mornings.

Even during a typical summer vacation, the active family can be found riding bikes in Colorado or playing volleyball on the beach.
The Work
From working with students to focusing on how the Walton College can accelerate its impact on business and serve the state of Arkansas, Williams has a busy schedule, and he likes it that way.

"I love it! On any given day I work with students, faculty, staff, colleagues across campus, and business leaders. I love the diversity of the day. And I am grateful to work alongside dedicated Walton College faculty and staff who are passionate about our mission."