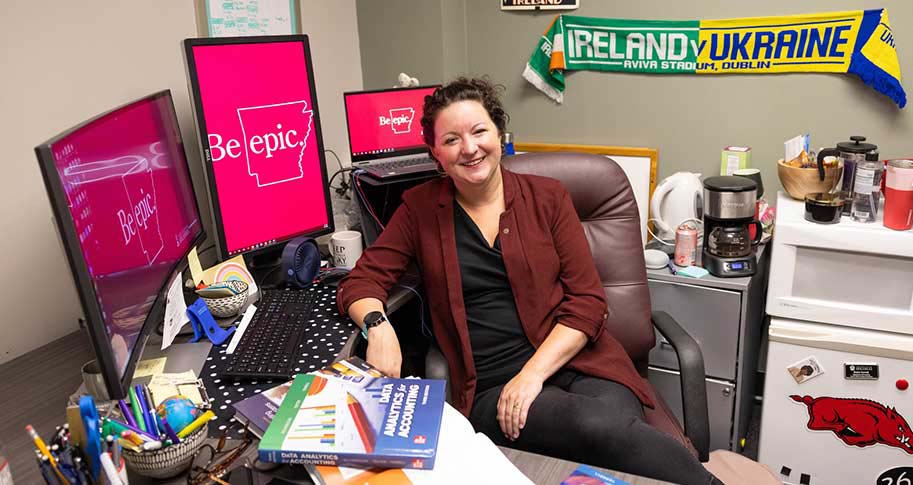 Katie Terrell is a Fayetteville native who received undergraduate degrees in English literature and the Spanish language from the University of Central Arkansas in Conway. "I never saw business in my future," Terrell said.
After graduating with her bachelor's degrees in 2007, Terrell took several retail jobs as a way to finance the next phase of her life — moving to South America. None of the jobs she held would be more consequential than her position at an AT&T Store in Springdale, AR.
Terrell moved to Chile where she taught English as a second language to university students; however, the 2008 global economic crisis pushed her to return back to the United States. Upon reentry to the Northwest Arkansas region, she reconnected with an old customer at AT&T who connected her with Tyson Foods. She began work there as an intern but would later be brought on as a full-time business analyst. During her time at Tyson, Terrell pursued her Executive MBA from the Walton College. After the completion of her degree, she began adjunct teaching accounting and business technology courses for the college in 2012. She would later be brought on as a full-time faculty member in 2016.
After seeing a need for a textbook about teaching a course on "big data," Terrell and her team of co-authors, Vernon Richardson and Ryan Teeter, decided to write their own resource on accounting technology and accounting data analytics. They recently received national recognition from the American Accounting Association for their work.
During the summer, Terrell leads a four-week study abroad trip to Dublin, Ireland and the UCD Quinn School of Business. The program is immersive and requires the students to go out into the community, find businesses to interact with, and learn more about how businesses operate in a different country. "It's a great opportunity for students to see how things can be done differently." Students conduct research, make connections with businesses prior to departure, and learn about Irish culture prior to departure.
In her free time, Terrell is a dedicated runner — she has completed 19 marathons. She is also an avid reader — "Every student should read Outliers by Malcolm Gladwell."
Katie has gone from working retail to teaching English abroad to corporate business analytics and is now an award-winning faculty and author of an academic textbook, she has lived a lot of different lives.
"Don't be afraid to change your story, because it's your story. Make sure to keep trying new things and don't ever stop learning: You want to learn to code? Learn to code. You want to learn to love poetry? Learn to love poetry. You want to learn Portuguese? Great, jump in! If you stop being curious, then what are we doing with our time? Start doing the job you want to do and someone will notice."
We are thrilled that Katie's path led her to Walton College!