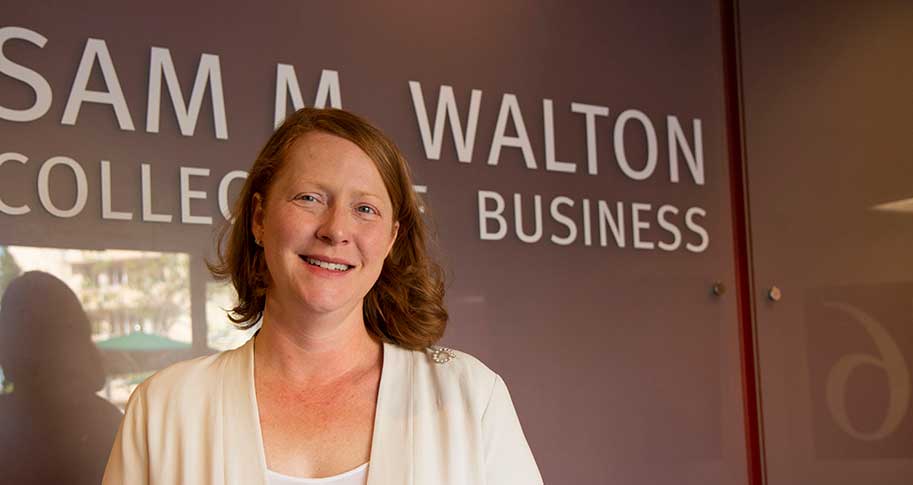 What does one do when both children leave for college at the same time? Undertake a closet makeover at home and start a new job of course!
Fall semester brings lots of changes for longtime University of Arkansas staff member Laura Cate. She joined Dean Matt Waller's team at the Sam M. Walton College of Business as his chief of staff on July 1.
Cate is fully prepared to take on the administrative tasks associated with her new job. She has worked at the university on and off since 1998 when she supported the Campaign for the 21st Century initiative in University Advancement. She has held additional roles in Advancement leading gift services for five years and managing the administration and development services for Campaign Arkansas for seven years.
Between stints in Advancement, Cate worked in administration for then-Vice Chancellor G. David Gearhart and later served as executive assistant for Gearhart when he served as the chancellor.
"In 1998, we were excited to see almost 15,000 students enrolled. To experience an enrollment of 30,000 students and the ingenuity of meeting our students needs is amazing," Cate said. "I have witnessed the passion of our donors' creating scholarships, endowments and capital building needs to assist in our shared mission. It is an honor to be included in the shared identity of the U of A community."
With her extensive administrative experience at the university, Cate's new role will be a comfortable transition to chief of staff at Walton College.
"The shared goals of chief of staff for Walton are to bring my university central administration knowledge and experience in leading the administrative output of the Dean's office," Cate said. "My first step was tackling Dean Waller's calendar. I will be involved in special projects and community stewardship."
While starting a new position at Walton College, she is also going in a new direction at home. Her son Bradshaw and daughter LA are both entering college after graduating from Fayetteville high school.
"Bradshaw will be a freshman at Georgetown University and LA will be a freshman in College of Engineering at the U of A this fall," Cate said.
With both kids away at school, home life may be a little quieter for Cate and her husband Brandon, but their golden doodle Teddy is ready to keep them company. For special occasions, such as birthdays, holidays and other celebrations, Cate makes the best buttermilk biscuits, a family recipe passed down several generations. She also likes to read or try her hand at gardening.
"I love to read and am always on the hunt for the next great fiction book," Cate said. "I do not watch a lot of tv, but when I do, the channel is usually tuned to TCM. I wish I was a gardener, but the neighborhood's wild animals seem to think my plants are to feed them.
And with her newly found spare time at home, Cate plans to organize and "glam up" her closet, the perfect distraction from a too quiet home.
As for her professional life, she is eager to jump in and get started.
"The continued upward trajectory of Walton College of Business and continuous improvement mindset are allowing for huge economic and social impact for our region, the state and the world," Cate said. "I am so lucky to be part of the Walton team and look forward to our future."