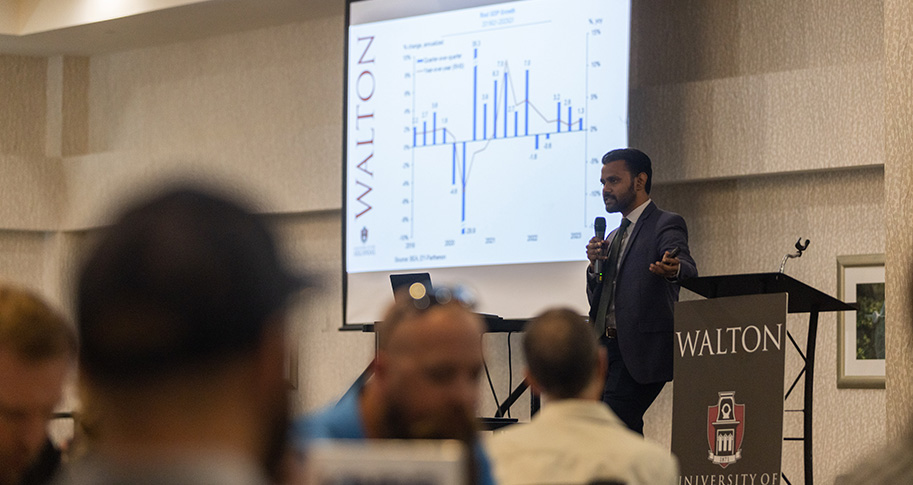 On Thursday, June 8, Mervin Jebaraj, director of the Center for Business and Economic Research at the Sam M. Walton College of Business, kicked off the Quarterly Business Analysis with a discussion regarding inflation, unemployment rates, housing and – everyone's favorite – a recession.

Jebaraj reported that with the nation's strong consumer spending and low unemployment rates, a recession in 2023 was unlikely. Reviewing the first quarter of 2023, Jebaraj's report of the U.S. economy reflects:
The overall gross domestic product growth rate of 1.3% is outperforming all other countries worldwide.
Consumer spending is up, exceeding over 2%.
Business development is also positively trending, especially in electronics and chips manufacturing due to Federal tax credits and incentives.
The country is experiencing record low unemployment rate and added 339,000 jobs last month.
"The employment rate – while still robust – is slowing down, but it is still a positive for the economy," Jebaraj said.

He noted that Northwest Arkansas added 16,000 jobs in the last 12 months. Employers may find it hard to fill vacant job positions because so many people are working. The country is experiencing the highest female worker participation rate in history. The number of foreign-born workers dropped significantly during the pandemic. That number has rebounded to surpass pre-pandemic numbers.

The Federal Reserve should meet on Thursday, June 15, to discuss interest rates. The interest rate is down to 4.9%, but the Federal Reserve would like that rate lower. Jebaraj thinks we could experience one more interest rate hike this year. High interest rates have slowed down single family home sales, which are roughly at the same levels from 2018-2019. Home prices have fallen across the country. However in Northwest Arkansas, home prices are rising. Similarly, the average price per unit for an apartment is $926.55 per unit in 2022 in Northwest Arkansas, compared to less than $700 in 2017.