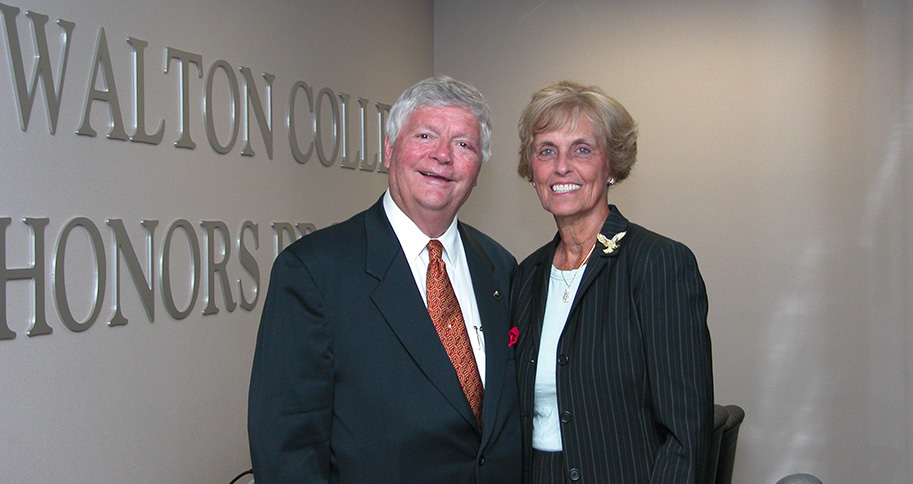 William "Bill" Gravely Underwood, founder of Underwoods Fine Jewelry and alumnus of the Sam M. Walton College of Business, died April 2 in Fayetteville after a brief illness. He was 90 years old.

Underwood, whose name is synonymous with fine jewelry, opened a small retail store in December of 1957 while attending the College of Business Administration at the University of Arkansas. The store, located on Dickson Street, will celebrate its 66th anniversary this year.

Originally from Oklahoma, Underwood received a degree in horology (the study of the measurement of time or watchmaking) from Southwestern State College, now known as Southwestern Oklahoma State University, and soon after joined the Navy as a watchmaker. He served in the U.S. Navy from 1952 to 1956.

Upon returning from his military service, Underwood enrolled in 1957 as an undergraduate at the Sam M. Walton College of Business – then known as the College of Business Administration – to pursue a business degree courtesy of the G.I. Bill. In late December of that year, he purchased a local jewelry store for $1,000 and paid the utilities, inventory, advertising and rent from the monthly stipend he received from the G.I. Bill. Initially, he lived at the store and was the sole employee. During class time he would close the store, which specialized in college rings and fraternity pins, affordable inventory that would appeal to students.

The jeweler earned many national accolades throughout his profession, from becoming a certified gemologist in 1961 to being inducted into the National Jeweler Hall of Fame 30 years later. He served as past president of the American Gem Society (AGS), board member of Jewelers of America, chairman for the Oversight Committee for Advanced Cut Grading for the AGS Laboratory and was one of first 29 jewelers in America to earn a Certified Gemologist Appraiser title. Underwoods Jewelry even conducted the official appraisal on a ring of famed singer Elvis Presley in 1979!

An alumnus and longtime supporter of the Walton College, Underwood had a long history with the university. He earned a bachelor's degree in business administration in 1961, the same year he became a certified gemologist. He met his wife, LeAnn, at the University of Arkansas. In 2001, both Bill and LeAnn were named members of Towers of Old Main, a giving society, to reflect their support of the university. They established the Underwood Honors Faculty Fellow Endowment in 2005. Underwood was named Entrepreneur of the Year by Walton College in 2003 and received a Citation of Distinguished Alumni from the Arkansas Alumni Association in 2019.

Famed architect E. Fay Jones designed the building on Dickson Street where Underwoods Fine Jewelry is located. The two-story building, completed in 1966, is an iconic feature in Fayetteville with its geometric mid-century signage and building. It stands out as a Fayetteville original, just like its owner Bill Underwood.

Underwood is survived by his wife LeAnn, children Michelle Gass, Craig Underwood, Vicki Nelson and their extended families. His funeral was held April 6 at the Central United Methodist Church in Fayetteville. The family requests those who want to honor Underwood to consider donations to the Walton College or the Walton Arts Center.