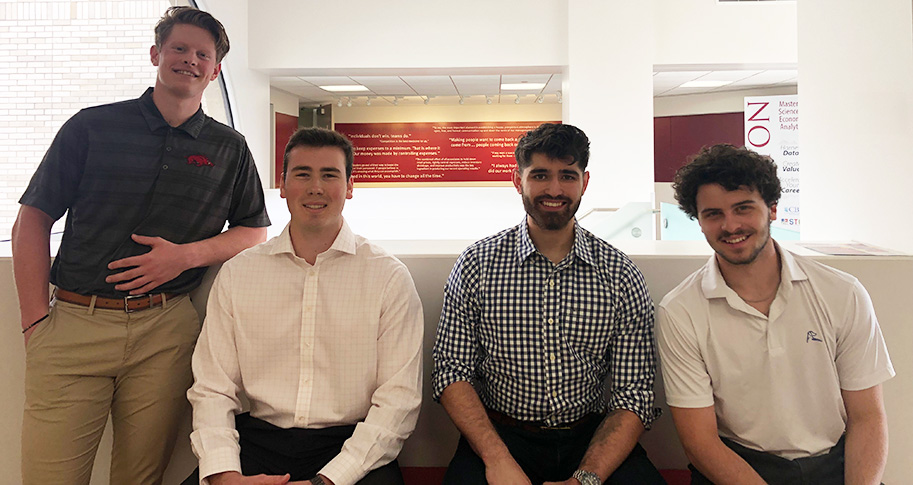 Four finance students from the Sam M. Walton College of Business at the University of Arkansas teamed up with students from other universities to participate in the Project Destined Spring 2023 Virtual Internship.
The internship includes a team pitch competition featuring over 50 college teams from universities in the United States, Canada and United Kingdom. The U of A students were part of a team backed by Blue Crane, a real estate development company in Bentonville. The team participated in a series of pitch competitions where they presented live deals to a panel of judges composed of industry leaders.

The purpose of the Project Destined internship program is to create a pathway to careers, ownership and leadership through real estate for diverse and underserved students. As part of the program, students participate in a series of competitions to research, analyze and present findings in a professional environment.

U of A teammates Jack McConnell (Junior – Finance), David Markovich (Freshman – Finance), Nolan Marrs (Sophomore – Finance) and Kane Vasquez (Senior – Finance) worked with students from the McCombs School of Business (University of Texas), C.T. Bauer College of Business (University of Houston), and the University of Central Arkansas College of Business to form the Blue Crane team.

The team's project focused on an apartment complex in Batesville, Arkansas, and how investors could receive the most return on investment from this real estate acquisition. Students were challenged to research the property, determine the best way to increase the value of the property and present their findings.

Instead of just renovating the property, the Blue Crane team decided to add value to the community by updating the apartment clubhouse and allowing renters and community members to use the center for events, an exercise facility and as a social gathering place.

While students utilized the skillsets developed through their classes, they learned so much more through the competition.

"While being part of the Project Destined Live Deal Competitions, I have had the opportunity to work on my presentation skills by presenting a live deal in front of 100+ people," McConnell said. "Project Destined has also taught me valuable skills in valuation, deal financing, financial modeling, and market research which are all essential skills to have as someone looking to have a successful career in real estate."

Markovich, a freshman, would agree.

"I have learned how to professionally analyze and present a property to potential investors as well as learn the real estate language and operations," Markovich said. "I plan to continue my career in the commercial real estate field on the lending/banking side, so this is a great jumpstart to see both sides of it all."

Strategy and Tactics
First the team analyzed the property location, apartment condition, renter demographic, occupancy rate, current and potential revenue and community needs. Based on their analysis and recent property updates, the team decided not to renovate the units, which would keep the rent affordable for the targeted demographic.

To increase revenues, Blue Crane focused on renovating and promoting the clubhouse as their value-added business plan. They proposed the clubhouse be renovated to accommodate event rentals (private parties or business meetings), state-of-the-art exercise facility with extended hours of operation, yoga classes, food distribution subscriptions, beverage bars and wide screen televisions available not only to tenants, but to the community at large.

The Blue Crane team proposed a mobile app to help facilitate event reservations, membership applications, discounts and communications with property managers. The team proposed partnerships with the local college and nearby vendors to market the property to create a sense of community. Because of the high occupancy rate, location to nearby college and industry and the updated condition of the apartments, the team stressed it would be a low-risk acquisition providing stable cash flows for investors.

Experiential Learning
The competition was just one element of the virtual internships sponsored by Project Destined, an organization which matches up students with mentors in the real estate industry. In addition to learning how to pitch real estate opportunities to investors, students learn lingo, meet professionals and understand the different sectors within the industry.

"Commercial real estate is not an easy industry to break into and Project Destined has done a great job preparing me and giving me the necessary skills to get started in the industry. I can now say I feel comfortable pitching a deal in front of a group of potential investors while also answering any questions they might have about the underwriting of the deal," McConnell said. "This internship has allowed me to network with a wide variety of industry professionals in all sectors of commercial real estate (capital markets, development, project management, and more). I will carry the network and all the knowledge I have learned from Project Destined to my internship in commercial real estate development this summer."

Project Destined is a leading social impact platform which provides training in financial literacy, entrepreneurship and real estate. Project Destined partners with corporations, schools and nonprofits to deliver training using its proprietary e-learning platform and live courses. The organization leverages a work-based learning approach where students work with executives to evaluate live deals in their community and present them in a pitch competition to industry leaders. Scholars emerge with the skills, confidence, experiences, and networks that prepare them to secure a strong first job and become stakeholders in their community.