Herbert H. McAdams II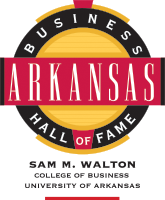 Herbert H. McAdams II
(1915 - 2001)
Former Chairman & CEO
Citizens Bank of Jonesboro
Union National Bank of Arkansas


On Feb. 17, 1945, the USS Gamble -- a minelayer destroyer -- arrived at Iwo Jima in the South Pacific to explode floating mines. The next day, Japanese planes dropped two 250-pound bombs on the USS Gamble at midnight.
For Ensign Herbert H. McAdams II, life would never be the same. He emerged from the attack with 65 percent of his body covered in burns. He was evacuated to Honolulu where doctors assumed he would die.
Born in 1915 to Dr. H. H. McAdams and Stella Patrick McAdams in Jonesboro, Arkansas, McAdams earned a bachelor's degree from Northwestern University in Evanston, Illinois, in 1937, and a law degree from the University of Arkansas in 1940.
After graduating, McAdams practiced law, but soon military service beckoned. He signed up with the U.S. Navy in 1943 as an ensign. In Honolulu, McAdams received extensive grafting and extended hospitalization. He returned home to Jonesboro, became president of the board of education, and refocused on his law career.
In the 1960s, McAdams turned his attention to banking when he and a friend purchased the Farmers State Bank of Lake City. McAdams later purchased the Citizens Bank of Jonesboro, Security Bank of Paragould, Bank of Nettleton, Home Federal Savings and Loan of Jonesboro. In 1970, McAdams purchased the Union National Bank of Arkansas, which acquired banks in Texas, Oklahoma and Magnolia, Arkansas in the 80s. In 1993, Union was sold to Worthen National Bank of Arkansas, creating the largest bank in the state at the time. McAdams sold Citizens Bank of Jonesboro to Boatmen's Bancshares Inc. in 1996.
Worthen was purchased by Boatmen's Bancshares of St. Louis, which later merged with NationsBank Corporation of Charlotte, North Carolina. NationsBank purchased BankAmerica in 1998. The new entity changed names to Bank of America, now one of the largest financial institutions in the world.
McAdams died in 2001 at 86 years of age.