John Tyson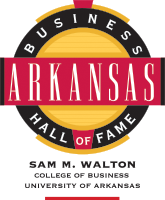 John W. Tyson
(1905 - 1967)
Founder
Tyson Foods, Inc.


John W. Tyson was born on a small farm in Mound City, Missouri, to Isaac and Anna Tyson in 1905. Four years later, his family moved to Olathe, Kansas. When the Great Depression hit, he hauled and sold hay from his family's farm, returning with a load of fruit to sell. When the fruit season ended, he hauled chickens. In 1931, with a battered truck, half a load of hay and a nickel in his pocket, John Tyson moved to Springdale, Arkansas, with his wife Mildred and one-year-old son Don. He bought a cup of coffee and then looked for work hauling produce, hay or chickens.
In the 1930s, most chickens were grown locally and hauled to nearby cities. Without federal highways and refrigeration, delivery was limited. By 1935, Tyson was making runs to Kansas City and St. Louis with live chickens. He stacked and nailed chicken coops onto a trailer and devised an in-transit feeding system to allow longer hauls. In 1936, reading that chicken prices were higher in Chicago, Tyson took a $1,000 loan and $800 of his own money to purchase 500 spring chickens. Using his in-transit feeding system, the 1,400-mile roundtrip to Chicago generated $235 profit. He was soon driving to Cincinnati, Detroit, Cleveland, Memphis and Houston.
Obstacles presented unique solutions and opportunities. With each new venture, Tyson diversified and grew his business. When a supplier could not keep up with his need for baby chicks, Tyson bought an incubator, hatched them himself and began selling chicks to growers. After realizing the critical need for feed, he became a commercial feed dealer for Ralston Purina.
The demand for poultry increased during World War II, since chicken was excluded from food ration restrictions. To meet demand, Tyson needed more drivers. But, he could not send drivers out on Thursdays and Fridays, when they would arrive at closed terminals on weekends. To avoid having stalled drivers on the payroll, he began buying and mixing wheat bran, corn and soybean meal and built a commercial mill, entering the feed business.
In 1943, Tyson bought 40 acres next to U.S. 71 in Springdale and purchased a few small broiler houses. In 1945, he transitioned to New Hampshire Red Cristy chickens, a meatier bird. Tyson Feed and Hatchery was incorporated in 1947, providing chicks, feed and trucking services for local poultry farms. The company was located in downtown Springdale, close to Armour, Swanson and Swift processing plants.
By the late 1940s, the invention of refrigerated trucks and more efficient production methods changed the poultry market. Tyson developed a vertically integrated business by contracting with local farmers to grow chicks, paying a fixed price based on weight gain. He would then market and sell the chicken. To complete the business model, he provided more services– marketing, sales, feed production and poultry processing.
In 1950, Tyson Feed and Hatchery processed 12,000 chickens a week, employed 52 people and grossed $1 million. By 1957, the company produced 10 million broilers. However, in the 1950s and 1960s, poultry prices fluctuated and competition became tougher. To grow the company and strengthened his vertical integration model, Tyson bought out local competitors.
In 1952, Tyson's son Don left the University of Arkansas and joined the business. Seeing the need for a chicken processing plant, he urged his dad to build one and oversaw the construction. Completed in 1958, he became plant manager and further extended the vertical integration model. Leland E. Tollett was hired in 1959 as director of research and nutrition, and in 1961, Tyson hired Donald "Buddy" Wray as service technician. Joining the management team with Don, they grew and developed the company.
In 1963, Tyson changed the name to Tyson's Foods Inc. and took it public through an initial stock offering of 100,000 shares at $10.50 each. Expanding the product line with turkeys, Cornish hens and eggs set the stage for flexibility and growth. By 1965, Tyson's Foods was producing 42 million birds annually— 2 percent of the national broiler business. Turning the reins of the company over to Don as president in 1966, John Tyson continued as chairman and chief executive officer.
John W. Tyson was active in many organizations. He was director of the National Broiler Council, chairman of the Arkansas Alcoholic Beverage Control Board and member of the Arkansas Racing Commission. He was also a Rotarian, Mason and Shriner.
On January 15, 1967, John and Helen Frances (Knoll) Tyson, whom he had married in 1941, were killed when their vehicle was broadsided by a train near Springdale. For a number of years, Helen had managed the bookkeeping for Tyson's businesses. Don took over as chairman and CEO and ran the company during the next 30 years. His son John H. Tyson became chairman and CEO in the late 1990s and leads the company today as chairman of the board.