Reynie Rutledge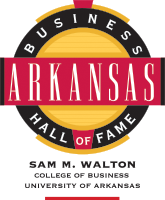 Reynie Rutledge
Chairman and CEO
First Security Bancorp

Only in Arkansas.
For Reynie Rutledge and First Security Bancorp, it's an attitude, a philosophy of business, not just something you say. It is an outlook on life that has guided him from when he first bought First Security Bank in Searcy in 1977 until today. Because to Reynie Rutledge, the privately held First Security Bancorp, now with billions in assets and 77 locations across Arkansas, remains a business that is conducted as it always has been – person to person, one Arkansan investing in another.
Reynie's daily routine is unwavering. He still shows up to his unassuming office at the bank's headquarters in Searcy around 6 a.m. each morning – like he's done for the past 40 years – to open the bank, make the first pot of morning coffee and review the details of the prior day. He holds a morning meeting at 8:15 a.m. before heading across Arkansas to personally visit with customers.
John Reynolds "Reynie" Rutledge was born on Nov. 14, 1949, in the south Arkansas town of Smackover to NT and Jeanne Rutledge. His parents instilled the value of hard work in Reynie, and his older sister, Joyce. NT taught Reynie the value of getting up early, working hard and doing the right thing, whether it was at the family sawmill, home, school or on the basketball court as a Battlin' Buckaroo.
Reynie earned an undergraduate degree in industrial engineering from the University of Arkansas – much like his father who held an engineering degree from SMU. He stayed in Fayetteville for another year to pursue an M.B.A. That decision was helped along by the fact that his girlfriend, Ann Vanhook, had another year before completing her degree. That decision has worked out just fine. He got his M.B.A. in 1973, and he and Ann have been married since 1974.
Reynie received job offers from companies including IBM and AT&T, but he was undecided about a career. NT encouraged Reynie to talk with Smackover banker Max Mitcham. Mitcham asked Reynie "where do you want to live?"
"I want to live in Arkansas," Reynie replied. Mitcham said, "If you are doing business in Arkansas, you are going to be dealing with banks no matter what you do, so you ought to try banking for a while."
Bob Kennedy, the professor of Reynie's portfolio class, was a consultant for Worthen Bank and connected Reynie with the bank. Reynie was hired as a loan officer at Worthen in Little Rock. After three years, Rutledge took a job with First State Bank in Springdale.
At 27 years old, Reynie took the next step. It was a big one.
From Curt Bradberry, a college roommate, he heard that E.D. Yancey was getting ready to sell First Security Bank in Searcy, a small bank that had been around since the 1930s. With his family's encouragement and backing, Reynie secured a loan from Worthen and bought the bank, which had three branches and $46 million in assets.
As early as 1981, the industry began highlighting First Security's exceptional efficiency ratios and return on assets. Over the next 40 years, First Security grew from what wasn't even the biggest bank in Searcy into a $5.9 billion dollar holding company.
It is now the second largest privately held banking venture in Arkansas, and the 14th largest privately-held bank holding company in the country. First Security operates 77 banking locations in 17 counties and 34 communities, all in Arkansas. The holding company – including First Security Bank, Crews & Associates, and other affiliates – employs more than 1,000 people in the state.
Reynie's knack and passion for flying makes it possible for him to meet face-to-face with First Security employees and customers. Fifty-two years after earning a pilot's license at age 18, Reynie's skills as a pilot still afford him the ability to begin each day in Searcy, fly around Arkansas building relationships and be home for dinner.
Despite all the flying, Reynie is known as a down-to-earth businessman who values his faith, patience, discipline, persistence, attention to detail, doing the right thing and most importantly, family.
While Reynie is proud of the bank's success, his proudest accomplishment is he and Ann raising three sons - John, Adam and Nathan. Reynie and Ann instilled the work ethic, respectfulness and "do right" mentality in their sons that NT and Jeanne impressed upon Reynie as a boy.
Growing up, each of the boys had jobs at the bank and other businesses in Searcy, including helping Ann weed the beds and plant flowers in front of the bank buildings. His sons will tell you that one of his favorite phrases growing up was "we can't afford that" no matter what the price tag. They quickly add that he was a loving dad, generous with his time and attention, who was always present for school functions and sporting activities despite his busy schedule.
All three sons have followed Reynie into the world of First Security. John is the leader in the Little Rock, Saline County, and Hot Springs market areas; Adam heads up First Security's operations in Northwest Arkansas, and Nathan splits time as managing director at Crews & Associates in Little Rock and First Security's headquarters in Searcy.
Reynie and Ann's family has grown with the addition of their three daughters-in-law, Melissa, Bethany, and Jordan, and 10 grandchildren to whom Reynie is "Granddad."
Reynie has a passion for Searcy, as well as the people and communities that have helped build First Security Bank. He's been a member of Searcy's First United Methodist Church since 1977, and his voice is a staple in the church choir on Sunday mornings. He serves on the Searcy Water Board and the Searcy Regional Economic Development Commission.
Reynie is a member and past chairman of the Dean's Executive Advisory Board at the Sam M. Walton College of Business, the University of Arkansas Board of Trustees and the Executive Committee for Campaign Arkansas. He is the past chairman of the selection committee of the Arkansas Business Hall of Fame and a past chairman of the Arkansas Bankers Association. He currently serves on the board of directors for Dillard's Corporation.
He was named the University of Arkansas 2000 Volunteer of the Year, a 2012 recipient of the University of Arkansas Distinguished Alumni Award and received the 2011 Lifetime Achievement Award from the Walton College, among many other honors.
Reynie's legacy of selflessly giving back is echoed throughout First Security. Together, they have built a reputation of being generous with time, resources and involvement to help improve the communities they serve.
A phrase you'll hear from Reynie over and over is that he's "been lucky" in his business, but there are not many who believe that's the whole story of First Security. A relentless work ethic instilled by his parents, his uncanny ability for efficiency and attention to detail, a commitment to doing the right thing, his love for people and for Arkansas have all play a part in that "luck."