Roland S. Boreham, Jr.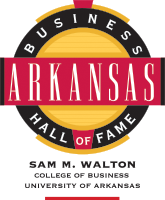 Roland S. Boreham, Jr.
(1924-2006)
Chairman
Baldor Electric Company
Fort Smith, Arkansas
For over forty years, Roland S. Boreham, Jr., has guided the growth and success of Baldor Electric Company as an internationally known designer and manufacturer of electric motors and drives.
Originally from Los Angeles, California, Boreham moved to Fort Smith in 1961 to become vice president of sales at Baldor. He became president in 1975, CEO in 1978, and chairman of the board in 1981. A major employer in Arkansas, Baldor has a leading market share in the electric motor market with $621 million in sales in 2000. Baldor motors power heart pumps in hospitals and windshield wipers of battleships as well as a thousand other items.
Boreham's book, The Three-Legged Stool, focuses on the three important constituencies of any business - customers, employees and owners. He said, "Build strong relationships first, success will follow." Industry experts say Boreham's fresh approach to management has made Baldor an industry leader among giants. Boreham has been recognized by Fortune magazine for forward-looking corporate leadership in employee education and training. The magazine also recognized him as one of the "25 Who Help the U.S. Win," noting his export success and management philosophy.