Office of the Dean
Matthew A. Waller is dean of the Sam M. Walton College of Business, professor of Supply Chain Management and the Sam M. Walton Leadership Chair in Business. He began working as dean in 2015 and continues to be a teacher, innovator and advocate for the Walton College faculty, staff and students.
Dean Waller's LinkedIn Articles
---
The Dean's Executive Advisory Board consists of prominent business leaders who are actively supporting the dean in advancing the mission and vision of the Sam M. Walton College of Business.
Executive Advisory Board Members
The Dean's Alumni Advisory Council is comprised of a diverse group of Walton alumni who function as ambassadors and use their experience and insight to develop and support the advancement of the college.
Alumni Advisory Council Members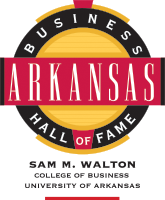 It is my pleasure to serve on the selection committee for the the Arkansas Business Hall of Fame. It is designed to honor, preserve and perpetuate the names and outstanding accomplishments of business leaders who have brought lasting fame to Arkansas.
Hall of Fame Inductees
Play a key role in support of our students. Volunteer as a guest lecturer or a mentor, and share your industry insights and experiences. Serve on an advisory board, or collaborate with faculty researchers.
Executive Engagement Marketplace
What Guides Us?
The Priorities of Walton College
The Mission of Walton College
Diversity and Inclusion at Walton College
The Vision of Walton College
What is EPIC?
Stay Informed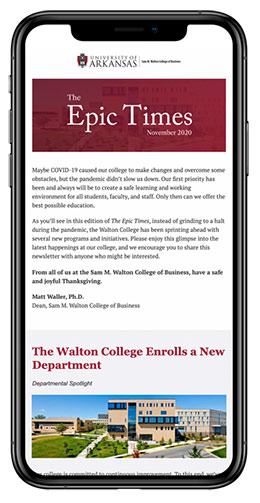 Sign up for a monthly newsletter showcasing the best of the Sam M. Walton College of Business.
---