Master of Information Systems
Innovative organizations place high value on cross-disciplinary leaders, and we've positioned our curriculum to meet that demand.

When information technology expertise is blended with traditional business disciplines, our graduates can 'pull it all together' to make timely, informed decisions for their employers.
Employers around the world seek to recruit and retain top talent who can assume technology leadership roles. The Master of Information Systems degrees offered by the Walton College are designed to groom these leaders.

The job market for Walton MIS graduates continues to be strong, as the demand for combined technological expertise and managerial skills increases. Close partnerships with our corporate partners facilitate recruiting, networking and career opportunities.
Admission to Walton College masters programs is selective. Enrollment in each program is limited.
View

Requirements
Enterprise Systems
Enterprise Systems at Walton College are comprised of five major hubs and support systems, along with access to large, real-world datasets.
IBM z15 Mainframe Server
Microsoft SQL Server 2016
Teradata Intelliflex Database Server
SAP Enterprise Resource Planning Software
Statistical Software – SAS VIYA, SAS Enterprise Guide & SAS Enterprise Miner
Enterprise systems platforms integrate business processes and align IT to support business strategy.
Flexible Course Schedule

Students who choose the full-time program option finish their degree in one year.

Working professionals can complete the part-time schedule in less than two years.
The Department of Information Systems and the Graduate School of Business have structured this program to meet the needs of working professionals as well as traditional full-time students. Do you have questions about your schedule options? Contact us.
Just the Facts:
Master of Information Systems
Program Length
1 - 2 Years
The full-time program can be completed in one year. The "professional" part-time program can be completed in less than two years.
Start Date
Program Specific
The full-time program begins in Summer session. The part-time program begins in the Fall Semester.
Admissions Info
Do I Qualify to Enroll?
Complete your undergraduate degree and meet additional requirements. View Requirements
Entrance Test
GMAT or GRE
Students may be eligible for a GMAT/GRE test waiver with a 3.2 undergraduate GPA or 3 years of professional work experience. Please review our master's admissions policies.

STEM Designation
This graduate degree is a STEM designated program.
By The Numbers
View student data for the Professional MIS Program, to include acceptance rate, work experience, job placement, and top employers of our graduates.
View Statistics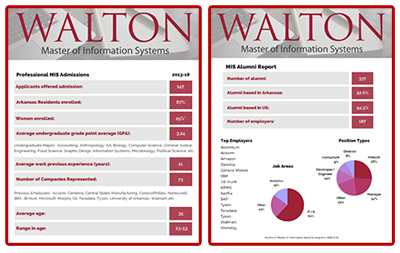 Career Development
Close ties with our corporate partners facilitate recruiting and networking opportunities, internships, and careers.
Students can participate in corporate internships, career counseling, and take advantage of all the Walton College Career Services has to offer.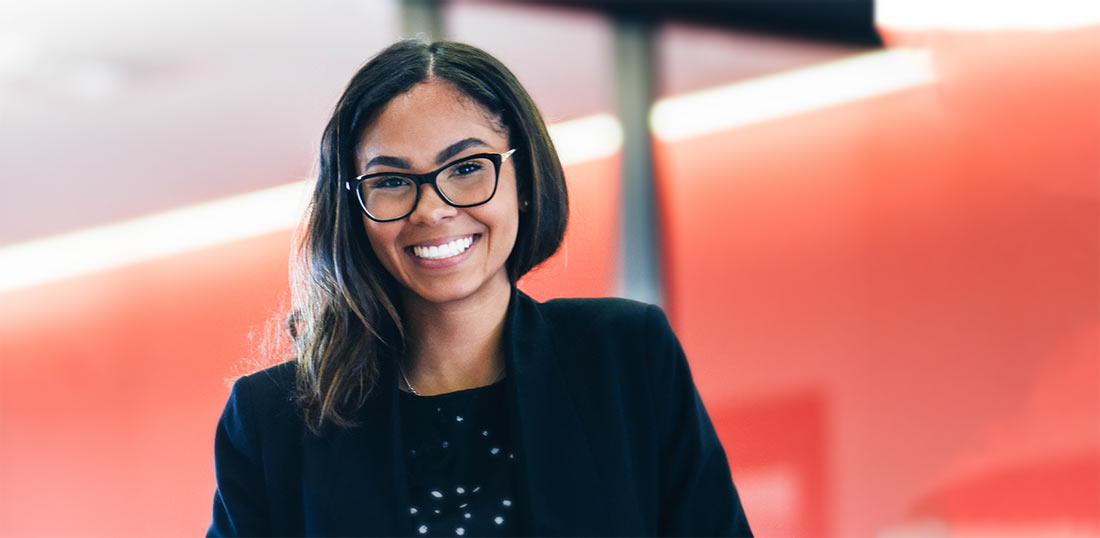 The Northwest Arkansas Community
Join a supportive and engaging community located in the vibrant business network of Northwest Arkansas, with over 300 Fortune 500 companies with a presence in the region.
Business leaders and Walton College alumni are closely connected to the college, not just during your studies, but throughout your career.
Students graduate from the Walton MIS program equipped with an understanding of where IT "fits" in the context of a business, and how IT can be effectively leveraged to support the strategic and tactical objectives of an organization.
By learning concepts and approaches for Enterprise Resource Planning (ERP), Business Analytics, and Enterprise Systems, our students can apply their knowledge to solve business problems using tools from IBM, SAP, Microsoft, Teradata, and SAS.
Full-Time Program Schedule
Summer
6 credit hours
Fall
12 credit hours
Concentration Elective (Blockchain ES or ERP)
Spring
12 credit hours
Concentration Elective (Blockchain ES or ERP)
For a more in-depth listing, view the academic catalog.
Professional, Part-Time Course Schedule
Fall - Year One
6 credit hours
Spring - Year One
6 credit hours
Summer - Year One
6 credit hours
Fall - Year Two
6 credit hours
Concentration Elective (Blockchain ES or ERP)
Spring - Year Two
6 credit hours
Concentration Elective (Blockchain ES or ERP)
Two Degree Options
The Walton Master of Information Systems (MIS) degree is offered in a part-time or full-time option. Students who choose the full-time option can finish their degree in one year. Working professionals who pursue the part-time schedule can complete their degree in less than 2 years.
Program Courses
Our curriculum is focused on delivering practical knowledge through hands-on experience with cutting-edge technologies used in the world's largest organizations.
Many courses in the MIS program are team-taught by faculty and industry experts, combining and comparing theory with practical application in real-world scenarios. Students will develop leadership, communication, problem-solving, and analytical skills that are sought after by leading employers.
Prior to beginning MIS graduate coursework, students must demonstrate proficiency in general business, statistics, and information systems by completing the "Information Systems and Business Analytics Toolkit" experience.
Part-Time Degree Option
The Walton Professional MIS is designed for working professionals. Once proficiency is demonstrated in our Information Systems and Business Analytics Toolkit, the program can be completed by taking 2 courses per semester for 5 semesters.
Courses are taught through a blended-delivery format with both face-to-face and online components, so students are in class only one Saturday per month. We work hard to simplify the logistics of returning to school so that you can focus on learning.
A Great Time to Grow
Management and leadership positions in Information Technology are increasingly being filled by candidates with graduate degrees. Our Master of Information Systems program exposes students to many different aspects of IT, providing a well-rounded perspective with enough depth to be proficient in several disciplines. The MIS program is also a great way to network and develop relationships with other professionals in the IT field.
Saturday Class Dates
Fall
2022
Spring
2023
Summer
2023
Fall
2023
Spring
2024
Summer
2024
August
27
January
21
May
20
August
26
January
20
May
18
September
24
February
18
June
17
September
23
February
17
June
15
October
8
March
11
July
8
October
7
March
9
July
6
October
29
April
1
July
22
(ISYS Only)
November
4
April
6
July
20
(ISYS Only)
December
3
April
29
July
29
(EMBA and MS SCMT Only)
December
2
April
27
July
27
(EMBA and MS SCMT Only)
* Students admitted to the professional programs in the Walton College are required to attend a multi-day orientation prior to the start of scheduled courses. Dates to be determined. Please contact gsb@walton.uark.edu for more information.