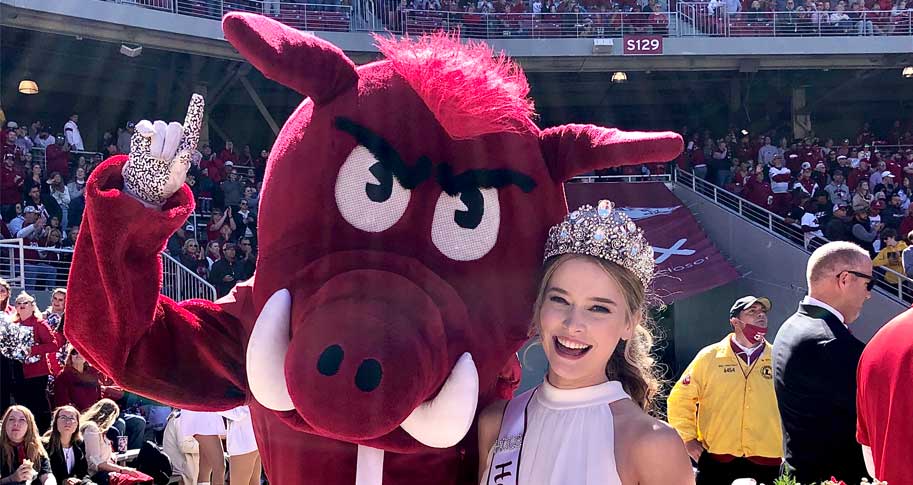 2021 Homecoming Queen Grace Crain (Walton MBA '23) handed off her crown to fellow Little Rock native Karlie Barnett at the Arkansas vs. Liberty Homecoming football game this year. Grace sat down with Walton MBA Insider to discuss her homecoming experience and what it means to be a leader, a role model and a Razorback.
MBA Insider: What is it like to be on the homecoming court?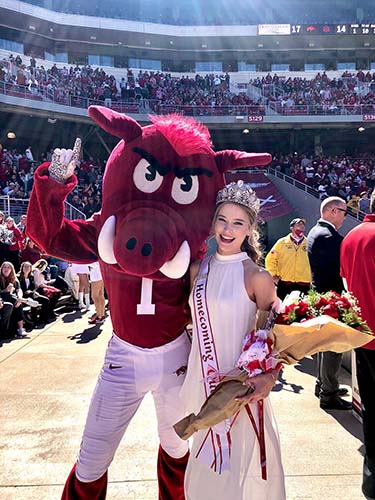 Homecoming is a long process that takes a lot of hard work. Often people only see the field at the game or the parade, but it takes months of preparation by the Associated Student Government and the students who are working toward homecoming court.
Each Registered Student Organization (RSO) on campus can nominate three king candidates and three queen candidates, so there are potentially hundreds of candidates. I had the pleasure of being nominated by my sorority, Tri Delt, in August of 2021.
Nominees wrote four essays covering academics, extracurricular activities, what it means to be a model Razorback, and how I would pour back into the University of Arkansas as an alum. The essays were made anonymously and scored using a rubric. There were multiple rounds of interviews with representatives across campus to decide the top seven men and women who make up the homecoming court, which was announced at the Chancellor's Ball. Then you begin campaigning for King and Queen.
Campaigning was a whole new world to me. It lasts a couple of days and is school wide, followed by a campus election, the parade, and the announcement of King and Queen at the pep rally. The court gets to ride in the parade, and walk on Saturday at halftime when the King and Queen are sashed and crowned. One of my friends, Katie Gardner, was Homecoming Queen the year before me, so it was really special that she got to crown me. I got to walk through this process with some of my best friends, like Stephanie Nguyen, who I met during freshman year printing off our slides for Business Law, and Jack Burg, who was crowned King my year and also represents the Walton Honors College.
The process is long and time intensive, and I'm glad it's that way. They pick students who are diverse, who have poured into campus all four years of college, and who love to be Razorbacks. It was not only fun to get the honor, but also fun to look around and learn about other ways that people have impacted campus and worked throughout their undergraduate careers.
What does it mean to be homecoming queen?
It was an incredible memory, but the reason I got to have this experience was because my sorority nominated me, my friends helped me campaign, and the organizations that I am part of gave me opportunities to have a competitive resume. I see it as a reflection of the quality of the education at our school and also the groups I was a part of. Walton Honors and Tri Delt especially gave me a huge platform to take on increasing amounts of responsibility, which is important because continuous involvement throughout all of college is scored heavily in the interviews and essays.

It was special for my family as well. I'm the eleventh person in my family to attend the University of Arkansas, so Razorback pride runs deep. I think my parents had even more fun with it than even I did, if that's possible! Being Homecoming Queen was thrilling - it was not something that I expected or was on my radar at all. I visited the University of Arkansas Homecoming in 2015 and took a video of the Greek Theater as they were crowning Queen, and I never thought that would be me in six years. I have very clear memories of going to Homecoming games growing up so it was really special that I got to be a part of that later on.
What part of your academic success makes you the proudest?
I'm proud of my drive for excellence and helping others to thrive academically. I kept at 4.0 throughout college. During freshman year, the Walton Honors College puts you in a peer mentor group. My sophomore year I was a peer mentor, my junior year a lead mentor, and my senior year was vice president of the Walton Honors Student Executive Board. Being able to impact younger students and be a mentor to them is really important to me.
I also worked with Beta Gamma Sigma, a business honors society where I served as president my senior year, and at Colgate Palmolive, where I worked as strategic sales and customer development intern on the Walmart Oral Care team. My position there was a direct result of being a student at the University of Arkansas and performing well academically.
How have you exemplified campus leadership?
My experiences in college tie in with the University's core values of curiosity, creativity, character and shared humanity. I demonstrate curiosity as an Accelerated Walton MBA student and through Beta Gamma Sigma and peer mentorship. As vice president of the Walton Honors Student Executive Board, we used creativity to change the structure of the organization. I was director of social events for Tri Delt when Covid hit, and it took character to balance creativity and provide valuable services while keeping members safe at the same time. For shared humanity, when we were sent home during Covid, I worked at a local food bank and tried to help people at home.
From an early age, I was exposed to a lot of different cultures and ways of life. Having traveled to Vietnam, Ghana, Paraguay and several other places before I ever came to college, I was able to put that passion into an everyday practice at the University of Arkansas. This combined with my collegiate involvement has shaped me into a leader who practices appreciation and service to make a difference.
What does it mean to be a Razorback?
My family has been a part of the University for over 60 years, and I have been committed to going to the U of A since I was four. It was never a question of whether or not I would attend the University of Arkansas, but what I would do with my time while I was here. Homecoming to me was about acknowledging the opportunities that the University of Arkansas gave me, and also celebrating our alumni. We have so many great alumni that come back for Homecoming each year. I feel encouraged knowing that I can do great things after I graduate and pour into the U of A like they do.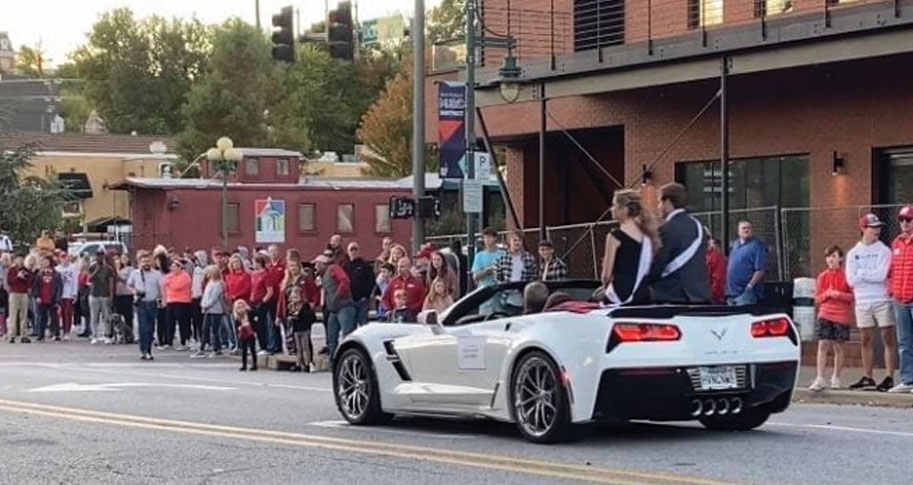 Grace greets the crowd from the royal float in the 2021 Homecoming parade.
What does it mean to be a role model?
I want to encourage students to work hard during college. Hopefully their efforts will be seen and acknowledged, but there is also the personal gratification that you have done your best. Having freedom and independence is a part of college, but it isn't a time to lean back and stop taking on responsibility; it is a unique time to dive in and serve others. I had mentors model that to me when I started college. They chose to get to know me and invest in me, so that's what I hope that I do for others.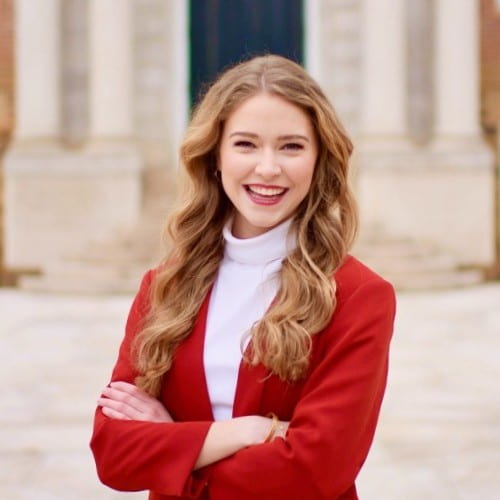 What are your plans after graduation?
I'm a second year MBA student and will be graduating in May with a custom concentration in marketing and the art of storytelling. After graduation I will be working at Deloitte as a business technology solutions analyst in the Government and Public Service Department. I'll be living in Austin, Texas, and hopefully on the track to become a consultant at Deloitte.
Congratulations, Grace, for your exceptional accomplishments. We are proud to have you in the Walton MBA program and we wish you all the best in your future endeavors!