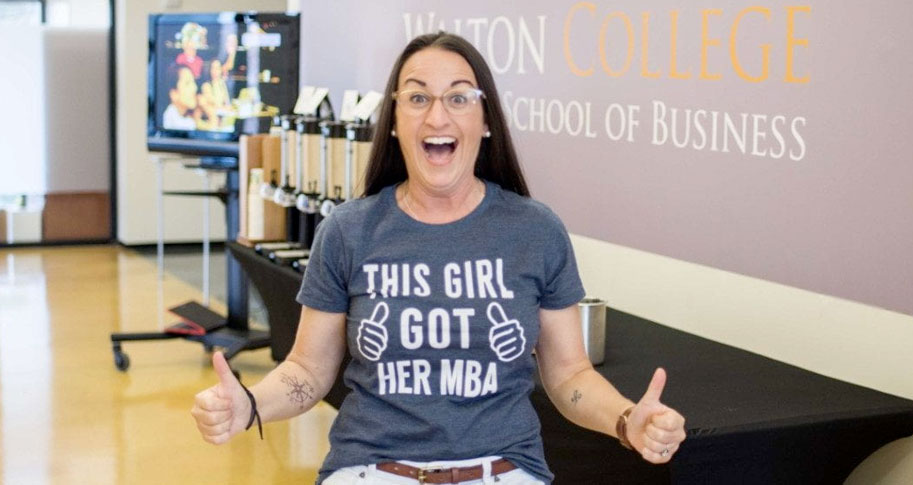 Program alumna Erin Moody Rosa discusses her role as a director of sales at Warner Media, program insights, involvement with the Alumni Advisory Board and experiences with volunteering and leading with kindness.
Walton MBA Program alumna Erin Moody Rosa received her EMBA in 2019 and currently works as a director of sales at Warner Media. At Warner, Rosa oversees the management of the company's #1 digital transactional customer, Amazon. She focuses on maximizing revenue utilizing the Warner Media's vast library of content, which includes franchises Harry Potter, The Lord of the Rings, The Hobbit, The DC Universe and Looney Tunes. "I bridge the gap between the various divisions within Warner Media (Marketing, Tech Ops, Finance) and our customer (Amazon)," Rosa said.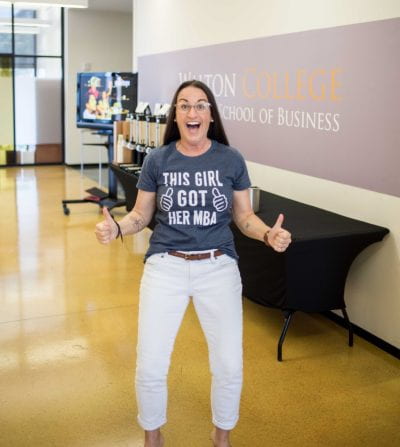 Rosa believes that the Walton MBA Program gave her many skills such as strategic thinking that assist her in her position today. "The Walton MBA Program taught me to think critically and approach every scenario in business pragmatically. The program also gave me the opportunity to network outside of my industry and it exposed me to processes and companies I had not had experience with previously," she said.
Over the course of her time with the Walton MBA program, Rosa was exposed to individuals from various industries. "In my cohort, there were people from every aspect of business including marketing, finance, information technology, cyber security from companies like Walmart, Unilever and Procter & Gamble," she said. Gaining alternative perspectives to the entertainment industry was important to Rosa, and she gained many perspectives on subject matter from professors and peers alike.
Rosa's connection to the program also drove her to hire one of her cohorts for a position at Warner Media who was skilled at sales and project management. "Because we worked well together in the program, I pushed for my company to give him a chance," she said. "He got the job and is thriving in home entertainment sales."
In her position as a director of sales, Rosa utilizes her ability to manage across multiple teams to sell programs and concepts in stages. "Once as the concept is developing, I have to sell it to my internal teams. The program needs to make fiscal sense for my company while also seeing to the needs of my customer," she said. "Once I've sold the program to my teams, I then have to sell it to my customer."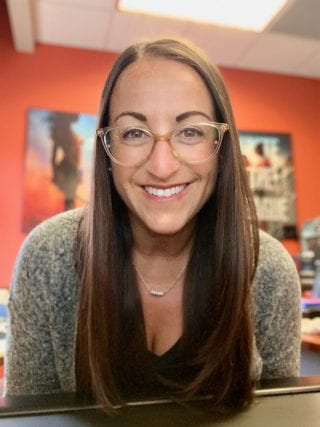 While working on a team, Rosa believes that it's important to remove or limit emotion. "It's easy to fall into the emotion trap and take a disagreement with a coworker personally," she said. "It's important to think of where the other person or team is coming from." While discussing how handle conflict, Rosa said that non-emotional responses are pragmatically driven and that team members should approach all internal interactions with curiosity.
Rosa has worked in the entertainment industry for 15 years and has seen the business change significantly. She feels the industry is in a constant state of change and is particularly intrigued by the availability of hours of content on any device. She discussed why the number of streaming services and platforms increased over the last year. "As more and more consumers opt to stream content from mobile and/or connected devices, the need for structured distribution becomes less important," she said. She also predicts that product bundles and partnerships will become more common as the market expands, "similarly to how Disney has the Disney+, Hulu, ESPN+ bundle and why Discovery and Warner Media are planning to merge in 2022."
Rosa enjoys contributing her experiences to the Alumni Advisory Board and staying connected with the university. The board's dedication to seeking new ideas and strategies is rewarding to her. "Once you complete the program, you become a part of that network," she said. "The Walton MBA Program doesn't just encourage alumni involvement, it thrives from it!"
While discussing how the job market has shifted because of Covid and how the Walton program pivoted to account for this change, Rosa said, "I think the program can benefit from leaning into teaching emerging leaders new and innovative ways to lead." She believes that increasingly more companies are allowing for hybrid environments. "There is an opportunity for the Walton program to teach the students how to lead during this modified time in our culture," Rosa said.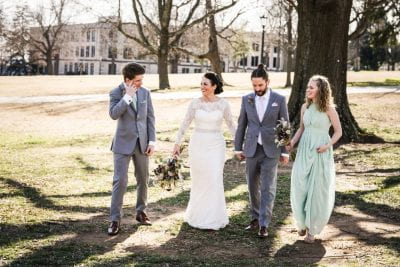 Alongside her involvement with the board, Rosa also enjoys volunteering with local nonprofits. She enjoys helping nonprofits outline their strategic plan, core values and immediate and long-term goals. "I approach nonprofits the same way I approach for-profit businesses," she said. "Although the purpose of each business model is different, one looking to make a profit, one aiming to better a specific community or cause, the "end game" and how they get there is the same.
Throughout her work and volunteering efforts, Rosa attempts to always lead with kindness by listening to her team and providing guidance. "You can never truly know what another person is going through (or has been through) in their life, so it is important to always remember that when interacting with people," she said. "People want to work for a company that values them."
When approaching conflict, Rosa believes that "It's important to remove you as the individual from hard situations and approach it from a broader perspective." While dealing with conflict, Rosa focuses on gaining perspective, proposing solutions and letting involved individuals express their frustration.
While addressing what drives her in her personal and professional life, Rosa borrowed a quote from the head of the Warner Media Sales & Distribution Team. He said "work hard, be curious, be kind." This quote has encouraged Rosa to give 100% in all her tasks. "I will explore anything that sparks my curiosity and ask a lot of questions," she said. "Above all, I will be kind. I lead with the philosophy that the whole person comes to work. Everyone is constantly juggling their own ambitions, struggles, triumphs and personal lives. No matter what circumstance is thrown my way, I will always treat my coworkers, peers, teammates and leadership with kindness."