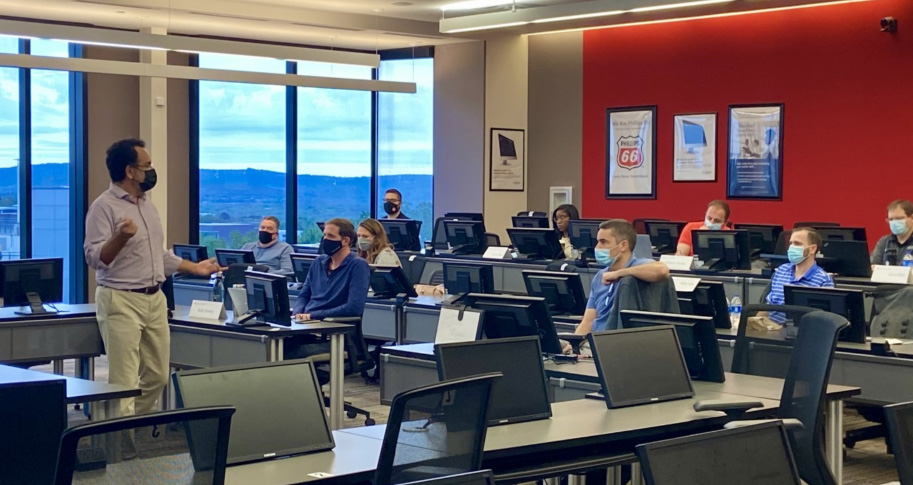 "The flexible schedule in the Walton Executive MBA program offers students the opportunity to advance their careers without putting their current job at a halt," said Assistant MBA Director Aditi Kar. "It helps students to work at their convenience and balance their work and family commitments."
EMBA '23 cohort members Shanda Hunter and Matt Bertrand discussed how the Walton EMBA program supports them and provides them with flexibility as they balance work, school and family life.
"It has been a life-long goal of mine to earn an MBA," Hunter said. "I want to be living proof for my kids that with enough family support and determination you can achieve your goals."
After having a successful career in journalism and communications, Hunter left her two-decades long career in TV news to apply for mid-manager level jobs. Though she would make it far in the interview process, the positions typically went to individuals with an MBA.
"There are a lot of things you cannot control in your life. I can control the level of my education. So, I went for it," she said."After exploring the EMBA program at the Walton College, I knew it was curated for people like me -- Working professionals who are in the thick of real life -- kids, sports, jobs, the works."
Bertrand also chose the program because it offered a certain degree of flexibility, as he lives outside the NWA region. "As a retail professional, it was important to me to find a program that would challenge me in my chosen field," Matt said. "The Walton College has a close connection to the retail world surrounding Northwest Arkansas, so it was a natural fit."
Currently, Hunter and Bertrand are both balancing school, work and other family commitments. Though it is difficult at times, Hunter appreciates the opportunity for growth. "Dr. Adam Stoverink said during our program orientation 'It will not be easy, but it will be worth it.' I choose to believe him," Hunter said.
Bertrand is grateful for the support of Walton EMBA staff and faculty as he strives to balance his many commitments. Before applying to the program, he signed up to compete in his first Ironman 70.3 race, and he spent over 6 months in training to attempt the triathlon.
"Coincidentally the date of the race lined up with one of our in-person classes, so I had a decision to make: attend the race or attend class," he said. "Luckily for me, I spoke with my professors who offered virtual options to attend class and watch the class-recording afterward. I'm proud to say that I was able to participate in the Ironman 70.3 where I finished in 6 hours and 40 minutes."
Hunter also feels that faculty support is pivotal to the success of students in the program. "Assistant MBA Director Aditi Kar is among the most influential people in the program so far," she said. "In the middle of my first semester, I was feeling overwhelmed and unsure I was able to juggle life's responsibilities and give the EMBA program the focus it commands. I reached out to Aditi about feeling disconnected. She immediately took my concerns seriously. Not only did she reach out via email, she invited me out for coffee. We sat down and plotted out a plan for success. Through her encouragement, I gained confidence to proceed."
Speaking to a fellow working professional and parent was an invaluable experience to Hunter. Strategies she uses to balance her busy schedule include intentionally making time in her schedule to study and surrounding herself with like-minded people.
"I've met people in my cohort who are undoubtedly becoming life-long friends," Hunter said. "They understand what I'm going through, and I lean on them when things get overwhelming, or I begin to doubt myself. I do the same for them."
Bertrand also employs several strategies that have helped him balance the MBA program with his other commitments.
"My first tip is to create a plan or schedule to study and complete assignments," he said. "Fostering daily habits in this area will pay off immensely in the long run, especially when the pressures of work, life and school collide."
He also recommends networking within the MBA cohort. "Not only can this be fun and a great learning experience, but you will create a close group of colleagues that you can rely on to help understand material that may be unclear to you. Lastly, communicate with the Walton EMBA staff and faculty on your progress, struggles, wins, etc. Not only are they there to help, but they truly care about the students. I certainly am glad that they do!"
As they employ strategies to balance the MBA program with their professional and personal lies, students like Hunter and Bertrand benefit from the program's flexible structure and supportive faculty. "I knew I would be challenged, but I'm growing in ways that are unexpected," Hunter said. "I have already applied what I've learned in my everyday life and in my current job. I cannot wait to see what doors open next."