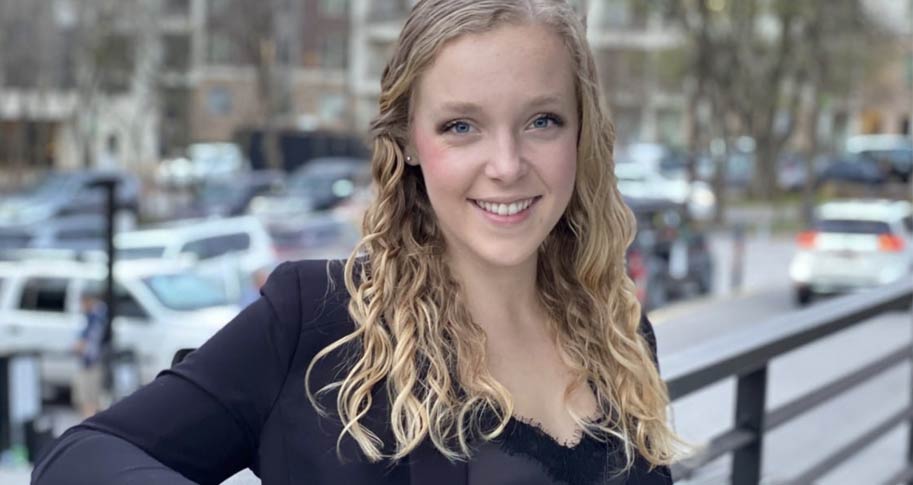 "I wouldn't do that if I were you, it will be much more valuable to get industry experience first then go back for your MBA."
These were the words of advice I was given as I had just told a potential employer that I was considering going straight from undergrad to graduate school. As I started to gain work experience through summer internships and networked with local professionals, I noticed how many had people had those three letters attached to their name, MBA. This was a clear sign to me that grad school had to be part of my future. With 89.6% of full-time MBA students having more than four years of work experience according to mbacentral.org, and the average age of an admitted student being 28 years old according to poetsandquants.com, I knew that at 21 with only a couple summer jobs on my resume, I would likely be less experienced and younger than most my peers.
Still, I wanted to pursue this degree.
In fall of 2018 I was faced with the decision of what to do with my future. As my graduation date quickly approached I had been contemplating the two options: go to grad school or enter the job market. Now neither was a bad option by any means, but I had to make a decision. Ultimately, I decided to apply for the accelerated MBA program that my school offered, and I have zero regrets. Pursuing this program has enabled me to accelerate my career opportunities, make invaluable lifelong connections, and increase my confidence in my ability to perform.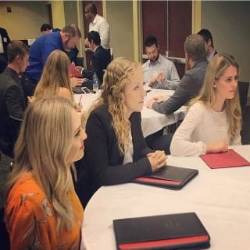 1. Accelerated Career Opportunities
One of the main reasons people enroll in grad school is to advance their career. For me, pursing an MBA allowed me to fast track my career and enter into a more impactful first job. One of the most valuable opportunities I was given through being enrolled in my MBA program as the access to exclusive career and networking events where companies brought customized opportunities for the 38 full time MBA students seeking employment. This is not unique to my program though, many programs have special connections with local offices that recruit MBAs out of their University. This opportunity was key as a young professional to adding work experience to my resume while pursuing school. The MBA internship opportunities offered the ability for me to own my work and start making a real impact immediately. This level of ownership and trust is usually not offered through undergraduate positions. Through my internship, I was put in an environment that both challenged and empowered me to explore my strengths and allowed me to make real business impact from day one. Connection to this type of work helped me earn money, gain experience, and ultimately receive a competitive job offer at the end of my program.
2. Invaluable Lifelong Connections
Every graduate program splits their students up into cohorts that consist of all your peers in your graduating class. Likely, this group of people ends up being people you've never met before from a wide variety of backgrounds. This was the case for me when I entered my MBA program. Having this diverse set of peers allowed me to learn from multiple different perspectives and create a wide reaching network. As a younger student the expansiveness of my cohort allowed me to explore potential areas of career interest in a much more casual setting. Additionally, cross functional tracks allowed me to even further expand my network to graduate students in disciplines other than business. Pursing the entrepreneurship track, I met upper level degree seeking student from backgrounds ranging from arts to engineering to medical. The collaborative environment the MBA program fostered helped me build strong relationships that will easily continue post graduation.
3. Increased Confidence
My MBA program built upon my undergraduate knowledge base while taking a managerial approach to content. This type of approach to content allowed me to build skills that are directly applicable to the workplace, but the learning didn't stop with content. My MBA program had a specific emphasis on soft skills which I found to be particularly valuable. I took a strength finder among other personality assessments and completed a 360 review to help me understand myself better and how I might be perceived. This also helped me understand others better and identify potential challenges I might face due simply to my personality. Additionally, my MBA program gave me opportunities to take on real business challenges through intensive competitions. Competing in case competitions, pitch competitions, and going through ample simulations I was forced to think and preform out of my comfort zone. Being put in positions like this with high stress stakes ultimately led to a lot of learning that I can apply to my real job. The deeper knowledge, enhanced soft skills, and experience outside my comfort zone equipped me with the level of confidence needed to walk into any job knowing I will be successful.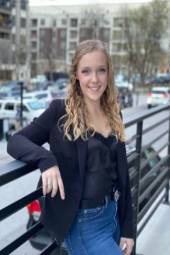 Being a 21 year old walking into an MBA program was scary, no doubt, but walking out the business professional I am today gives me a ROI of well over 100%.
Who am I?
My name is Emily Wiencek and I am a 23 year old soon-to-be MBA graduate from the University of Arkansas. Previously I majored in marketing at the University of Arkansas and receiving my bachelors in fall of 2018. I am passionate about empowering people to achieve their goals as others have empowered me. A special thank you to all of the educators, mentors, and friends who believed in me. Thank you for taking a chance, challenging me, and for providing an ear to listen.