Jerra Nalley Toms joins the Sam M. Walton College of Business as director of marketing and communications. In the article below she discusses her background and her experience in the Walton Executive MBA program, offers some advice for students, and describes how she is tackling her new role as director.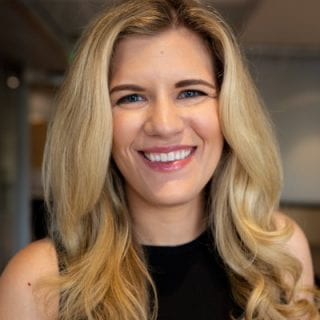 Jerra Nalley Toms joined the Sam M. Walton College of Business as director of marketing and communications this past September. Toms has extensive experience in advertising, marketing and recruiting, as well as entrepreneurship and managing high growth initiatives. She received her undergraduate degree from the University of Arkansas in marketing management and earned her Executive MBA from the Walton College in 2017.
After completing her undergraduate degree and working five years at Collective Bias, Toms was interested in broadening her career with experience at Walmart or in the consumer-packaged goods industry. In these industries "an MBA is needed almost as a minimum qualification for moving up in your career," Toms explained. She was referred to the Walton EMBA program by a coworker, who assured her that the class work would be manageable and described the value of being on campus one Saturday a month to interact, grow and network with cohort members.
Network and opportunity have shaped Toms' career path. During her senior year at the University of Arkansas, the CEO of Collective Bias, a shopper-focused influencer marketing company, spoke in her class. She took the time to meet him afterward and thank him for his presentation. Within two weeks, she had secured an internship at Collective Bias.
Toms advises students to take action to leverage the network around them.
"Build your network while you can. Not just with fellow students – though that's important – but also with faculty, staff and everyone you can get to know because you never know where that will lead you in the future. Those connections make it easier to get plugged in and hit the ground running. If speakers come into your class, talk to them afterward. Often only two or three people do it, but it makes such a difference."
After Collective Bias, Toms took on a role with Walmart as a senior project manager in recruitment marketing, where she used her social media knowledge to exponentially grow their existing social channels and expand to new ones both locally and globally. She went on raise $2M in funding to build and manage Leisurlist, a local media platform for "everything to eat, see and do in Northwest Arkansas."
In her role now with the Walton College, Toms is envisioning a new approach for marketing. Her experience at Walmart and Leisurelist taught her to work with multiple internal teams and develop integrated solutions that consider the needs and wants of the client first. "We have multiple different consumers and users – faculty, staff, donors, students – and the question is, 'How are we serving them?' It's all about the customer at the end of the day."
When asked about how she approaches a new job, Toms outlined her process of thought.
"If you're tackling something big, you do it one bite at a time. I wanted to start with meeting every single person I could that has to do with marketing – department chairs, heads of centers, etc. I have a checklist of consistent questions that I ask. What has been successful? How have you been involved? Who are you involved with? Who is your target audience? Some teams focus on students, some focus on industry leaders and some on business partners. Understanding their priorities is important, as well as meeting face to face as much as possible so they know someone is there to help them achieve their goals. I also ask each member of the team what they like working on and don't like working on – the good and the bad. You put that together and start seeing consistent patterns across organizations and can know what to address first."
Toms loved her experience in the Walton Executive MBA program. The biggest benefit she gained from the program is reflected in her network; she still talks to her EMBA classmates often, whether it be to solve a business problem or discuss their bi-monthly get-togethers. Toms also credits the program with giving her the confidence to apply for higher level positions. Broadening her business acumen in areas such as finance and accounting have helped her feel more qualified to take on roles like the one she holds now.
Outside of work, Toms is an avid podcast listener. She enjoys listening to Planet Money, The Indicator from Planet Money, Up First and Science Vs. Her hobbies of choice are cycling and baking.
"The Great British Bake Off is my mecca," says Toms. She bakes bread most consistently and enjoys the scientific nature of it. (Even the temperature of your home matters.) "It is such an interesting challenge, but also fun. And then you get to eat it!"
Please join us in welcoming Jerra Nalley Toms to the Sam M. Walton College of Business.