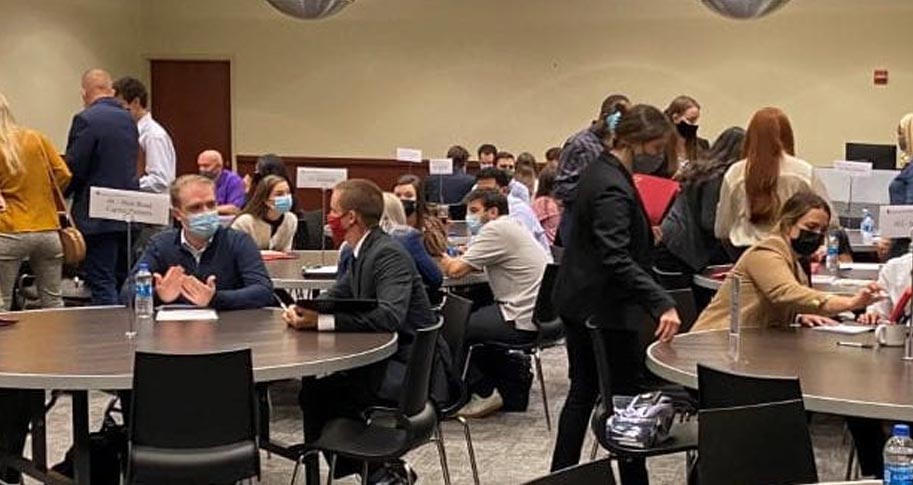 October is a busy month for our Walton MBA full-time students kicking off their fall internship hiring cycle. MBA internships are an important part of our program curriculum because this experience is the best way for students to apply what they're learning in the classroom in a real-world setting, while also starting to find what career path will be the best fit for them after graduation. Students are required to complete an internship as part of their MBA course curriculum.
To help facilitate hiring, the MBA Programs Office works with companies to organize an MBA Career Day each year. For the Walton MBA class of 2023, this event was held on Thursday, Sept. 30, 2021, and brought the following companies to campus:
Hallmark
Henkel
Land O'Lakes
Mars Petcare
McCormick
New Road Capital Partners
NielsenIQ
PepsiCo
Phigenics
Plug and Play
Rich Products
SAGE Partners
SupplyPike
USA Truck
All companies that participate have internship roles available for Walton MBA students. The event gives companies a chance to give students the inside scoop on their company, culture and industry before internship interviews begin in mid-October. Students are encouraged to ask open questions and further develop their internship interests in this informal setting. MBA Career Day is broken into two parts: a speed networking session and a networking lunch.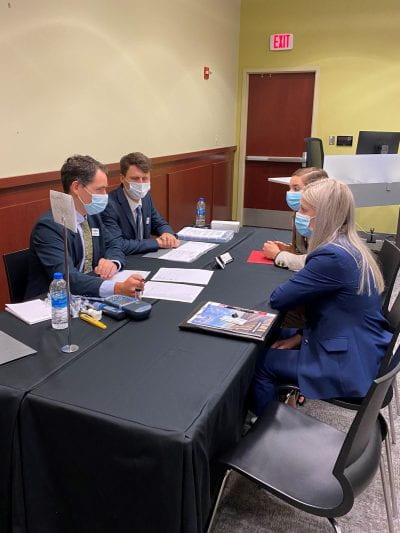 Companies participate in a progressive style speed networking event with students while sharing about their experiences and career opportunities at their respective companies and within their field. Students rotated through all employers present approximately every five minutes in groups of two to three. This gives students the chance to visit with every employer instead of the traditional career fair format, where they only visit booths they are interested in. Student feedback is positive because the event encourages them to think about positions they wouldn't have considered otherwise and tells them about what each company has to offer. The five-minute window does go quick, but this is by design. We want students to have targeted conversations using concise language. It requires them to be more intentional in their interactions.
The second part of the event is the networking lunch, which gives MBA students a chance to talk in-depth with employers after the speed networking round. The goal is for students to leave with a comprehensive understanding of the company, opportunities available to them, and whether they'd like to apply for open internships. Some things we recommend companies cover include the nuances behind various consumer packaged goods roles including category management, sales analysts, retail roles and other opportunities, such as financial analyst positions.
Following the MBA Career Day event, students must apply for open internship positions by Oct. 8, 2021. Companies are given a week to review applicants and decide who they'd like to interview. We work with the Walton Career Services team to coordinate the interviews with the students and employers from Oct. 20-29. Companies make their first offers to candidates by Nov. 1, and students begin accepting positions offered by Nov. 3. Most internships the students secure from the MBA Career Day will begin in the spring semester after their professional development intersession class concludes. Our hope is these internships convert to full-time employment opportunities for the students. In all internships, students learn incredible skills that will translate into the professional world no matter where they end up after graduation.