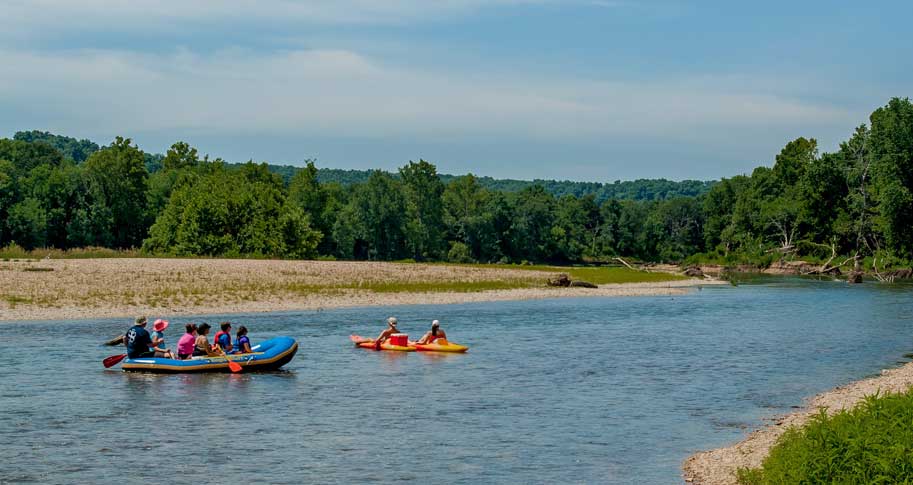 As the community relations manager at the Illinois River Watershed Partnership, 2021 Walton Executive MBA graduate Morgan Keeling advocates for watershed conservation and restoration practices.
The Illinois River Watershed covers parts of rapidly developing Northwest Arkansas (NWA) and Eastern Oklahoma. Inconsiderate development threatens the watershed's ecological purpose and its economic potential. According to Keeling, the landscape's underground caves and natural springs, called a Karst topography, make it an especially sensitive area to develop. Urbanization has intensified streambank erosion in the Illinois River basin, which opens surrounding areas to potential floods and flood damage. And because the headwaters of the Illinois River are just south of NWA, much of the area's rainwater drains into the Illinois River Watershed, bringing all of urbanization's debris with it. "As we urbanize and expand westward into the floodplain, if we do not consider HOW we develop, we could limit the economic potential of the region," said Keeling.
The Illinois River Watershed Partnership (IRWP) is a non-profit focused on addressing these issues through public education and outreach programs with the "ultimate goal of implementing conservation and restoration practices," Keeling said.
In her role as community relations manager, Keeling works in advocacy and program management under grants from the Natural Resources Conservation Services, Walton Family Foundation, Arkansas Natural Heritage Commission and Arkansas Natural Resources Division. To increase awareness of the issues facing the watershed, the IRWP hosts conferences like the Low-Impact Development Conference. Keeling said the conference was held to "educate key stakeholder groups on ways that we can develop using green or natural infrastructure" to minimize the damage development causes to surrounding environments like the watershed.
While Keeling's love of connecting with people and her ability to synthesize her interests from economics to art are some reasons for her success in her role, she indicates that "nearly every aspect" of the Walton Executive MBA has been useful in her non-profit work. She draws on Jeff Murray's lectures about creating social change; she uses statistics she learned in John Aloyscious' class to analyze nutrient reduction models and the IRWP's data on water quality; and she performs microeconomic analyses on potential sustainable funding sources, which she learned in an MBA strategy class.
"I have applied everything from marketing to investment theory in my work at IRWP," Keeling said. Through the MBA, Keeling has developed a network of ongoing professional support that has helped her identify how she can apply her skills to some of the world's most pressing problems.
Ultimately, Keeling is driven to build her community by advocating for the people and resources it encompasses.
"My experience growing up in a rural, ag-based community means I have a soft heart for preserving the livelihoods of producers and ensuring our treasured natural resources (some of the most important assets for small towns) are here to enjoy for years to come," Keeling said, "I love seeing positive social and environmental change ripple from my conversations and the work that I do."