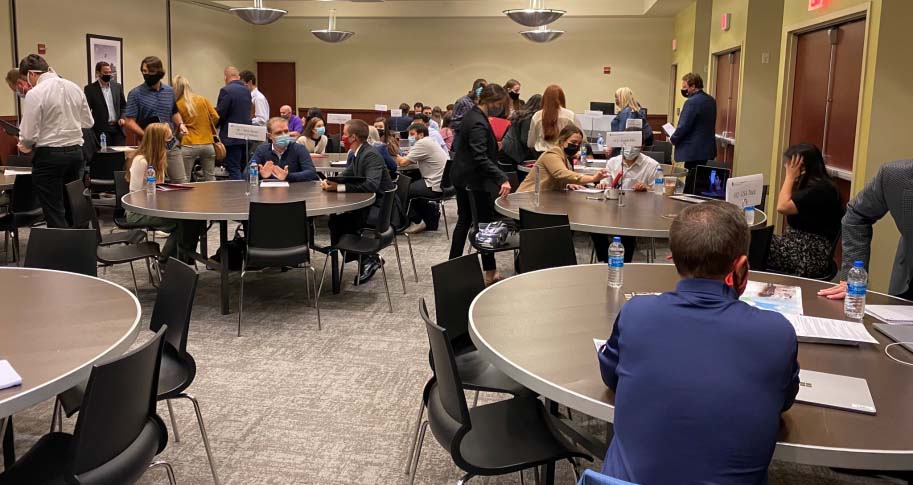 Networking helps students and professionals develop and improve skill sets to stay on top of the latest industry and job market trends. The more you network, the more you'll grow. These lasting connections, which provide opportunities to expand and grow your professional and personal network, must be sought out intentionally. Effective networking can aide in saving time and alleviating future stress in the professional workspace.
Surveys show that one of the key reasons students choose an MBA program is for its networking benefits. The deep-rooted phrase "it's all about who you know" is evident and ever-present in the modern business world. According to The Financial Times, networking helps some 60% of graduates find a job. The Financial Times survey showed that 95% of respondents who valued networking said that it had worked. Networking provides insight on where to expand your career path based on the breadth of knowledge and advice that connections can share.
There are many key metrics that make the Walton MBA program stand out when it comes to networking. First, the diverse cohort is made up of students with a range of work and leadership experience across multiple industries. Next, the quality of the professors is exceptional due to the expertise from many industry specialists such as in the fields of supply chain, retail/marketing and entrepreneurship. Additionally, corporate partners provide training during orientation, engage as guest lecturers in class, participate in career day and hire interns. The Walton MBA program is in an advantageous location 20 miles from the Walmart Home Office and near Walmart's abundant supplier community. Lastly, the programs' cohesive alumni network adds immense value both during and after graduation.
Many alumni and current students have commented on the quality and success of networking through the Walton MBA programs. First and foremost, relationships are built in the classroom. Rebecca Marshall (EMBA '23) was encouraged to consider the degree by supervisor, Laura Lea Black Witt, an alumna from the Walton MBA class of 2009. She has already made many friends and connections that have expanded past the classroom.
"We reach out to each other outside of class to meet up for sporting events and other social events," Marshall says. "A classmate reached out to me, a banker, to talk about financing a work project recently for an oil and gas project. Many of us have connected on social media platforms, all encouraging and cheering on each other's professional accomplishments, personal travels, family and life. A big piece of my professional work is relationships. It's fun building new relationships with so many great and diverse people."
The Walton MBA career fair proved to be a valuable source of connection for Paolo Scala (MBA '22). He received his full-time job offer after meeting a recruiter at this fair and keeping in touch with him.
"Without the opportunity to network with the recruiter directly, I would've never heard of this opportunity. Events like these can be crucial for students as it gives us a chance to put our names out there," Scala says.
Another avenue for networking provided by the program is the mentorship program. Mentors offer curated, personalized counsel and can ease nerves and help students secure jobs.
Lane Robertson (MBA '22) secured his internship after connecting with Don Walsh, Walton MBA alumnus and director at Tyson Foods, Inc. "Having the connection with my mentor has already proven to be invaluable," Robertson says. "I was able to get interview tips and information about culture and fit from him. I have now been at Tyson interning for 6 months and hope to continue in a full-time role after graduation."
Eduardo Rosales (EMBA '23) feels "networking is one of the greatest benefits of the MBA program." His experience has already been positive.
"I have met amazing people from diverse backgrounds with similar interests that I wouldn't have met otherwise," Rosales said.