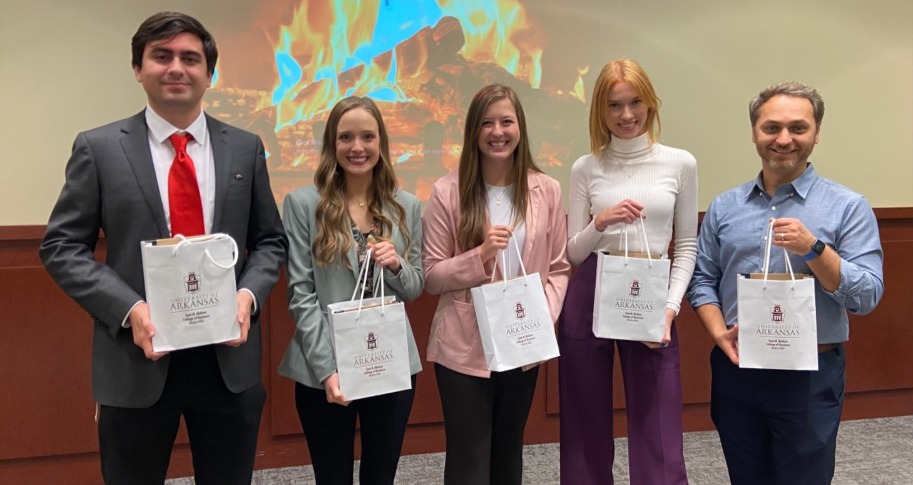 During the fall of 2021, second-year full-time Walton MBA students completed The Walton MBA Ethics Project. This project was incorporated into the Business Leadership and Ethics course taught by Adam Stoverink, director of Walton MBA Programs and associate professor of management. There were 10 teams of students who received $1,000 to complete a project that will benefit others.
Montay Coffee and Chai Cycle teams were the finalists for the project.
Montay Coffee Supports Haitian Farmers
The concept for the winning team of the project, Montay Coffee, was inspired by team member Samuel Skeirik's personal relationships to Haiti and the Haitian coffee industry. Research found that Haitian coffee exports decreased by more than $120 million from 1989 to 2021. The team wanted to maximize impact and found they could do this by focusing on trading with Haitian farmers, making them more competitive in the global economy.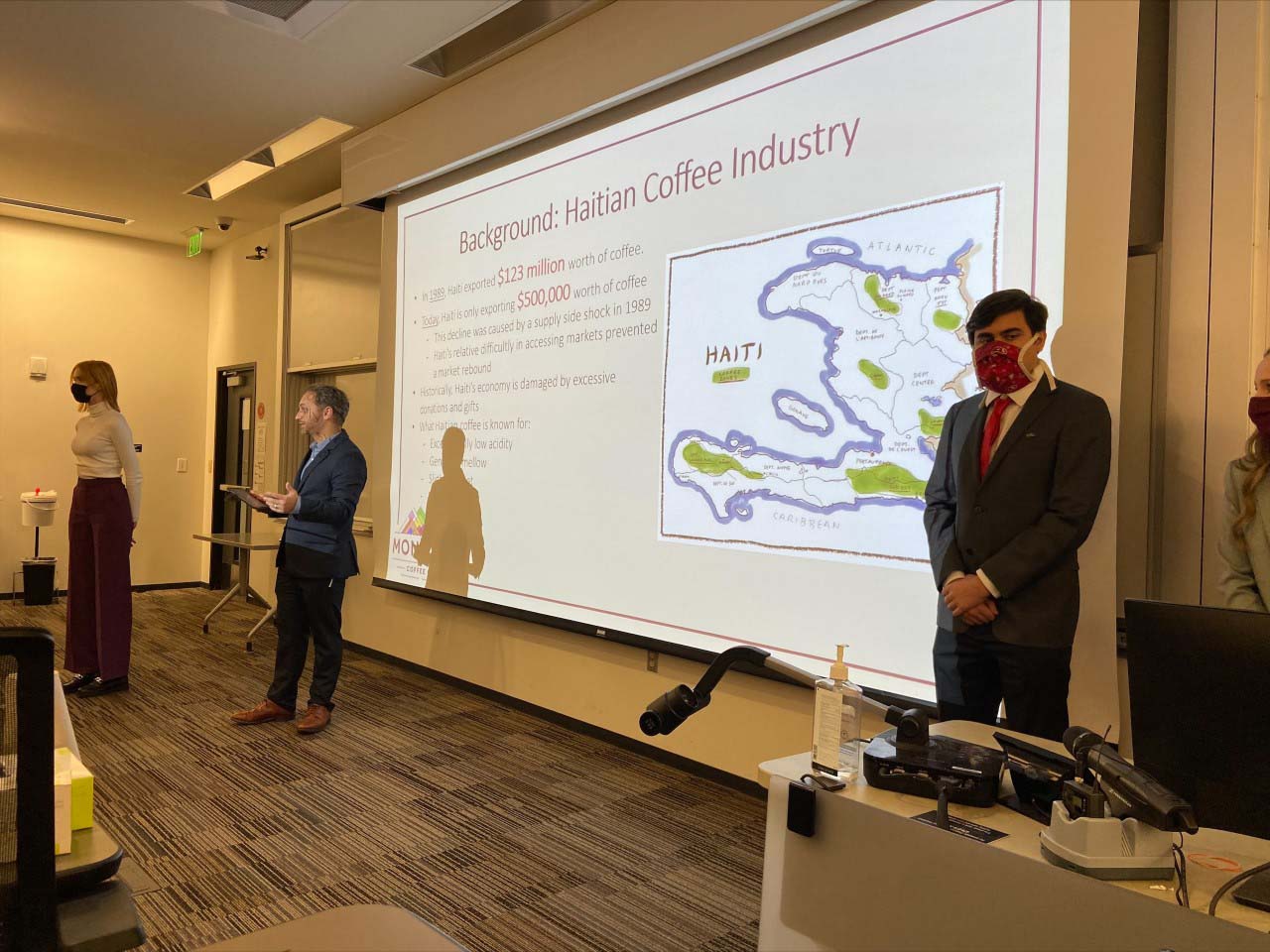 Montay Coffee sources their beans from Avanti Coffee Co., a direct trade coffee company in Haiti. Sourcing Haitian coffee beans was relatively easy for the team, however, finding a local coffee shop who would use their roast was more difficult. After reaching out to many local coffee shops in Northwest Arkansas, they landed on Basecamp Coffee. Basecamp offers a guest roast and was willing to use Montay Coffee beans for the roast.
Montay Coffee has a 22% return on investment and has found that with four more orders from Avanti Co. throughout the Spring 2022 semester, they will have approximately a ten-thousand-dollar economic impact. The team's main goal is to raise awareness about Haitian coffee among Northwest Arkansas and encourage others in the coffee business to consider buying Haitian coffee beans.
"You get a much higher return on investment when you empower somebody to improve their own lives than giving something one time. We believe in their power and their work," Skeirik said.
You can be a part of having an impact on Haiti by going to Basecamp Coffee Co. in Fayetteville and asking for Montay Coffee.
"You're doing something good for the world when you drink Montay coffee," Skeirik added.
Chai Cycle Supports Refugees Through Tea
On the other hand, Chai Cycle focused their impact on supporting Canopy NWA, a nonprofit in Northwest Arkansas which equips refugees with all they need to build new lives. Their goal was to help enrich the lives of Afghan refugees by donating 100% of their profits to Canopy.
Chai Cycle sold their homemade chai drink for $3 per cup, quickly realizing that their authentic chai had a very different taste than the Americanized chai consumers were used to. Chai Cycle focused on promoting the health benefits of drinking chai such as its anti-inflammatory and antioxidant properties.
The team noticed that at many of their events they attended and hosted, much of their revenue came from direct donations. Chai Cycle was able to donate $1.70 to Canopy for every $1 in seed money.
They gave $668 dollars to Canopy as a discretionary fund, allowing Canopy to use the money where needed. Chai Cycle also gave $500 to directly support an Afghan family resettled in Northwest Arkansas and $530 in supplies donated to Canopy NWA.
The Walton MBA Ethics Project has challenged students to expand their thinking and reflect on how they can help others locally and around the world through their business models.