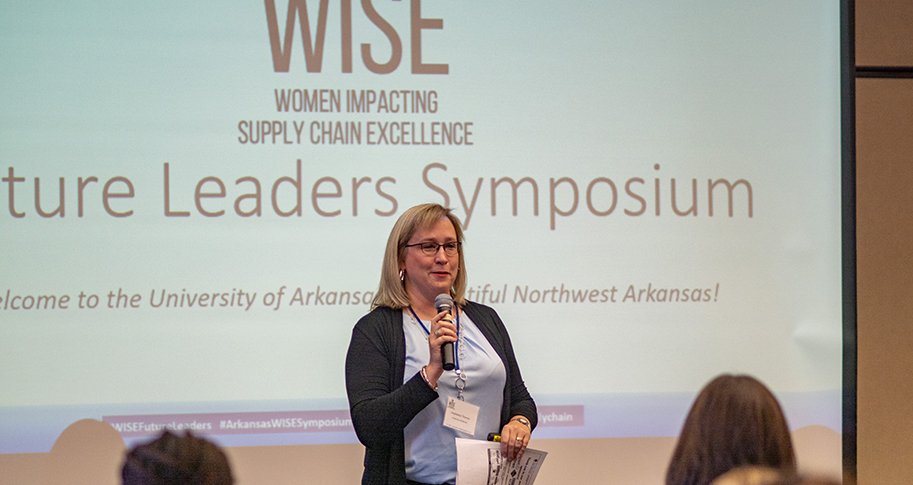 The 5th Annual WISE Future Leaders Symposium will be held Oct. 26-27 and will showcase several locations in Northwest Arkansas. The event, themed "Chain Makers. Change Makers." will celebrate female pioneers who have led the way for women in supply chain management and many legends of the industry will be on hand.
The WISE (Women Impacting Supply Chain Excellence) event features industry speakers including Shelley Simpson, president of J.B. Hunt Transport Services; Megan Crozier, chief merchant of Sam's Club; and many others.
Some 135 students and faculty from 28 universities have registered for the symposium. Participants will hear from panels of industry experts discussing a variety of topics related to supply chain challenges such as sustainability and technology, navigating a successful supply chain career, the importance of mentors and sponsors, and much more. Breakout sessions will discuss key event takeaways and how to increase diversity, especially as it relates to gender, in supply chain students.
WISE LEGENDS
Once again, this year's event will feature the WISE Legends ceremony, a women's hall of fame featuring seven women in the supply chain management field. Honorees range from transportation pioneers to women who have used their influence to advance the diversity and success of today's supply chain industry. The honoree list was developed and researched by an inter-university collaboration of female supply chain students. A new class of legends will be introduced annually at future symposium events.
This year's honorees include:
Anna Bissell, first female CEO in the U.S., Bissell Corporation
Mary Fields, first African American woman to work for the U.S. Postal Service
Bessica Raiche, first U.S. female to fly an airplane solo and also built a biplane with her husband using innovative materials
Captain Lynn Korwatch, first woman to command a U.S. commercial vessel and one of the first women to graduate from the California Maritime Academy
Michelle Dilley, first CEO of AWESOME, a nonprofit transforming the future of supply chain leadership
Sarah Barnes-Humphrey, a pioneer in supply chain media and founder of the popular Let's Talk Supply Chain podcast
Ellen Voie, founder and former CEO of the Women in Trucking Association
Honorees Michelle Dilley and Ellen Voie will be attending the event and will share their leadership journeys and advice with students.
SPONSORSHIPS
The symposium is sponsored by several companies and individuals including:
Platinum sponsors - Shelley Simpson of J.B. Hunt and Sam's Club
Gold sponsors - Deloitte, J.B. Hunt, Walmart, and Debbie Hodges of Walmart
Silver sponsors - The Clorox Company, Echo Global Logistics, Tyson Foods, Uber Freight and Ulta Beauty
Bronze sponsors - BNSF Logistics, BNSF Railway, Briggs Equipment, DB Schenker, General Mills, The Keiser Family, Kenvue, Mary Kay, Nestle, Procter & Gamble, Schneider, Sysco, Vari
Education sponsor - ISCEA (International Supply Chain Education Alliance)
PARTICIPATING UNIVERSITIES
Faculty and students attending the symposium hail from supply chain programs at colleges around the country including:
University of Arkansas
Auburn University
Baylor University
Brigham Young University
The Citadel
Colorado State University
Georgia Southern University
North Carolina A&T State University
The Ohio State University
University of Oklahoma
Texas Christian University
Howard University
University of Illinois - Urbana Champaign
Iowa State University
University of Kansas
Lehigh University
Texas Tech University
Marquette University
University of Maryland
Miami University
University of South Florida
University of Texas, Dallas
Virginia Commonwealth University
Michigan State University
Mississippi State University
Missouri State University
Western Michigan University
University of Wisconsin
For more information regarding the J. B. Hunt Transport Department of Supply Chain Management or the symposium, visit supplychain.uark.edu.