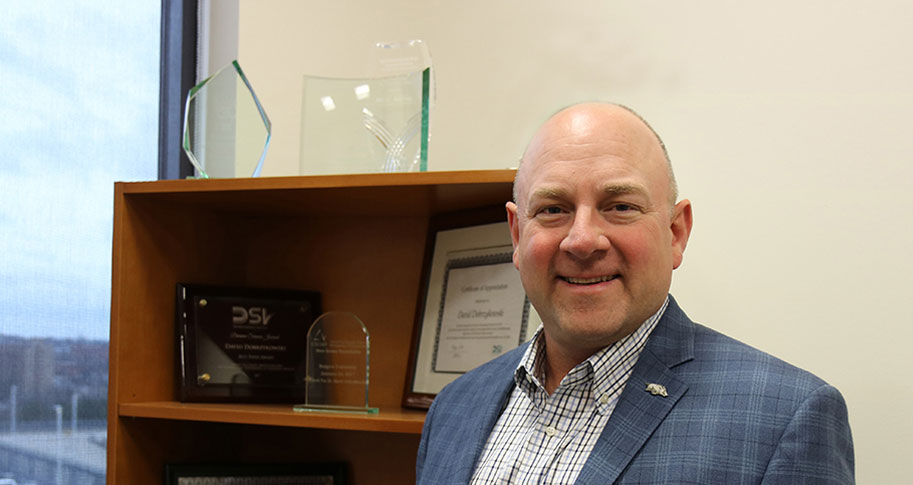 David Dobrzykowski, an associate professor in the J. B. Hunt Transport Department of Supply Chain Management in the Sam M. Walton College of Business of the University of Arkansas, has been named the director of Walton College Healthcare Initiatives.
"Healthcare transformation is becoming a major focus throughout the world, and it is essential that Walton College engage in these advancements," said Matt Waller, dean of the Walton College. "David has tremendous expertise and engagement in the healthcare industry. I am thrilled he has agreed to lead our healthcare initiatives."
In this role, Dobrzykowski will serve as the academic leader within Walton College to promote healthcare-related academic programming, research and thought leadership, and outreach and engagement, including:
Lead initiatives to establish the Walton College as the partner of choice for developing and disseminating thought leadership that fundamentally transforms the business of healthcare delivery and improves the well-being of people around the world.
Collaborate internally within the University of Arkansas, Walton College and supply chain management department.
Foster partnerships with traditional and non-traditional healthcare organizations, academic researchers and institutions, and funding agencies that share a passion and interest in developing and disseminating cutting-edge, transformative approaches that make unprecedented improvements in the well-being of people around the world.
"Healthcare transformation was a hot topic prior to the pandemic that has taken on real meaning since," said Dobrzykowski. "Reimbursement model changes, technology enablement and new entrants are disrupting and recreating the structure of the healthcare industry. There has never been a better time for business schools to contribute to the reimagination of healthcare!"
Within the supply chain management department, Dobrzykowski has forged relationships or engagements with many local healthcare organizations such as University of Arkansas for Medical Sciences, Walmart Health, Mercy Health, Arkansas Children's Hospital, as well as consumer packaged goods companies with health-related divisions such as the Unilever Health and Wellbeing initiative.
Dobrzykowski is regularly quoted in national media outlets such as NPR's Marketplace and Bloomberg Businessweek, and healthcare industry publications including Modern Healthcare, Becker's Hospital Review and Hospital & Health Networks. He hosts workshops, keynotes and presentations for industry groups such as the American College of Healthcare Executives, Health Industry Distributors Association and Strategic Marketplace Initiatives.
As the director of the Master of Science program in supply chain management at Walton College, Dobrzykowski led the launch and recruitment for the graduate program. He then created an online format for the degree. He played a critical role in the supply chain management graduate program being ranked as the second-best in North America by the research and consulting firm Gartner. Dobrzykowski will continue to teach in the program.
Prior to working at Walton College, he served as an associate professor in the Department of Supply Chain Management at Rutgers Business School, Rutgers University, where he was the founding director of the Master of Science program in healthcare services management. Before his academic career, Dobrzykowski served in senior executive roles in the healthcare sector such as BIDON Companies, Corporate One Benefits, Mercy Health and UnitedHealthcare.
Dobrzykowski is the president of the Decision Sciences Institute, the past president of POMS College of Healthcare Operations Management, and an academic scholar at Cornell's Institute for Healthy Futures.
Dobrzykowski earned a Ph.D. in manufacturing and technology management, an M.B.A. in executive management and a B.B.A. in marketing from the University of Toledo. He also holds a graduate certificate in public health epidemiology from the University of Toledo. His research focuses on information processing and the coordination of work in supply chains, primarily in healthcare and other regulated industries.