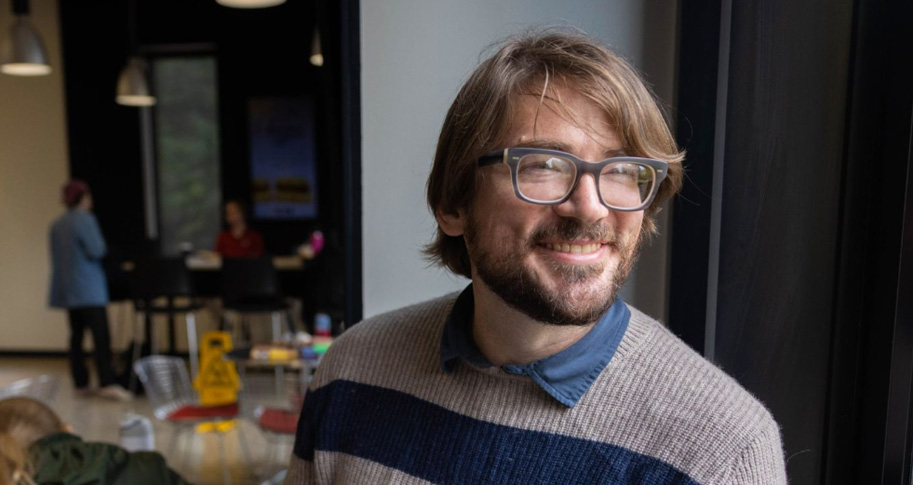 Cash Acrey grew up in Lonoke, Ark., and comes from a family of teachers, so eventually landing at a university has been natural for him.
Acrey graduated in 2002 from the University of Arkansas at Little Rock with a degree in information systems right as the dot-com bubble was about to pop. He worked in a variety of fields before entering academics: inventory manager, business and financial analyst, and web developer, just to name a few. He ended up in the financial realm in a roundabout way. Influential professors like Tomas Jandik, Craig G. Rennie, and James Millar got him reading about financial systems and piqued his curiosity in studying what happens when those systems break down.
He came to the Walton College for his MBA in 2004 and has been been teaching since 2008. He also received his Ph.D in finance from the Walton College in 2014.
He loves that the Walton College allows him to try new things, develop innovative programs, and take risks. "As long as you keep the students central to your vision, people are willing to get on board," Acrey said. He keeps Walton students' future job prospects at the forefront of his personal mission and mind so that they can continue to provide in-demand skills and innovation to Arkansas.
Acrey is the director of the Master of Science in Finance program, which has a social impact focus. He is also the director for the Arkansas Impact Investing initiative, which promotes investing with a purpose, whether that's something with a global impact like climate change or a local need like small-town job growth, you can engage with vastly more people by educating, activating, and connecting students and impact investors in Arkansas.
"Finance is opportunity. Finance is about who gets to live their dream and get the chances," Acrey said. "If you leave finance to those who are only interested in maintaining a status quo then there is so much missed opportunity. There are so many missed people who could have done more."
Acrey wants to teach his students to make sound financial decisions, but he doesn't want to take emotions completely out of the equation. "It's easy to loan to someone with a lot of money," he said. "But trying to see through to the vision of a small business owner who maybe doesn't come from money but has potential — being able to say 'not yet, and here's how' instead of 'no'.
He sees financial professionals as agents of education who can provide guidance and advice through empathy to those who they may interact with. "That feedback is valuable, and it won't happen if you don't have empathy and don't understand where they are coming from or what they may not know," said Acrey.
Acrey enjoys riding his bike on all the new trails opening up in Fayetteville, but is more likely spending time with his two young daughters. He is also a songwriter and musician.
Walton College is fortunate to have passionate faculty like Cash!