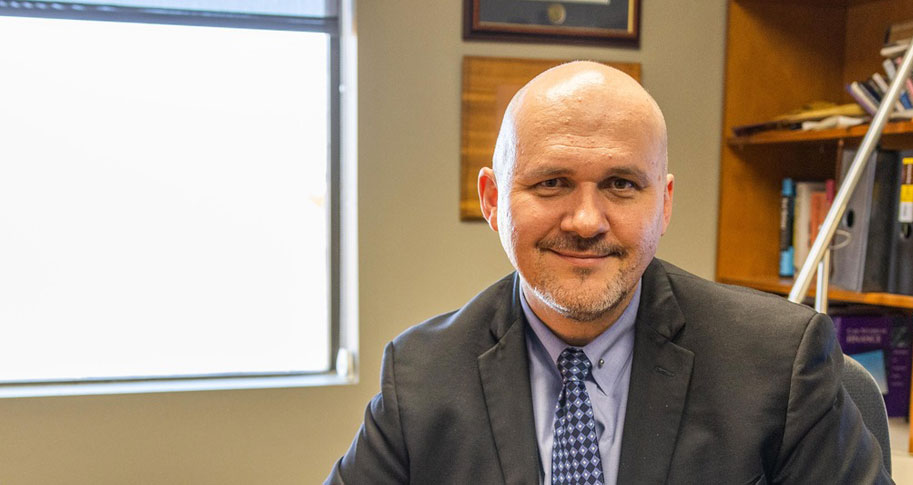 Tomas Jandik began his academic journey in the Czech Republic, his country of birth. He received undergraduate and master's degrees in math from Czech Technical University in Prague.
He moved to Pittsburgh, PA at the age 24 to pursue a PhD in finance from the University of Pittsburgh Katz Graduate School of Business — a decision that would put him on a path that ultimately led to Arkansas.
If you have graduated with a Walton MBA or other graduate degree from the Walton College in the past decade or so, you have passed through Dr. Jandik's class — he teaches required courses for all MBA candidates. Tomas is self-aware that his course is among the most difficult many students will take.
"My students will eventually be in influential positions. Those companies' performance very much affects my retirement. I want to make sure that our students are up to the task of making big financial decisions."
For the past ten years, much of Tomas' research has centered around social networks and how they play a part in the world of finance, showing that one's social connections can help close business contracts and negotiations.
Tomas considers the University of Arkansas to be a unique place within its region of the United States. As the flagship institution in the state, he believes the university plays a crucial role to those who look to it for guidance. Moreover, he also believes the institution plays a vital role in creating and sustaining new and existing social networks within the state.
"It is very rewarding to be a part of someone's education for the first time in their family's history, and at the same time it's really great to be a part of these long-standing, legacy families as well," Tomas said. "Arkansas is a very tightly connected state. Students, parents, and alumni do recognize the value of being a part of that network."
Tomas believes education to be a serious undertaking but also believes that a student should not neglect interpersonal connections. "Being well-networked can only bring you good things," he said. Tomas encourages all students to develop knowledge in their chosen major and at the same time expand their networks as both will be equally important in their future careers.
He has had the privilege to work with students who did not think they would like finance, but has found that students return to him a few years down the road and have developed a passion for it.
Tomas joined the Walton College in 2000 and currently serves as a professor of finance and the Dillard's Chair in Corporate Finance. He has received the Walton College MBA Teacher of the Year award in 2022 and 2016, Outstanding All-Around Faculty Award in 2018, Excellence in Teaching Award in 2017, and was a Fulbright Fellow in 1994. He was inducted into the University of Arkansas Teaching Academy in 2019.
Tomas and his wife, Dobrina Jandik, who is also a professor of finance at the Walton College, together have two young daughters.