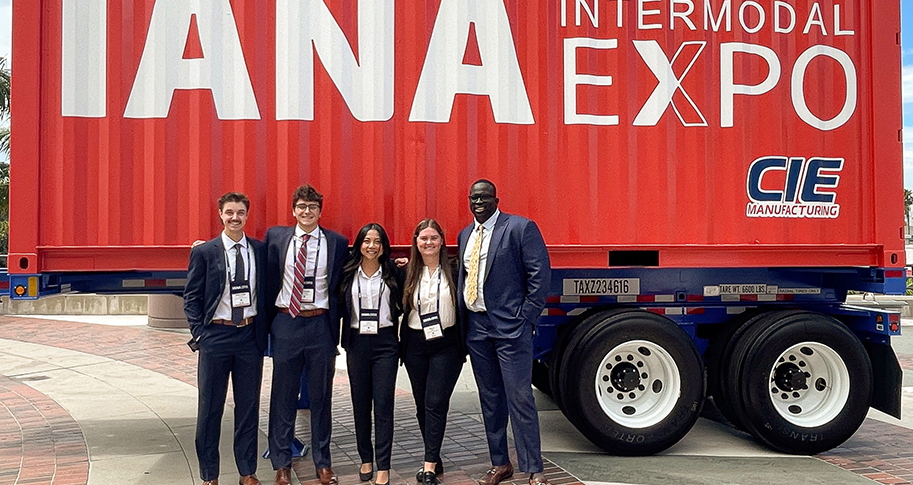 The U of A student team in supply chain management placed top three nationally in the Academic Challenge portion of the annual Intermodal EXPO. The supply chain students representing the U of A were Ben Blaine, Matthew Grierson, Lily Raccasi, Ella Knee and Bart Bartholomeo.
The Intermodal Association of North America works to advance the intermodal supply chain through various forms of programming including those focused on innovation, education and thought leadership. IANA held its annual Intermodal EXPO from Sept. 11-13 in Long Beach, Calif., and held its Academic Challenge on Sunday, Sept. 10. The EXPO facilitates networking opportunities with leaders and stakeholders in intermodal supply chains; introduction to wide range of products, services and providers; as well as sessions and discussion on the most pertinent topics and issues facing intermodal supply chains.
The Academic Challenge is a student case competition that focused on the application of intermodal content in supply chain curriculum to address real-world intermodal problems. Numerous IANA Scholar Schools — including the U of A — present their solutions and perspectives to a panel composed of judges who are leaders of supply chain-related organizations themselves. The case challenges this year required that participants utilize a provided data set and accompanying information to explain the factors that have caused a decline in TEU volumes into the West Coast and to do so with a particular focus on exploring how that observation is related to dynamics between inland point intermodal shipments and transloading. Participants also had to consider multiple factors while developing a forecast of future TEU volumes.
The finalists for the event comprised the students from the J.B. Hunt Transport Department of Supply Chain Management at the U of A as well as the University of North Texas and the College of Charleston, with the eventual winner being the University of North Texas.
"While it would have been both great and preferable to have won, we are thankful to have done so well at our first annual EXPO appearance," said Marc Scott, assistant professor of supply chain management who accompanied the students to the EXPO. "The team did us very proud!"