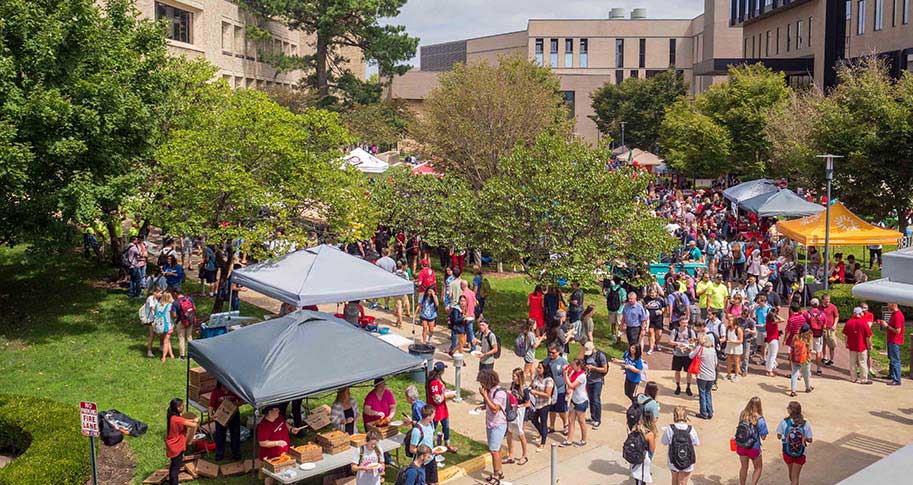 The Sam M. Walton College of Business will host its 30th annual Block Party, complete with hot dogs, pizza, drinks and more, on Tuesday, August 23, from noon to 2 p.m. in Shollmier Plaza! All students, faculty and staff are invited to attend.
Walton College welcomes students back to campus each year through the event to showcase student clubs, administrative departments and opportunities at the college. Attendees may meet Walton College faculty and staff, along with Razorback Spirit Squads and mascots.
Walton College Block Party

Date: Tuesday, August 23
Time: Noon to 2 p.m.
Place: Shollmier Plaza
(between business buildings)
Who: EVERYONE

Free Food – Prizes
VR Truck Simulator
This year, thanks to Ozarks Coca-Cola/Dr Pepper Bottling Company, one student has a chance to win more than $700 worth of prizes, including a Coke mini-cooler, custom Gold Peak Apple AirPods and custom Coke kettle-popcorn maker. For an opportunity to win, students must complete a Block Party passport. Students collect passport stamps at specific tents to be eligible for the drawing. Due to administrative restrictions, foreign students are not eligible to participate.
Students may also experience a virtual reality truck simulator in Shollmier Plaza, courtesy of J.B. Hunt Transport Services, a leader in transportation and logistics. Hunt is highlighting the newly named J.B. Hunt Transport Department of Supply Chain Management at Walton College.
Food and drinks are made available by the Walmart Supercenter (2875 MLK Dr.), Ozarks Coca-Cola/Dr Pepper Bottling Company, Eureka Pizza, Andy's Frozen Custard, Sonic and Con Quesos!
Drop by Tuesday for free food, fellowship and festivities.
Welcome back to campus!